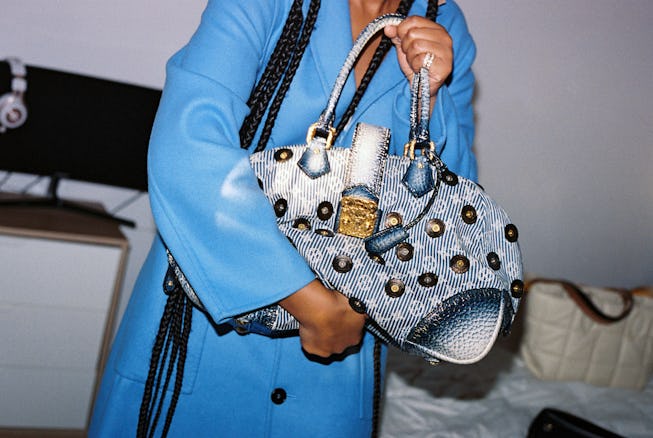 Courest of The RealReal
Gen Z & Millennials Don't Mind If Their Vintage Finds Are Beat Up
The fair condition market is booming, according to The RealReal's new Luxury Resale Report.
At this point, it's well-known that young people (especially Gen Z) have driven a thrift shop renaissance — with designer vintage having a major moment and the rise of resale apps driving a competitive online thrift marketplace. But a report released on Tuesday by The RealReal, the world's largest online marketplace for authenticated resale luxury goods, shows that we're not just experiencing a designer vintage boom, but also a booming fair condition market.
The RealReal's 2023 Luxury Resale Report found that items in "fair condition" are being embraced at record levels, with demand for the category up +265% year over year, driven by millennials and Gen Z. Noelle Sciacca, Senior Fashion Lead at The RealReal, says that the definition of an item in "fair" condition means the item contains heavier wear than "good" to "moderate" wear items, but that wear doesn't impact the function of the garment. "It could be a ripped seam or a missing button, but if it's a zipper that's broken and doesn't go up, that would be something that we would reject," she explains.
Sciacca says the increased interest in designer clothing in fair condition ties back to the price point. "Knowing that fair condition items are approximately 20% less as far as list price than good condition, that's democratizing luxury for a lot of people," she notes. "People that maybe couldn't access brands like Chanel or Gucci before are able to tap into those brands now." Sciacca also says that young generations are embracing realness. "It's refreshing," she adds. "When social media first came out, everything was airbrushed, but now young people have debunked that a little bit." That being said, Sciacca says that handbags are currently the site's most popular in the fair condition market, in comparison to shoes (which can wear more visibly).
Alongside the findings around the fair condition boom, The RealReal's 2023 Luxury Resale Report also tracked the rise of investment shopping amidst economic uncertainty (by making fewer yet more expensive purchases), and the shift of top ten brands thanks to "stealth wealth," or the quiet luxury trend. The report shows that Gucci was the most searched brand of 2023, and that both Celine and Bottega Veneta are on the rise. With that in mind, if you happen to have any Gucci Argyle Sweaters, Chanel CC Earrings, or Cartier Gold Bangles in your wardrobe, now is the time to list them on The RealReal — even if they have some wear and tear.