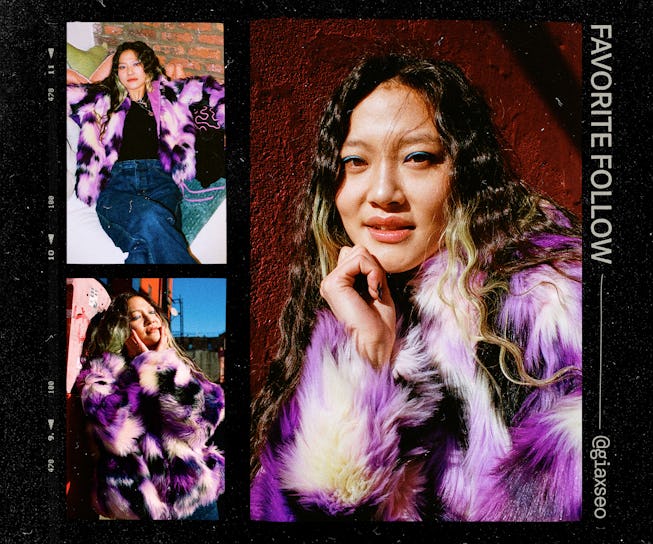 Courtesy of UGG
Meet Gia Seo, A Self-Proclaimed Sock-fluencer Who Champions Young Creatives
She breaks down her favorite fit pics and more for NYLON's Favorite Follow.
Welcome to Favorite Follow, a new series highlighting NYLON's favorite creators and the stories behind some of their most memorable content.
Scrolling through Instagram can sometimes feel monotonous, especially when it comes to fashion inspiration. One brand or item can take off on the platform and soon enough, you're seeing very similar outfits and content over and over again. Following someone like creative director and self-proclaimed "sock-fluencer" Gia Seo, however, is a breath of fresh air for your feed. Her fit pics are packed with colors, textures, and patterns that feel like a hit of dopamine to your eyeballs, and her easygoing approach to getting dressed feels attainable, too.
"Outside of specific things that I have to post for work, I really try to show the big picture of who I am as a person. I would really love for someone to meet me and say, 'oh, you are exactly who you are online as you are in real life' because that's really how it should be," says Seo, who's based in New York and also runs her own creative agency called Department Of.
As her company expands, Seo aims to focus on championing both young creatives and marginalized communities. "At the forefront of what we do, we try to provide spaces and voices for the underrepresented, especially in the BIPOC community," she says. "We try to give back opportunities to young creatives who might not have access to some of the resources that I am fortunate enough to have access to now."
Teaming up with UGG for its latest campaign was an easy decision for Seo. "I've always had really loved the brand and the ethos of who they are since I was 12 or 13, and then more recently with the really awesome collaborations and the representation of these young and incredible designers," she says, noting Telfar, Eckhaus Latta, and Y/Project as examples.
The latter's partnership with UGG resulted in a pair of viral-worthy thigh-high boots, which have been spotted on Rihanna and Dua Lipa, and Seo had the chance to try a pair on for herself during her photo shoot with the brand, along with its newly launched ready-to-wear collection.
"It was freezing cold that day but I definitely didn't feel it because the UGG jacket and the pullover sweater were quite warm," recalls Seo. "And that's being said in all honesty from an Alaskan who grew up in negative 70-degree weather."
Below, Seo shares some of her favorite social media posts and outfits, along with details on the process, inspiration, and meaning behind them.
On Styling (And The Importance Of) Face Masks
"I am all about personalizing [face masks] and showing them off. When I was shooting this in the winter, I was super bundled up and the only place I really felt like I could show off my personal style was in the color combinations of my cool sunglasses, or my more eclectic masks and hats. For most of these masks, I'm wearing a disposable one underneath because, at the end of the day, they still have to function. The whole point of having these masks is because we are living in a pandemic. Although it's inspiring and fun to show off these looks, it's definitely safety first.
"I also had so many people say to me, 'oh, I can't recognize you with your mask on anymore.' Or, 'I can't recognize people because they're wearing masks.' And I thought to myself, 'Well, if you can't recognize me for my face, then I hope you can recognize me for my style.' So I thought that this would be a fun test to see how many of my friends could recognize me based off of a very small surface area of style. It was not successful, to be honest, but it was still fun to try."
On Not Defining Your Always-Evolving Style
"I probably will sound like a broken record here, but I feel that it's really hard for me to categorize my style. I don't even know what trending fashion categories are anymore. I feel like I have always just dressed totally based on my mood and eventful things that are happening in my life. I think that, as I always grow and as my environment changes, as I develop as a creative or a person, so does my style."
On Layering Textures As A "Texturenaut"
"I created @texturenaut because I was having a lot of anxiety with my personal Instagram account. I felt really pressured by certain stresses in social media and certain brands here and there, and I really felt like I was losing my authentic voice and myself online. Once I discovered fashion and color and pattern, I've always been a huge supporter of it. I almost feel like 'more is more' is always better, but my one approach would be where I start, which is with my shoes-and-sock combination, if I'm wearing socks. I also really love color theory, and I have studied it since school. I'm always looking at color theory, logic, and books, especially if I'm feeling really uninspired."
On Becoming A "Sock-fluencer"
"The 'sock-fluencer' came about because I realized that there was a market for people being able to specify what they were influencing. I thought that was so interesting because when I first started Instagram, there weren't really influencers, I guess, in that way. It was more like brands or products that were being pushed, but not really people pushing the product, so to speak. When I became labeled an influencer, I wanted to know if I were to specify the sort of influence I was doing, whether it be food or media or a specific product, would this create traction?
"This came from an authentic place, though, because I actually have always collected socks. It was the one thing my mother would really allow me to buy anytime we visited somewhere. And so, one day, I just changed my name to the sockfluencer, and it stuck. I got to work with a lot of really awesome sock brands, actually, on a creative level and also just on an Instagram level. It's really amazing what the internet can provide."
On Dressing To "Look Good, Feel Good"
"This [fit pic] was in the back alley of my former apartment in Williamsburg. And, to be honest, this is just an outfit that I wore outside and I thought it looked really fun so I took a photo. The gloves are workwear gloves that I wear when I'm building sets. But I happen to also wear them in the winter because they're lined and quite warm and durable. The ski mask is from a surplus army store, and I used to use it all the time when I would ski. Both the tie-dye pieces are from Ganni and then the pants are just your run-of-the-mill Dickies.
"During this time, I was feeling a little bit down, and I really always try not to live in that moment for so long. So I decided that I wanted to wear the most bright and colorful things I can possibly find. I really do believe in the 'look good, feel good' mentality. It's always really worked for me, even in some of my harder moments, so this was one of these moments, What I felt like I was just I started from the bottom, but now I'm shining the brightest in a really weird way."
Follow Gia Seo on Instagram.