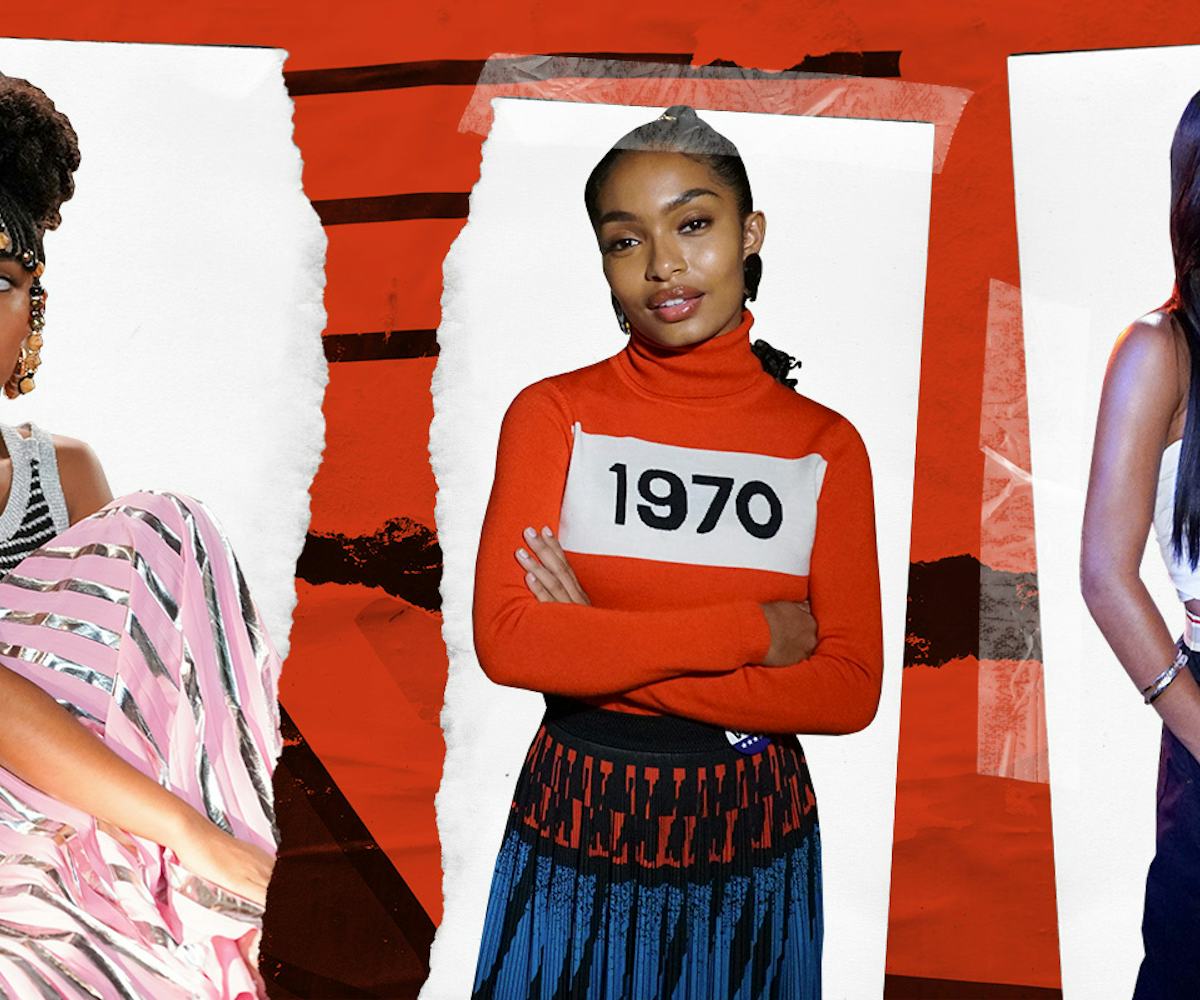 Photos: Freeform/Eric McCandless
How Yara Shahidi's 'grown-ish' Character's Fashion Inspired Her To "Take Up Space"
The show's star and costume designer talk her on- and off-screen style and the season's best looks
in the Tommy HilfigerReturning from her ultra-glam summer in London, after flying private and styling her first celebrity client, Zoey Johnson made an especially grand entrance for Season 3 of grown-ish. The Freeform hit's main character — played by actress, producer, and activist Yara Shahidi — kicks off campus life with her second Beyoncé tribute, following the baseball bat-wielding yellow dress stunner straight out of Lemonade's "Hold Up" in Season 1. Backed by roomies Jaz (Chloe Bailey) and Sky (Halle Bailey, next up as Ariel in the live-action Little Mermaid), a marching band, and dancers, all in collegiate yellow-and-green looks, the now-junior channeled Bey's star power in a sparkling hot pink version of the outfit.
"It was a little bit of work. We had everything beaded," said costume designer Michelle Cole, who also handles Zoey's origin show, black-ish. "We had two or three weeks to do it." Cole and her team customized the glittery Cal U insignia sweatshirts, as an homage to the icon but also to signal an appropriate, erm, homecoming for Zoey: "It was a great opening for the show and honor. We all love Beyoncé and Jay Z."
"The Homecoming moment was incredible," said Shahidi, alongside Cole, before the two took the stage in a full house of excited fans at the SCAD aTVfest in Atlanta, presented by the Savannah College of Art and Design. "Next week I'm full-on Aaliyah, which was amazing."
Indeed, the spring finale, airing on Thurs., March 5, will go out with a banger in story and style. The trailer teases a pop culture-themed costume party with highlights including on-off love interests — and "distractions" — Aaron (Trevor Jackson), as a pretty impressive Samuel L. Jackson circa Pulp Fiction, and Luca (Luka Sabbat), as a Canadian tuxedo-ed Justin Timberlake. Zoey honors the late actress and singer with her iconic Tommy Hilfiger bandeau top, belt, and baggy shorts look — a version of which even Bey, albeit during early Destiny's Child days, wore back in the day.
"I walked in, and everybody asked, 'What do you want to do this season?' I said, 'We're gonna bring it up!" exclaimed Cole, who more than made good on her promise by kicking off the season in another one of her favorite looks: a light blue pinstriped, obi-belted suit by Maggie Marilyn that Zoey dons while landing at the airport, where she is greeted by a luxury SUV-driving and champagne-offering chauffeur.
Because, hey, it's junior year, or the "the pre-game to adulthood," as a newly-focused Zoey says. After previous seasons of struggling with classes while being distracted by boys (which may be ongoing) and facing financial difficulties after being cut off by dad Dre (Anthony Anderson), she's on a new level. Now, Zoey juggles her studies with a dream job as a personal stylist to rapper and singer Joey Bada$, playing a version of himself.
"We've made her a little bit more mature," said Cole, about advancing Zoey's style to match her storyline. "She's gone from this freshman-sophomore cutesy kind of thing [to looks that are] a little more sophisticated, a little classier, chic. Nobody dresses like this in college."
A scroll through Zoey's outfit credits confirms that, offering an impressive list of high-end and fashion nerd-appreciated labels, like Rosetta Getty, Ganni, Rosie Assoulin, Self Portrait, and Attico (those sublime lilac sheepskin paper-bag waist pants, anyone?). Zoey's clearly back in Dre's good graces and bankrolled generosity. "Or is Vivek giving her a little bit of money? What's happening here?" joked Cole, about Zoey's roommate, played by Jordan Buhat, who supports his rent installments and designer-filled drip with an illicit side hustle.
Shahidi also enjoyed Zoey's arc into young adulthood, and the accompanying to-die-for wardrobe. "The baby shower look from this season was really fantastic," she said, about the silver-and-blue metallic knit Topshop tank paired with a pleated pink-and-silver maxi-skirt by Marni. "That's her lounge and at-home-wear. I feel like that really signifies the fact she's elevated as a person."
The 20-year-old actor has a special relationship to her character, having basically grown up along with her ever since ABC's black-ish debuted in 2014. Cole and Shahidi both remember their very first fitting together when the then-13-year-old arrived straight from middle school. "Her mother said that they went back home to Pasadena, and they bought every piece I had in the fitting," said Cole. "So that's quite an accomplishment." Years later, and with the Shahidi-led and -executive produced grown-ish, the collaboration has flourished. "Now she's my boss!" grinned Cole at an earlier costume design panel.
It's no surprise then that Shahidi credits Cole — who's also costume-designed legendary series, including the one that launched Jennifer Lopez's career, In Living Color, Martin Lawrence's Martin, and The Bernie Mac Show — for influencing her own celebrated style. "I came into your room wearing lots of gray and lots of school uniforms," said Shahidi. "With the way you've helped me combine colors [starting from black-ish], I feel like Yara's become more adventurous."
Like Zoey, Shahidi has also begun her college studies — at Harvard University, no less, after being supported with a recommendation letter from lawyer, author, and former First Lady Michelle Obama, NBD — and knows firsthand of the change that comes from going from being a teenager living at home to "pregam[ing] for adulthood."
"I remember that first moment when we were in a new room — Yara's away from the old room — and trying to find out what this other Zoey looks like," Shahidi said, gesturing to Cole, about her character's transition from black-ish to grown-ish. "You came with the best mood board I had ever seen, I kid you not. The amount of references we pulled, not only for wardrobe but also for hair and makeup. [Comparing it to] that initial mood board [for black-ish], it signified that shift in how we visually marked the fact that she's growing up."
Even back on black-ish, Zoey always the style star, which makes it surprising to hear that her sartorial evolution — and her eventual pursuit of a fashion career on grown-ish — came about organically. "Even though it wasn't even initially written this way, fashion became pivotal [for Zoey] because of what you created," Shahidi said, nodding toward Cole. "It wasn't something where we walked into this [show] knowing, 'Oh, she's a young fashionista interested in the world.' But it ended up becoming such a major part in being able to identify her."
"Fashion is what gave her a point of view," added Shahidi. "The fashion choices made from the beginning showed her to be a very intentional young person — even if that was a subliminal message. There was something about how intentional she dresses. It felt like there was a sense of agency given to her. It feels like an active choice."
Nowhere is this more clear than in Season 2 when a sophomore Zoey faces rejection from the fashion design program and seeks advice from a mansplain-y Aaron, who likens fashion's social impact to "not pairing your V-neck blouse with some low-rise Hollister jeans." ("First of all, ew.") It's then that Zoey asserts that fashion has historically served as a powerful form of political and self-expression, referencing the Suffragettes and the Black Panthers. With the realization, she empowers herself to create her own major, "The Sociology of Fashion," and pivots to styling.
Shahidi credits this onscreen exploration with style for her own interest and confidence in fashion experimentation. "I've always had fun with fashion, but just the depths and breadth of what Zoey gets to do on this show has impacted [me]," she said. (Just take a look at any of the fun red carpet collaborations with stylist Jason Bolden for proof.)
"Me wearing a colorful tracksuit might be, 'Oh yeah, Yara likes monochrome,' but physically it just helps me take up my space and helps me commit to who I am: 'Yeah, you know who you are,'" said Shahidi during the aTVfest Q&A with Cole. "But it does that for so many people. I feel the difference between being put in something I'm uncomfortable in versus having full ownership of myself in the morning."
Fittingly, one of Cole's and Shahidi's favorite looks from this season mixes comfort, straight-fire style, and realness: pajamas under a faux fur-trimmed silk robe, accessorized with Adidas slides, which Zoey wears while soothing a next-day hangover.
"That was so fun," says Shahidi. "I love any PJ-chic look."