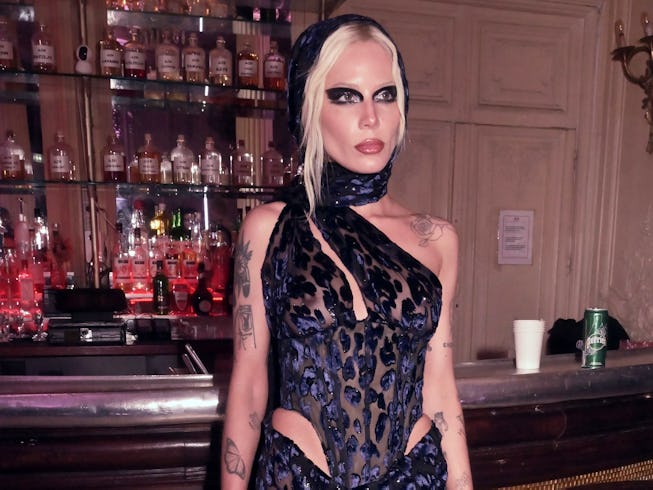 Foc Kan/WireImage/Getty Images
Halsey Made Their Modeling Debut at Paris Fashion Week
They singer called the experience "terrifying and amazing".
Not only can Halsey put "singer, songwriter, and beauty mogul" in their bio, but she can now add "model" after walking in Pressiat's Fall-Winter 2023-2024 show for Paris Fashion Week. Taking place yesterday at the French club Le Carmen, the singer wore a black leopard-print bodysuit with a matching headscarf and floor-length draping skirt. She even wore a spiked cuff on one wrist to complete the gothic look.
Halsey posted about the experience on their Instagram, calling it "terrifying and amazing". "I walked PFW for the first time today with @pressiat_ and it was terrifying and amazing!!!! Thank you Vincent for having me, and congratulations to you and team on such a stunning collection and iconic show," she wrote in the caption. Taking the hand of designer Vincent Garnier Pressiat for the final bow, Pressiat called them "the muse" on the brand's Instagram story.
With Halsey nailing their first-time modeling, we'll have to stay tuned to see if the singer, songwriter, and business owner decides to continue to add walking the runway to their repertoire. Debuting newly bleached hair, the singer also thanked hair stylist Marty Harper for the "blonde slay" and makeup artist Lyn Alyson for their Julia Fox-style heavy black eyeshadow.
Vincent Garnier Pressiat is known for putting gender fluidity at the heart of the brand. After only two seasons, Halsey has already been a long-time fan of Pressiat, wearing a skirt and corset from the Fall / Winter 2022 collection for the Grammy's last year. Megan Thee Stallion also wore a Pressiat dress in a music video for her song Ungrateful.