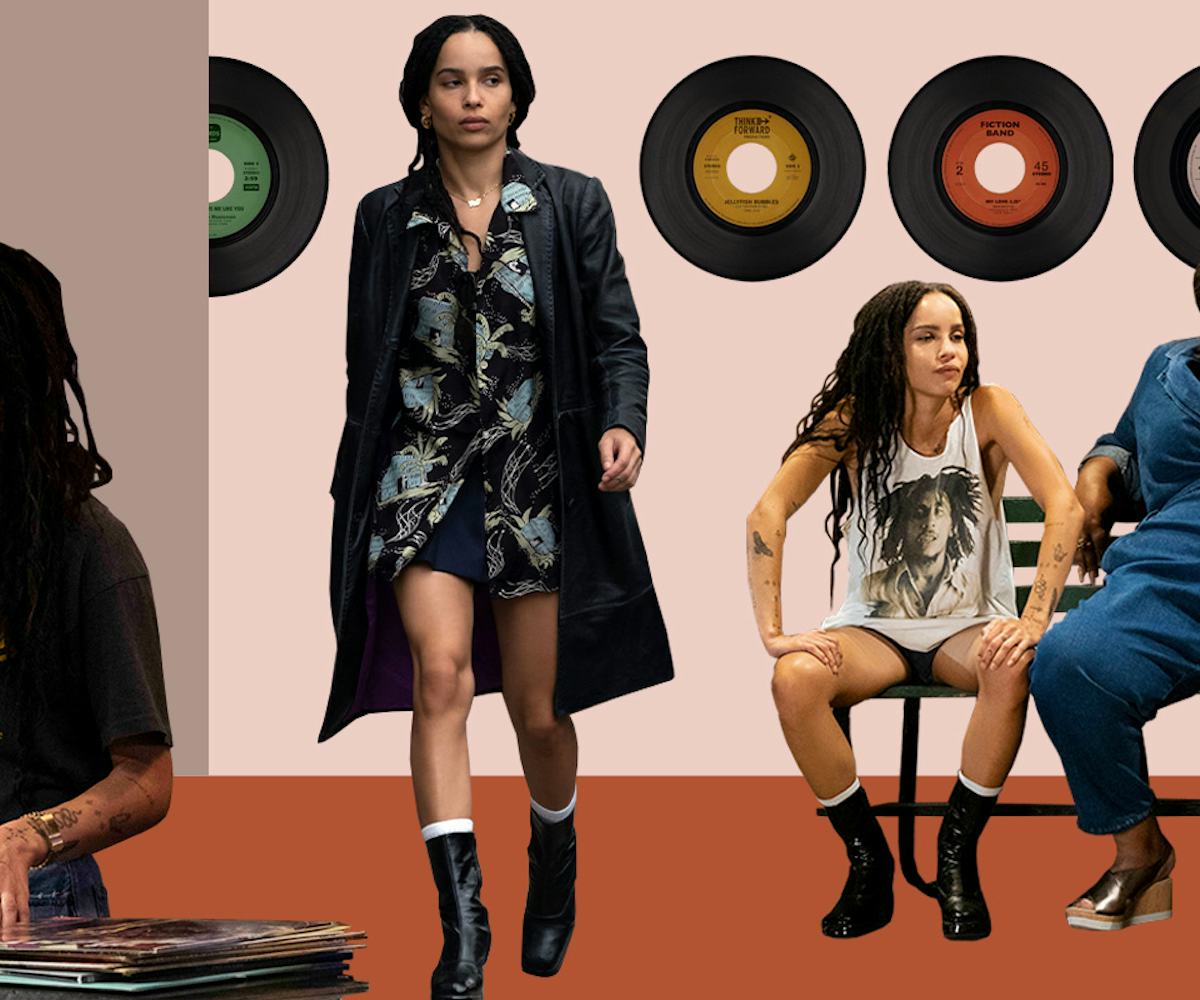 Photos by Phillip Caruso/Hulu
Zoë Kravitz Wore Some Of Her Own Clothes For 'High Fidelity'
We spoke to the costume designer about the looks in the Hulu show and paying homage to the original film
While Oscar-winning costume designer Colleen Atwood is best known for creating the gorgeous kimonos in Memoirs of a Geisha and the leather getup Johnny Depp wore in Edward Scissorhands — outfits that have a distinct design element to them — when she got the personal request from Zoë Kravitz to come work on Hulu's High Fidelity costumes — a reimagining of Nick Hornby's 1995 novel and the 2000 John Cusack-starring movie of the same name — she didn't hesitate. "I loved dressing her so much when we worked together on the Fantastic Beasts movie," she says. "She's got amazing personal style," a lot of which seeps into the upcoming Hulu show.
In fact, there are several moments in the series when it becomes hard to distinguish Kravitz the person from her character Rob. Not because their lives are synced up or anything (Rob is single and working through her past breakups, Kravitz recently got married). Or because their careers are similar (Rob owns a record shop, Kravitz is, well, you know...). But mainly because it seems like what she wears on the show — primarily vintage clothing that looks thrown-on and put-together at the same time — and what she wears in real life are one and the same.
And that's because it kind of is. As Atwood tells us, Kravitz played a big part in curating the clothes for her character. The two sourced pieces everywhere, from textile fairs to Goodwills and charity shops, always keeping in mind the Brooklyn vibe the show embodies. "Zoë went searching with me a couple of times early in the morning when it wasn't too crowded, and she has a great eye," Atwood says. "She was shopping for her character but also for herself a little bit — as you do."
Items from Kravitz's own closet also pop up in the show, including some vintage music T-shirts. "Clearance of them is a little tricky, so we didn't really use as many of them as we probably would've liked," Atwood says. "But we still got a couple of punches in there." Plus, given it's a music-heavy show, Atwood didn't want to be too obvious. "For me, I thought, Well, do people that work in music run around in music T-shirts? Sometimes, but I pulled back from it a little bit because I felt like it was too cliché to put her in them all the time."
Ahead, Atwood talks more about the inspiration behind Kravitz's character, her favorite looks, and dressing actress Da'Vine Joy Randolph's character Cherise.
You've worked on everything from Memoirs of a Geisha to 1994's Little Women; how did this project compare to those more costume-y films?
It's a different process, [working on High Fidelity] is a little more fluid. If I'm doing a big costume number piece, I usually know where the costumes are going to land in the story. With this, we had all these pieces, and we had a flashback element, which was fun. So I was into different things for different phases, and we sort of broke it up that way. The thing is, with those kinds of clothes — that mix of fashion and vintage without being too much of either one — they just flow into each other really easily, as opposed to each one having to be an outfit, like in Bombshell, the Megyn Kelly movie that I did this year. It was like, "Okay, they have really strong looks, it's them, it's their work look." This had a much more casual approach to it.
In terms of inspiration, did you pull from the book or the movie at all?
I definitely did look at the movie again just to give it a nod. You want that feeling of the original because it does have a great vibe to it in its time. But the thing that I thought, what was really great was Zoë made a playlist, and she gave it to me. And, to me, that was the most insightful thing she could've done. Just listening to the music told me so much about her character.
What were some of the songs?
Some were referred to in the show but then some of it was just like her personal choices. It was so random and fun, and I still play it; I actually really like it. There's the Minnie Riperton song about "Lovin' You," that was a good one; "I Can't Stand The Rain," which is totally my era. And then it would be as random as "Lithium" from Nirvana, "Baltimore" from Nina Simone, Lazarus from [David Bowie's] Black Star, a little bit of Prince, and, of course, "A Case of You," the classic broken heart song.
Did you have a hard time finding vintage pieces? I know it can be hard, especially if you're looking for specific items.
It was kind of cool because we saw pieces that inspired us as opposed to going in with a list of "I have to have this, I have to have that." It wasn't like, "I have to have this belt from YSL 1970." We just went in, and there was just so much great stuff. We also shopped for the other characters at the same time, which was fun. Getting bits and pieces, whatever was in front of us, was a good way to do it rather than just having to go out in a mad panic for 25 T-shirts in the same color.
There's a black trench coat that's sort of a staple for Zoë's character. Where did you find it?
That was mine; how weird is that?! That was a trench coat I had for like ever. And we were trying to find it because it's truly a homage to the original [movie,] but we couldn't. So I had one at home that I hadn't worn for three years just sitting there, and I took it and recut it because it was exactly the right '60s vibe we were looking for without it looking too designed. It was an old Banana Republic leather coat from probably 10 years ago at least.
What are some of the things that you pulled from Zoë's closet?
Her shoes were some older platform YSL ankle boots that she had and had been wearing a lot. And we tried to buy more, but we couldn't get them because they were a couple of seasons old. So I copied those so she could have her real shoes back. She brought in a lot of T-shirts and random sort of pieces of clothing, and then, with that and what we shopped together and what I'd bring in on my own, we pulled her closet together and created a character.
I also used children's clothes. She's so small it doesn't limit you as much to be able to get things altered. Because stuff can look big on her and it looks great, or it can fit properly and look great also. So it gave me a lot of latitude.
I know from speaking to the Shrill costume designer that it can be particularly difficult finding good plus-size fashion. Did you have any trouble with Da'Vine Joy Randolph's character Cherise's clothes?
Some of it's really bad, and it's such an area that needs love and design. But I did have a place where I found different things that worked for her, and she was really into it herself. Sometimes she'd also go out and bring things in and say, "I got this, what do you think?"
So I feel like I really had to edit with her character. And not only with what the clothes are, the style, but who they belong to. Who wears that? She's not a housewife, and she isn't working at a department store or anything like that. She's in a kind of hipster world, so you kind of back into her style if you back into the music a little bit. She was more outfit-y, she was more funny and way less random in her dressing than Zoë's character... and she owned the style.
What were some of your favorite looks from the show?
I have little things that I really like. I found this little plaid belt that looked really good on Zoë with her jeans and her little V-neck sweater. And there's a Chinese-inspired dress that I found — an old vintage-y dress that was not shiny and fancy and just cool — and it was great in this black print.
It was fun taking somebody and remembering, in your own life, how you tell time and go through phases and how you dress for the world you're hanging out in. Or for the person that you have a crush on and the world they're hanging out in. It was fun to play with that and her character as she hooked up with these different guys. It was good because it helped to change it up.
Which outfit would you say has the most interesting backstory?
Probably her shitty around-the-house outfit [laughs]. It's that thing that is so uncool, but you still wear it; she really went for that. It was hard because, with her, you kind of always want it to be something fabulous, and it was just like, "Oh, this is the thing she doesn't really want anyone to see her in." My friend calls them PKs: passion killers.
High Fidelity will be out on Hulu on February 14.