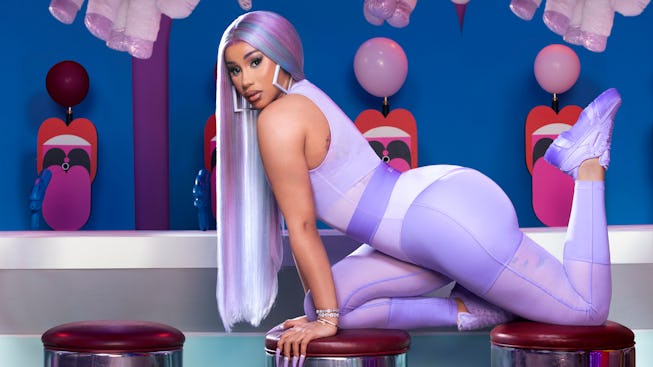 Courtesy of Reebok
Cardi B Releases Her First Apparel Collection For Reebok
The rapper took inspiration from her summers at Coney Island.
Cardi B is expanding her Reebok collaboration. On Monday, the rapper announced her first collection of apparel with the brand, including new colorways of her Club C Cardi and the Club C Double sneakers, which she redesigned when she first linked up with Reebok in 2020.
"I'm so proud to announce my first apparel line with Reebok," Cardi said in an official statement. "This collection gives every woman the product they need to feel sexy and confident; the waist-snatching tights and curve hugging silhouettes make every body look amazing."
Reebok noted that every single piece in the upcoming collection was tried on by Cardi, and nothing is hitting the shelves before she gave it her stamp of approval. Cardi took inspiration from the hues and styles of the '90s, particularly her summers spent with friends on the Coney Island boardwalk.
Cardi B and Reebok's Summertime Fine Collection, ranging in size from XXS to 4X, will be available on Friday, April 23 at 10 a.m. on Reebok's website. Until the drop, check out photos of Cardi in the campaign, below.