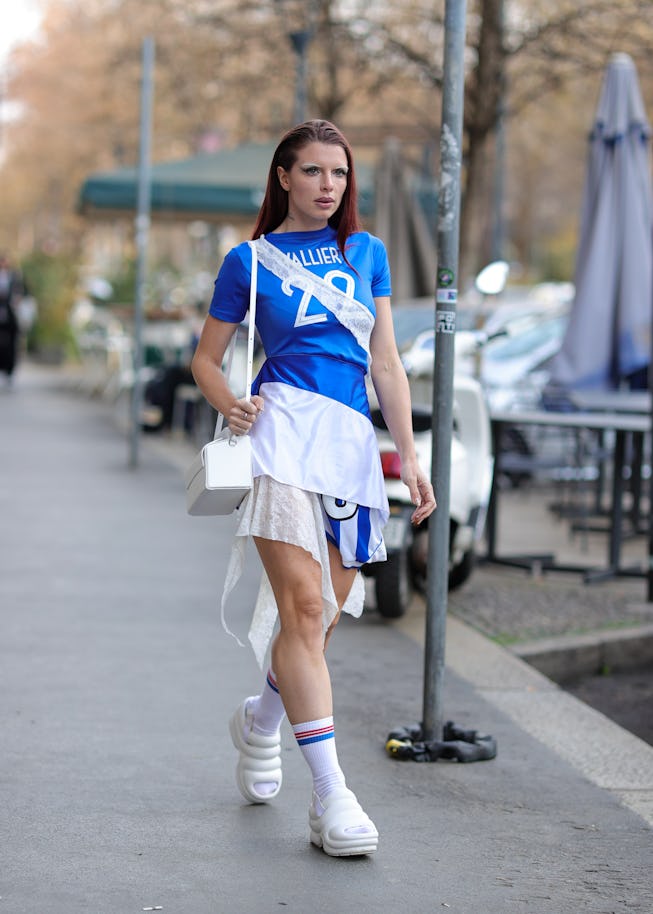 A Guide to Shopping "Blokecore," TikTok's Spin on the Soccer Aesthetic
Ribbons with jerseys? Yes, please!
We may receive a portion of sales if you purchase a product through a link in this article.
As is customary these days, there's yet another new 'core trend that's taking the internet and our closets by storm. Allow us to introduce the Blokecore trend, TikTok's latest obsession with all things football (or soccer, for us Americans). Now garnering over 346 million views on the platform alone, the emerging style has elevated team jerseys to unforeseeable heights. Luckily, you don't need to be a rabid soccer fan to relish in it.
The origins of Blokecore are rooted in British football culture, specifically from the '80s and '90s subcultures from that era. The term first began to circulate after it was coined by American creator Brandon Huntley in late 2021 as a joke, realizing that many British football YouTubers use the word "bloke" — a British slang term that's the American equivalent of "bro" or "dude." After Huntley's video went viral on the platform in April 2022, the fashion community ran with aesthetic and transformed it into what it is today: a playfully reimagined twist on sporty style that's all about channeling your inner hooligan.
You can spot the Blokecore trend by its easily recognizable cues. Think: FIFA, old-school football uniforms and retro jerseys (especially ones from a Football Second Division Club), low-rise cargo pants and shorts, and the always-sold out Adidas Sambas. For those whose style leans toward the more feminine side, Blokette is a spin-off that combines Blokecore and the dainty, coquette aesthetic. No need to sweat your team affiliation, any soccer jersey can be dressed up in a slew of trendy ways, from wraparound sunglasses, jorts, and high-rise ankle socks. Polo tops or ribbed tees are great alternatives to jerseys, too. Throw in a ribbon or rosette in the outfit, and voilà!
If the internet's obsession wasn't proof enough, the aesthetic has quickly been adopted by brands that are now featuring models in jerseys — Etro, Martine Rose, and Wales Bonner being recent examples. Sporty collaborations are nothing new for design houses like Prada, Gucci, and Balenciaga, plus Dior and Paris Saint-Germain, and Stella McCartney with Arsenal Women's Football Club.
Similar to the dressed-up sporty glam trend over the past couple of years, celebrities are embracing the Bloke look, including Bella Hadid, Julia Fox, and Rihanna. More A-listers have joined the list recently, including Kim Kardashian in Diadora Roma Ina Assitalia. TikToker-turned-pop star Addison Rae donned Brazil's 2023 Stadium Home tee while running errands in Los Angeles, and Olivia Rodrigo showed off her new custom Chelsea FC jersey this past weekend.
Whether you're a football aficionado or not, the Blokecore trend is a versatile fashion statement that can be styled in myriad fun ways. From OG soccer jerseys to lace-trimmed shorts, check out our roundup of 17 products you can shop right now to embrace your inner Bloke, or Blokette, ahead.