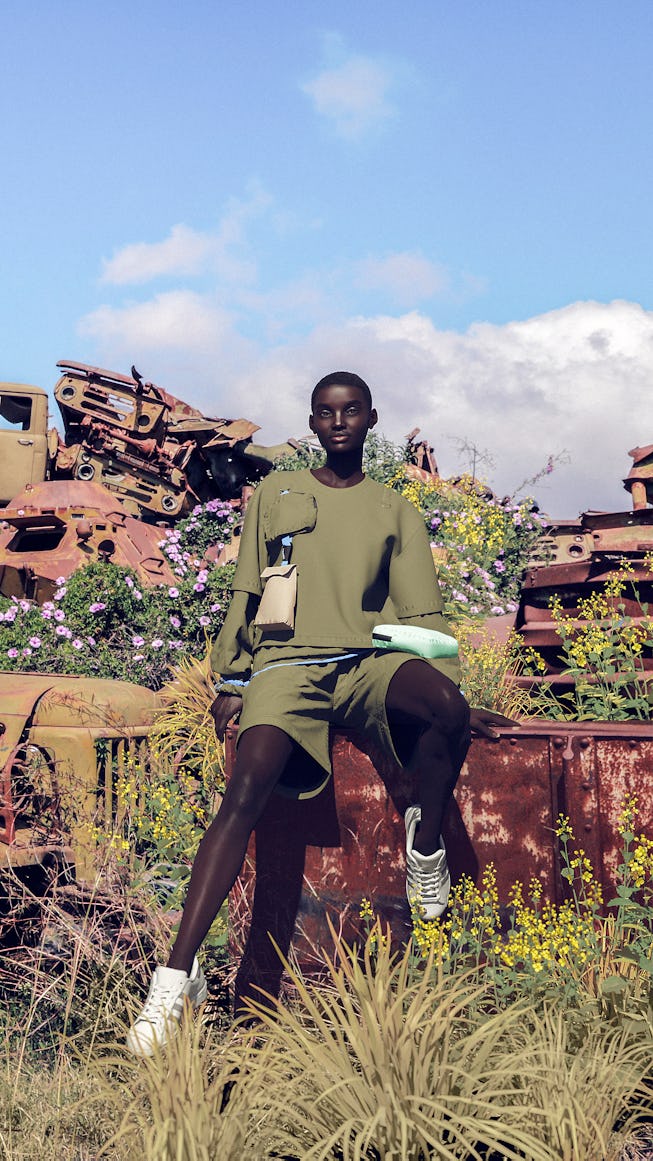 Shudu. Image courtesy of Hyundai.
Hyundai Partners With Global Boutiques For Upcycled Fashion Collection
Turning airbags, seatbelts, and recycled bottles into eye-catching apparel.
Perhaps next year's viral fashion trend could be an airbag refashioned as a fanny pack, or a couple of old seat belts functioning as a harness.
This is the vision of ingenuity and creative up-cycling Hyundai Motor Company is offering with its eco-friendly lifestyle and fashion platform Re:Style. In the past, the South Korean automotive company has partnered with boundary-pushing designers such as Zero + Maria Cornejo, Alighieri Jewellery, and Public School (just to name a few). This year, however, the global brand decided to employ a more global approach. Hyundai partnered with select fashion-forward shops across the world in an effort to further democratize the Re:Style experience and pillars of sustainable fashion.
Fashion lovers can discover the one-of-a-kind creations in BOONTHESHOP, a Korean specialty store, and the Paris location of L'ECLAIREUR. The 2021 Re:Style Collection explores the idea of clothes that can be worn at home and outdoors with equal comfort, perhaps taking inspiration from the sharp rise of working from home. The gender-neutral pieces include sweatshirts, hoodies, joggers, and shorts, and they all fit within the $80-$180 price range. The clothes aim for zen-like simplicity and minimalism, with black and grassy beige anchoring the color palette and a bright sky blue–a reference to the license plates of electric vehicles–providing uplifting dashes of color.
The Re:Style collection is representative of the larger steps Hyundai has made towards including eco-friendly and recycled materials into its manufacturing process. Hyundai used yarn made of bio-components extracted from sugarcane, corn, and recycled transparent PET bottles for its electric vehicle IONIQ5. These innovative materials were also used in the 2021 Re:Style collection. Shoppers can find track jackets with seat belts from scrapped cars as decorative straps, tapered joggers with a grounding band of sky-blue at the ankle, and pullovers adorned with large utility pockets made from airbags. The entire collection proves that sustainability and avant-garde style can easily co-exist.
Thomas Schemera, Global Chief Marketing Officer and Head of the customer Experience Division of Hyundai Motor Company says of the new collection: "We hope that Re:Style, which marks its third year this year, will be actively recognized by fashion officials and consumers through collaboration with top fashion select shops at home and abroad and become a window to deliver Hyundai Motor Company's sustainable future to the MZ [Millennials and Gen-Z] generation."
The collection taps into the shifting demands and concerns of younger shoppers, who increasingly cite eco-friendliness and sustainability as a major factor when shopping. The shift has even reached heritage luxury brands, with many recently ditching animal fur completely. In 2021, it seems one thing is clear: The way fashion is made and consumed is rapidly changing, and Hyundai is leading the new wave.
To help launch the collection, South Korean actress Bae Doona and the world's first virtual model Shudu will model their pieces.
Re:Style will touch down in stores and online on Oct. 14. Proceeds from the collection will be donated to the UN Development Program, which works to eradicate poverty while protecting the planet and has offices in over 170 countries.
Check out pieces from the exciting collection below: