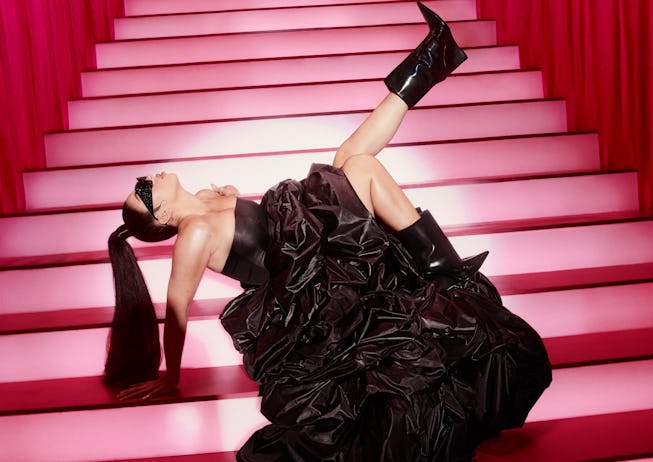 Courtesy H&M Studio
Kali Uchis Stars In H&M Studio's Glamorous New Spring Campaign
The new collection dares you to embrace a "go big or go home" approach to dressing this season.
Grammy-winning singer-songwriter Kali Uchis has "so many memories" of shopping at H&M while growing up in Virginia—which is why today's news celebrating her new H&M collaboration is a full-circle moment for the star. "I love how they always have clean basics," she told NYLON. "I always love a classic white tee and jean look or even some simple crop tops and tank tops." Despite her love of wearable classics, the H&M Studios Spring Summer 2023 collection, available on March 2, is anything but basic. The drop is an ode to Hollywood's Golden Age goddesses. A vibe that Uchis wears just as comfortably as jeans and a tee shirt.
With key pieces including voluminous, pumped-up evening dresses, cool-girl denim pieces, luxe sweats, and rhinestones trimmed lingerie, Uchis first collab with H&M Studio delivers a high-low mix of comfort and drama. For Uchis, this inspiration comes from the Latin cinema golden age icon Maria Felix. "She inspires glamour and strength," she says. With a campaign that explores life in the spotlight, Uchis says she keeps her own personal life "very private" to keep balance within her life. "Strangers thinking they know you our your life is a huge pet peeve," she says.
Behind the Scenes of the SS23 Campaign
Like most of us, Uchis is ready for a return to the warmer seasons. Her dressing strategy for spring and summer? She says wearing anything that makes her "feel good and comfortable". "I always feel that people should just wear whatever they want and do their own thing," Uchis adds. Much like her music, Uchis' own personal style has long been praised for not fitting squarely into one aesthetic box. Looking back on her favorite red carpet moments, her pink 2022 Latin American Music Awards dress stands out as number one. "It felt very sensual and chic," she says.
Uchis is particularly aligned with the new H&M Studios Spring Summer 2023 collection, that's meant to exist at the intersection of raw wearability and glamour. Every item in the collection is made from sustainable materials, including two pieces made from a blend of organic and post-consumer waste cotton and embellished with hand-sewn buttons. These buttons are part of an ongoing partnership between the brand and the social enterprise Hasiru Dala Innovations, being traceable down to the source of the waste along with the names of the works and their working conditions.
Linda Wikell, a concept designer for H&M Studio, says the Spring/Summer season was born from the idea of "a modern megastar who seamlessly glides between an attitudinal off-duty look and a glamour-centric red-carpet down". With (Kali Uchis-approved) looks that will take you from day to night, consider this collection permission to "go big or go home" once warmer weather comes. Better yet, why not start now?
H&M Studio's SS23 Collection will be available starting March 2. See the full campaign film, here: