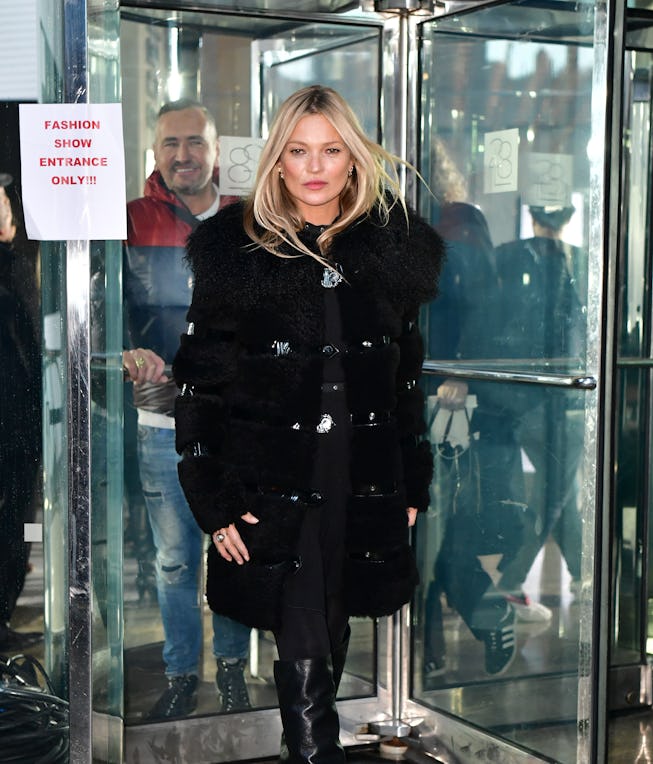 Kate Moss is Selling Her Clothes on The RealReal
Now this is a fashion emergency!
There's nothing fashion enthusiasts love more than a good closet sale. After an increase of back-to-back IRL wardrobe pop-ups this year from the likes of Chloë Sevigny, among many others, The RealReal is the latest marketplace to tap into the ever-rising phenomenon by hosting its very own flash sale to shop from.
On Oct. 17, the online resale hub, known for all things authenticated luxury goods, is debuting more than 300 must-go pieces sourced from 19 of the industry's most stylish women, ranging from actresses and models to stylists, activists, and tastemakers.
The RealReal is giving its customers a chance to purchase lightly worn items from the coveted closets of its handpicked A-list roster; names include Kate Moss, Julianne Moore, Tessa Thompson, Sophia Bush, Laura Harrier, Veronica Webb, Lake Bell, and Annabelle Dexter-Jones. Other women on the list include Meena Harri, Noor Tagouri, Mia Moretti, Leandra Medine Cohen, Nicky Rothschild, Ivy Getty, Beverly Nguyen, Michelle Li, Daphne Javitch, Langley Fox, and Chloe King.
As for the curated assortment at hand, you can expect to find an array of name-brand pieces — anything from hard-to-find standouts to high-fashion ready-to-wear items that may or may not have been captured on a red carpet at least once. Luxury brands are abundant on the list, so get ready to pack your shopping cart with Gucci, Chanel, Prada, Miu Miu, and vintage finds from Balmain, Roberto Cavalli, and the list goes on and on. It's not every day you come across a pair of Kate Moss' Marc Jacobs platforms or Tessa Thompson's sparkly Miu Miu mini dress!
Annabelle Dexter-Jones' Fendi Baguette Bag
Tessa Thompson's Miu Miu Dress
Julianna Moore's Gianvito Rossi Boots
Kate Moss' Marc Jacobs Platform Mary JanesPhoto: Courtesy of The RealReal
Keep in mind, though, that the star-studded closet sale contributes to a bigger message at hand: keeping sustainability and circular fashion at the forefront. This news comes in time to celebrate National Consignment Month, with The RealReal's Consign Commitment being the newest endeavor to encourage consigning and bring awareness to a globally significant environmental initiative. The goal is to get its consumers to consign 1 out of every 5 items in their closets, as according to the Paris Climate Accord, "recirculating just 1 in 5 items would help put fashion on track to achieve the 1.5-degree pathway." In tandem with its celebrity collaboration, The RealReal is also putting up a $25,000 donation to Conservation International to help protect oceans, forests, and other living ecosystems.
Get your wallets ready because starting today, you can head to TheRealReal.com to officially shop the Celebrity Closet Sale.