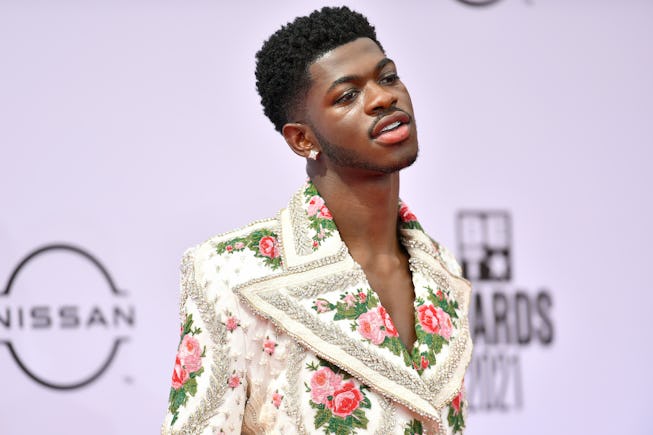 Paras Griffin/Getty Images Entertainment/Getty Images
Lil Nas X's Nike "Satan Shoes" Court Case Inspired His New Music Video — UPDATE
The sneakers make a cameo, too.
Editor's Note: This post has been updated from its original version to include the released music video.
Lil Nas X announced his latest single "Industry Baby," featuring Jack Harlow and produced by Take a Daytrip and Kanye West, as well as a new music video to go with it. On Monday, July 19, he revealed via Twitter a trailer for the upcoming release, calling back to the controversy surrounding "Montero (Call Me By Your Name)" — specifically the Nike "Satan Shoes" that he promoted in collaboration with the brand MSCHF.
The sneakers, a pair of black Nike Air Max 97s, feature a pentagram and a drop of human blood from the MSCHF team, which had plans to drop 666 pairs for purchase before the global sportswear company slapped the Brooklyn-based brand with a temporary restraining order and a lawsuit back in April. Eventually, the two parties reached a settlement in court and MSCHF voluntarily recalled the sneakers, as well as offered refunds and a buy-back program for its "Satan Shoes." For the record, Lil Nas X was never mentioned in the lawsuit, but he contributed to the conversation the best way he knew how: trolling on Twitter.
All of that sneaker hoopla served as creative inspiration for his "Industry Baby" video, which parodies a Supreme Court case between Lil Nas X and Nike on July 19, 2021. The rapper plays himself, the defense lawyer, the prosecutor, as well as the judge, and the actual MSCHF (and Nike) sneaker itself makes a lengthy cameo, too. See the full trailer for Lil Nas X's new video, below.
On Friday, July 23, Lil Nas X released the official music video for "Industry Baby," which kicks off with the last scene of his trailer and Nas being sentenced to five years in the fictional Montero State Prison. It captures his escape three months later, along with an appearance from Harlow, and the video itself is also a YouTube fundraiser for the non-profit organization The Bail Project, which helps to combat mass incarceration. At press time, Nas had already raised more than $17,000.
"Music is the way I fight for liberation. But true freedom requires change in how the criminal justice system works, starting with cash bail," wrote Nas on the fundraiser's description. "I know the pain that incarceration brings to a family, and I know the disproportionate impact that cash bail has on Black Americans. There are so many stories that call on us to take action, and I invite you to join me in this important civil [rights] issue."
Watch the full video, below, and consider contributing to The Bail Project's fundraiser, as well.