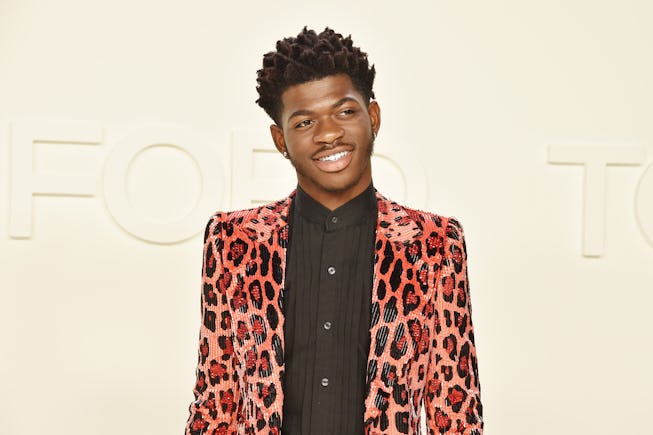 David Crotty/Patrick McMullan/Getty Images
Turns Out Nike Doesn't Love Lil Nas X's Satan Shoes — UPDATE
The company is suing MSCHF for copyright infringement.
Editor's Note: This article has been updated to reflect the latest news from the case's court hearing on Thursday, April 1 and reaching a settlement on Thursday, April 8.
Lil Nas X's Satan Shoes have some famous fans, including, but not limited to, Miley Cyrus. It also has some pretty big haters, namely Nike, which is now suing Lil Nas X's collaborator MSCHF for copyright infringement.
According to The Hollywood Reporter, a federal judge has ordered that MSCHF stop selling the Satan Shoes in a temporary restraining order on Thursday, April 1. An injunction hearing will come next, but judge Eric Komitee has indicated that Nike will most likely win the case based on the evidence already presented.
Lil Nas X and MSCHF made 666 of the Satan Shoe sneakers as part the rapper's release of his latest song "Montero (Call Me By Your Name)." The black Nike Air Max 97s feature a pentagram and a drop of human blood from the MSCHF team.
"MSCHF and its unauthorized Satan Shoes are likely to cause confusion and dilution and create an erroneous association between MSCHF's products and Nike," Nike said in its complaint. "In the short time since the announcement of the Satan Shoes, Nike has suffered significant harm to its goodwill, including among consumers who believe that Nike is endorsing satanism."
MSCHF has previously sold a similar shoe in 2019, the now sold-out Jesus sneakers, which also used Nike's Air Max 97s. However, Nike did not seek legal action against the Brooklyn-based company for those.
Lil Nas X, who is not named in the lawsuit, appears to be unbothered by the controversy, as he's been busy tweeting memes about Nike.
On Thursday, April 8, Nike and MSCHF reached a settlement, according to NBC News. The Brooklyn-based company will voluntary recall the sneakers, as well as offer refunds and a buy-back program for both its "Satan Shoes" and "Jesus Shoes."
"If any purchasers were confused, or if they otherwise want to return their shoes, they may do so for a full refund," Nike said in an official statement. "Purchasers who choose not to return their shoes and later encounter a product issue, defect or health concern should contact MSCHF, not Nike."
This article was originally published on