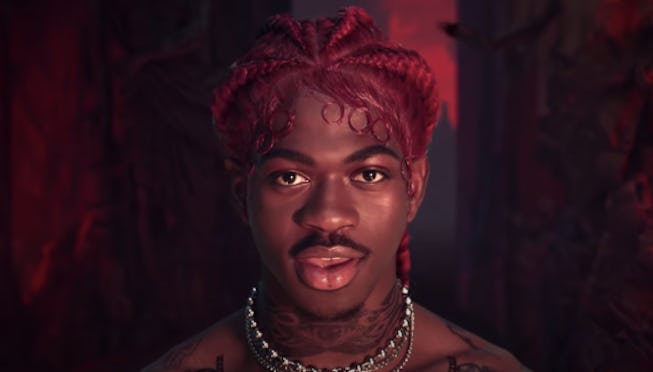 Screengrab via YouTube
Lil Nas X Shuts Down Homophobic Satanic Panic Over "Montero" Video
"I hope you are mad, stay mad, feel the same anger you teach us to have towards ourselves."
Last Thursday, artist and expert marketer Lil Nas X caused a stir with the drop of his highly anticipated single, "Montero (Call Me By Your Name)," and wild accompanying video, in which fallen angel Lil Nas seduces (and then kills) Satan after choosing to pole dance down to hell. While fans embraced the complex visual, which is layered with symbolism both cheeky and serious, predictably some conservative detractors, already bored of "WAP," found the video to be a bit too titillating for their tastes.
Lil Nas remains unfazed by the classic homophobic Satanic Panic he's kicked up, hitting back at the haters with one-liners of his own.
The governor of South Dakota got involved, proving the symbiotic relationship between politics and pop culture:
Responding to those who complained their children are fans of Lil Nas from his "Old Town Road" days, and will now be exposed to his more sexually explicit "Montero" lyrics and video, the artist pointed out that his breakout hit isn't particularly kid friendly, either.
Lil Nas also pointed out the twisted priorities of his naysayers, though they may never get them in order:
He further proved the infallibility of his logic in a back-and-forth with notorious conservative figure Kaitlin Bennett:
In fact, Lil Nas spent Sunday roasting people upset by his video, as well as limited edition, devil-themed shoes he released as part of the song's rollout:
The shoes, which sold out in under a minute and include "one drop" of human blood in the sole, were priced at $1,018 a pair, in reference to the Bible passage Luke 10:18 that reads: "I saw Satan fall like lightning from heaven."
The day he dropped "Montero," Lil Nas posted a letter he wrote to his 14-year-old self, writing, "I know we promised to never come out publicly, I know we promised to never be 'that' type of gay person, I know we promised to die with this secret, but this will open doors for many other queer people to simply exist." His reassurance of his younger, closeted self is a bittersweet reminder of the many barriers that still exist to simply being oneself. Lil Nas may be a God-tier internet troll, but his refusal to tone down his politics, his persona and his art out of fear is no joke, and will, as he said, pave the way for others to follow — which is exactly what his haters fear, and why they're so upset.