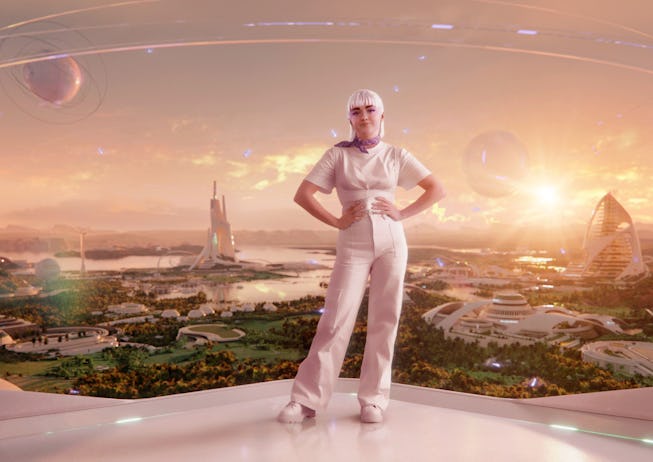 Courtesy of H&M
Maisie Williams Is Bringing Sustainable Fashion To 'Animal Crossing' With H&M
The actor is H&M's first global sustainability ambassador for 2021.
H&M has announced that actor Maisie Williams is the brand's global sustainability ambassador for 2021 and for her first project, she's tackling Animal Crossing. "Avatar" Maisie has set up her apartment on H&M's Looop Island, which houses its recycling Looop Machine, a sustainability innovation lab, and more.
"H&M reached out and expressed that they wanted to make serious changes within their company and work towards a more circular fashion loop," Williams told Vogue. "It's important for corporations to take that leap [so] I was so curious. After I was able to sit down with some of the team at H&M and hear more about their concrete goals and what they're planning to do, I realized it wasn't this pipe dream. It's something real that they're dedicated to implementing."
Fashion brands were quick to join in on the virality of Animal Crossing at the beginning of the pandemic last year. Designers like Anna Sui, Marc Jacobs, and more made digital ready-to-wear pieces for people to customize their avatars with in the game. Sandy Liang also threw her own island party, complete with a pop-up shop of her own designs. For Williams, the intersection of AC, sustainability, and fashion is the perfect fit.
"I'm obsessed with [Animal Crossing]," said Williams. "I discovered last year that it was a great place to buy virtual clothes and get dressed up sustainably. I think we've all used gaming and the internet to escape this year, and it's truly influenced our lives. Virtual fashion is such an exciting new concept, so it's a win-win situation.
H&M's Looops Island will open for business on Tuesday, April 13. Until then, out Williams in the campaign, below.