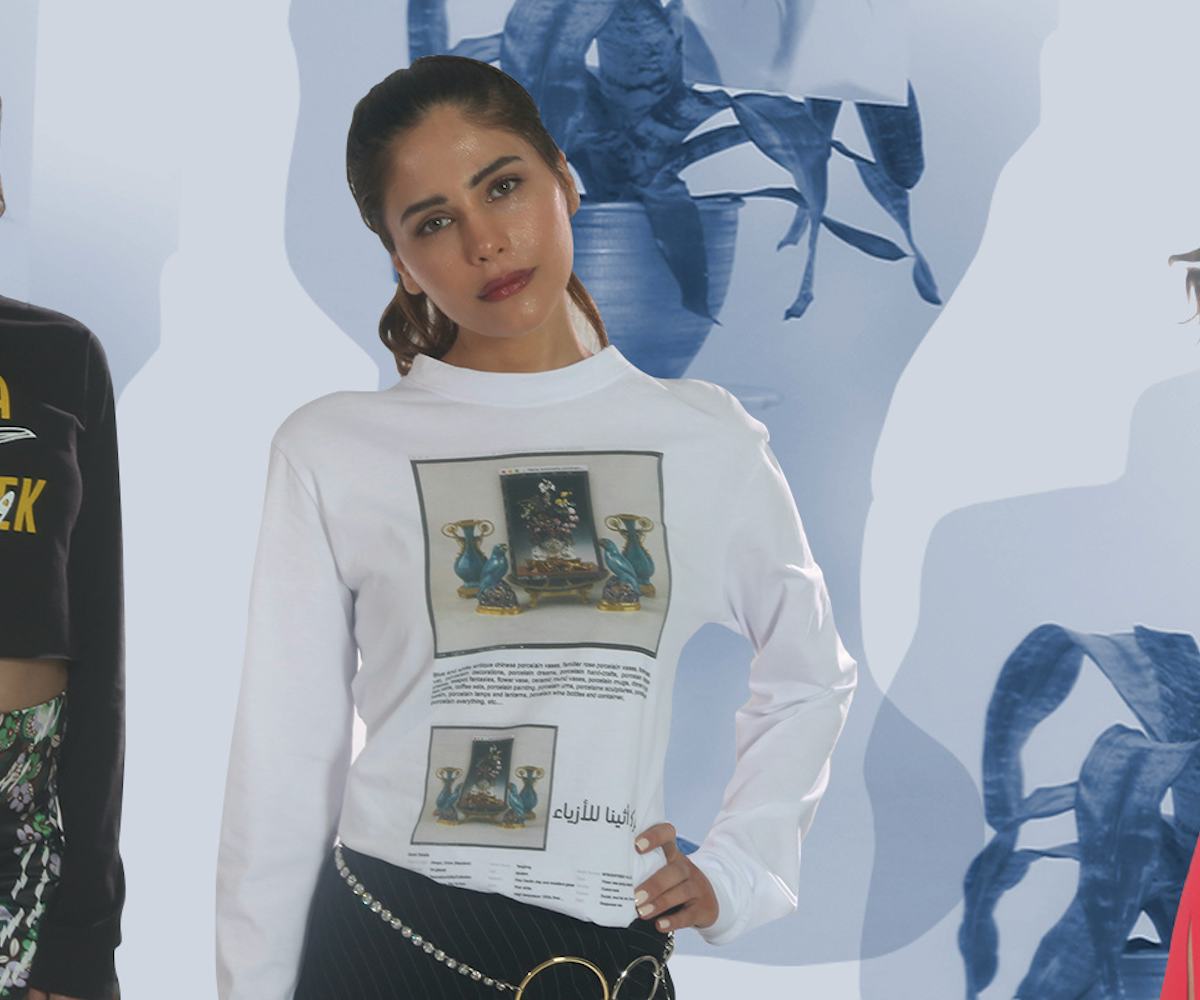 Meet the Jordanian Designer Who Defies Cultural Customs
With LGBTQ-positive statements and references to capitalism and religious icons
Nafsika Skourti is not afraid of making a statement. Take, for example, when the Jordanian designer created a collection that was so controversial, her local customs department seized it. Or, when she designed her Fall/Winter 2018 collection: It included jeans and jackets embroidered with iconography from her own cultural background—Petra, the Parthenon and The Dome of the Rock—and it ended up being acquired by the Victoria & Albert Museum in London in April, as part of its Middle East and North Africa collection.
And though you may not have heard of it yet,Skourti's label is on the way to becoming a new favorite in the category of emerging designers. Think of the brand's aesthetic as young and avant-garde, with no shortage of printed, spliced denim, dramatic going out tops, reworked tailoring techniques and suiting materials with intentional rips, modern patchwork, and plenty of crystal chains. The designer herself describes her signature pieces as: "The ex-boyfriend series, which is basically all the tops with the exposed corestry and the naughty trousers—a classic trouser with an opening on one leg."
Skourti's background is also pretty unconventional. She began her career by training in haute couture embroidery at École Lesage in Paris, worked at Marchesa in New York, and then decided to go on to Central Saint Martins in London where she graduated in 2012. By 2014, she launched her own line, with help from her sister, Stephanie Skourti, a former Goldman Sachs employee, who now heads up the business side of the fashion brand. Even more impressive, the two remain based in Amman, Jordan, where a thriving fashion system is basically non-existent.
"Being a Jordan-based brand has a tremendous effect on the design, the inspiration, the production, even the imagery," explains Skourti. "If I was based in London, for example, there is no way I would have the beautiful studio and atelier we have here, but then again, if we were based in London, the access to talent would be much easier. It sometimes feels like we're on an island all alone here, we are among the few people in Jordan trying to build an industry from scratch. So our gifts and challenges are truly our own."
Likewise, Skourti makes a point of employing local artisans in Amman to make her pieces. When the brand first started, she brought a team of specialists including tailors and seamstresses from London to train her newly hired team, many of which had never worked in the industry before. "As our orders increase, and as our network of women slowly graduates with their skills, the relationship becomes more and more fruitful," she says. "Aside from the techniques, they are learning how to communicate professionally, arrive on time, negotiate, and best of all their confidence goes up."
Along with that, pushing the boundaries in other ways has always been part of the mission of the brand. The theme for the brand's SS19 collection, "Soft Only," was drawn from digital queer life in the Arab world. A rainbow motif with inverted colors, referencing the gay pride flag, was present in the collection. And while it may not seem like that big of a deal in a time when major runways are dotted with designers making political statements, it was, in fact, a revolutionary move for a fashion brand based in Jordan, where LGBTQ people displaying public affection can still be prosecuted.
"This collection was stopped at customs while being shipped back from London to be screen printed with naked male bodies and text saying 'soft only,' a term for gay sex in the Middle East," explains Skourti. "It was too controversial, but in reality speaks to the ethos of the true millennial Middle Eastern person."
For another collection, Skourti explored escort culture in the region and what capitalism does to sex, with sweatshirts printed with a thong icon that read "cash slave" on the front. And one of the label's bestsellers is called the Jerusalem jacket, which features a custom cotton jacquard of the Dome of the Rock in the back. "The fact that we don't do conservative, long abayas, but do sexy little dresses, instead, has been commented on."
Beyond that, Jordan's heritage and culture have had one of the biggest impacts on the brand aesthetically, too—especially the pieces the V&A acquired, which served to conceptually answer the question Skourti always gets asked: "Where are you from?"
"If myself or anyone from the team has the chance to walk you through the pieces, it will feel like a mini culture lesson on Jordan," says Skourti. "The glam aesthetic comes from the dressing-up culture we have. All the bling comes from how much we love sparkle on this side of the world. The theme of identity, nationality, of place, are central to the narrative of the brand. I think about it in terms of how Acne really embodies the values of a Scandinavian brand, or how Isabel Marant exports French cool to the world."
In terms of what's next, the label just got picked up by Harvey Nichols in London and is currently trying to keep up with the demand on Instagram, its biggest platform of the moment, where the brand often has to have three people at once answering all the different DMs they receive. "I believe fashion can be art," says Skourti. "It can prop you up when you're in a vulnerable position, it can be a conversation starter, a form of enlightenment, it can also be the most amazing flavor of bullshit that reminds you not to take yourself so seriously and just puts you in a mood."