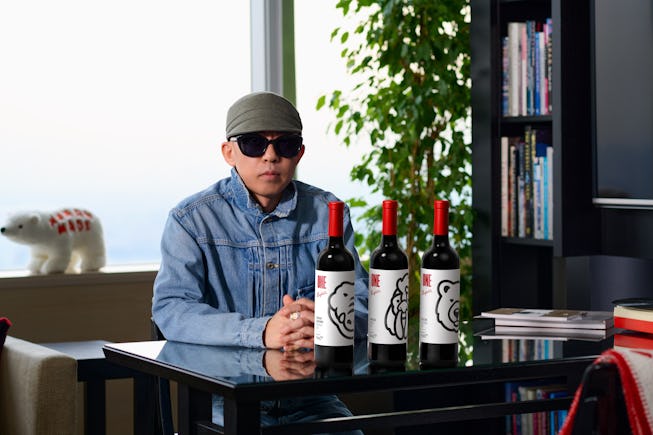 Nigo Named First Creative Partner of Penfolds Wine (Exclusive)
The A Bathing Ape founder and KENZO creative director has lent his designs to One by Penfolds.
Just two weeks following the spring/summer 2024 KENZO runway show, held along the Seine during Paris Fashion Week Men's, designer and creative director Nigo has revealed his latest designs. One big difference here though: these ones come on wine bottles.
On Thursday, Nigo becomes the first creative partner to Penfolds, the beloved Australian wine brand. In the muli-year role, the Japanese multi-hyphenate will lead the creative direction of select products, including the launch of One by Penfolds, a new range of wines celebrating the uniqueness of different regions — or, as the brand puts it, "oneness."
"I chose to collaborate with Penfolds because I have a genuine love for wine and I'm a big fan of the Penfolds brand," Nigo tells NYLON exclusively. "Oneness means a sense of unity and harmony, a connection between different elements that come together as a whole."
The new range, available beginning today, includes 2021 Cabernet Sauvignon Australia, 2021 Vin Rouge France,and 2021 Red Blend California (and additional China-sourced varietal is not available in the United States but included in the range). For each wine, Nigo designed a unique label featuring an animal motif inspired by the winemaking region of the bottle: a crocodile, a rooster, a panda, and a bear.
"The overlap between wine and fashion lies in the lifestyle aspect — dressing in clothes that you enjoy while savoring a bottle of wine that you love," Nigo expands. "It's about finding pleasure in both personal style and the experience of wine. Every wine is unique."
With the first drop of One by Penfolds available now, expect further projects involving Nigo to be announced in 2024. "We are incredibly proud to name Nigo as Penfolds' first-ever creative partner," says Kristy Keyte, Penfolds Chief Marketing Officer. "Nigo is at the forefront of culture anddesign which makes him the ideal visionary to take the reins of One by Penfolds and work together with us across special Penfolds projects. We look forward to sharing this new Penfolds chapter with lovers of fashion, wine, art, and music all around the world."