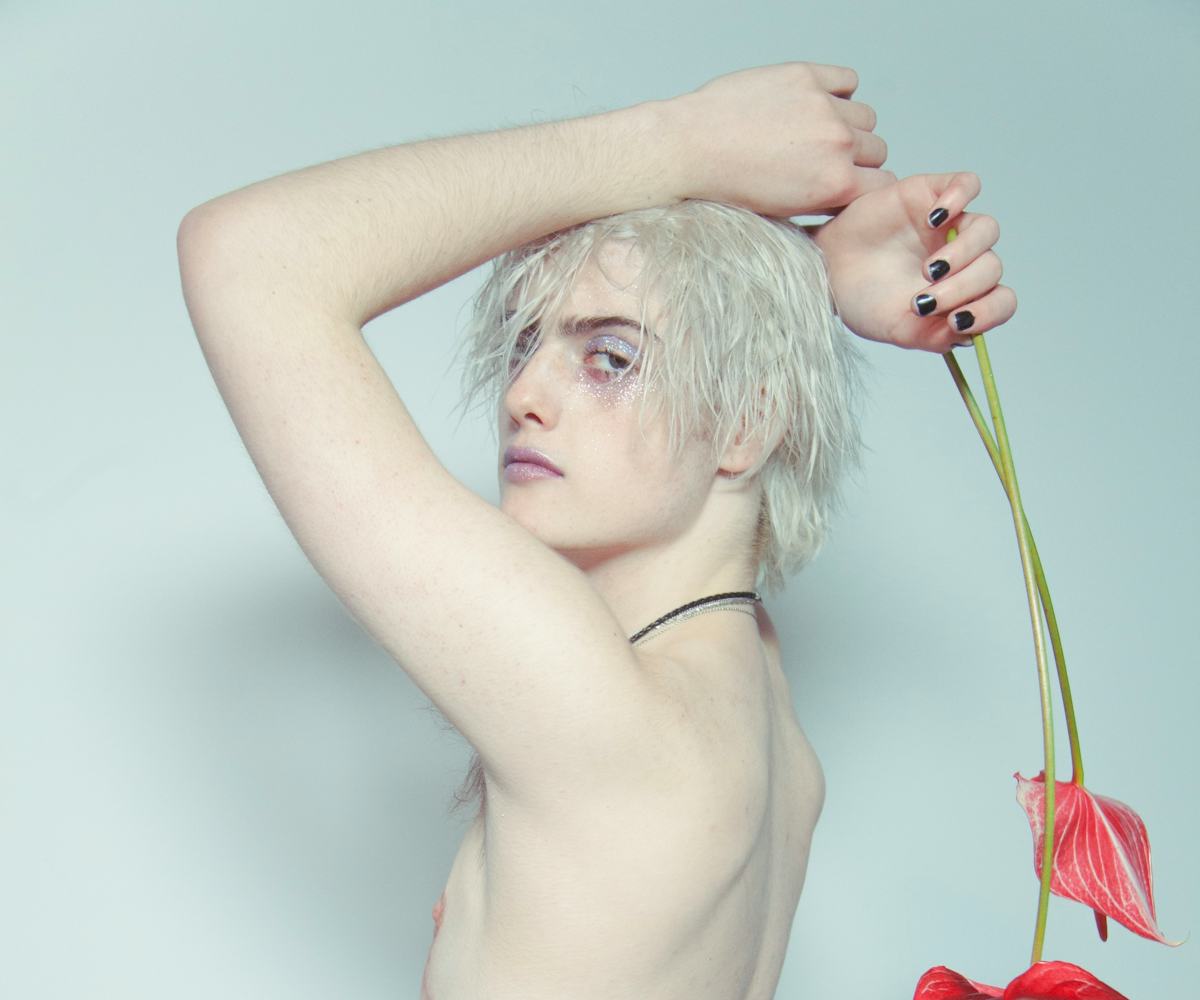 Photographed by Anairam
Casil McArthur Is Helming Transgender Visibility in Modeling
The Colorado native and cosplay enthusiast tells all
The following feature appears in the April 2017 issue of NYLON.
On this frigid February evening at a trendy café in New York's SoHo neighborhood, Casil McArthur is about two weeks into his 18th year of life. So that puts him on the cusp of Aquarius? "No, fuck that!" the model and emerging runway star says with a laugh, some residual glitter from this afternoon's photo shoot sparkling under the mood lighting. "I'm a Capricorn."
Casil (pronounced "castle") will not be mischaracterized. As a transgender man, being seen for who he really is has always been at the forefront of his mind. "I used to freak out over wearing shirts that button up on the 'women's side,' because they button on a different side than men's shirts," he recalls from his childhood growing up as a girl. "I noticed everything like that on myself, because to me, any little indicator was a horrible reminder of something I didn't identify with."
Last year, when he marched in Coach's pre-fall '17 men's wear show—his first post-transition runway appearance—dressed in tailored houndstooth slacks, a brown furry coat, and a T-shirt emblazoned with a vintage NASA logo, McArthur's true self was on proud display. Since then, his momentum has only increased as a new staple of the teen model elite, and his importance as an emerging trans model is paramount.
In recent years, there's been a rise in transgender visibility in fashion and beauty. Andreja Pejić walked the runway for Marc Jacobs and Hari Nef became the face of L'Oréal—but what sets McArthur apart, in addition to his self-described "male princess" aesthetic, is his age. At 18 years old, McArthur symbolizes the future of inclusivity, representing a period of life—the teenage years—in which gender identity is often complicated by peer pressure and confidence issues. McArthur, on the other hand, is both measured and introspective as he gazes out from under his bleach-blond locks: "I don't mind looking feminine—I just don't like being forced to be something I'm not," he says. "The second I became myself I put my foot down. And it's terrifying, because you don't want to step away from what's safe—but if you don't, you're not going to get anywhere."
McArthur hails from small-town Estes Park, Colorado (or "Col-or-RAD-o," as he says, pronouncing it like a local) where he was homeschooled beginning in fourth grade. He was discovered at 10 years old, shortly after which he began modeling under the name Dani Rose. During this period, cosplay (the practice of dressing up as a fictional character) became a critical outlet for McArthur to explore himself—it was the first time, he says, that he ever met people who were like him.
"There's an exchange that's stuck with me forever," he recalls of these years. "I was at a convention dressed as Dave Strider from Homestuck, and a deaf woman came up to our group with a friend who was signing to us on her behalf. She told us how much she loved our cosplays and then she paused and said: 'You are the most beautiful man I've ever seen in my life!' That was the best compliment I have received, ever," muses McArthur. "That was the compliment I had been looking for. It felt right."
After starting to take testosterone, McArthur signed with Soul Artist Management and began working with photographers like Steven Meisel and Collier Schorr. "I have absolutely no problem dressing as a girl, especially now that there's no way for anyone to mistake me for one—so I'm thrilled to embrace everything in the fashion world," he notes. "Once you feel really comfortable with yourself, it's nice," he adds. "I think that nail polish is for everyone—so are dresses, so are skirts, so are shirts and pants."
This celebration of androgyny is just one of the factors that led McArthur to a recent high-profile cosmetics gig with It brand Milk. "After I did the Milk campaign, I did a Snapchat takeover and so many kids reached out to me and thanked me for me giving them courage just to continue living, and I was like, 'Fuck. No matter what happens, I want to live my life this way. I want to be a role model for the trans community.' I could completely screw up, sure—but I'm going to do me the best way I can," he explains. (And what he's doing is working, because recently he was tapped for Marc Jacobs's fall '17 runway show.) With his sense of purpose and conviction, McArthur—a Capricorn, don't forget—is not going anywhere. "I don't know what will happen, but I'm hoping for the best," he says. "And I have enough faith in myself to not be scared."
Makeup: Daniel Avilan at Wilhelmina using M.A.C Cosmetics.