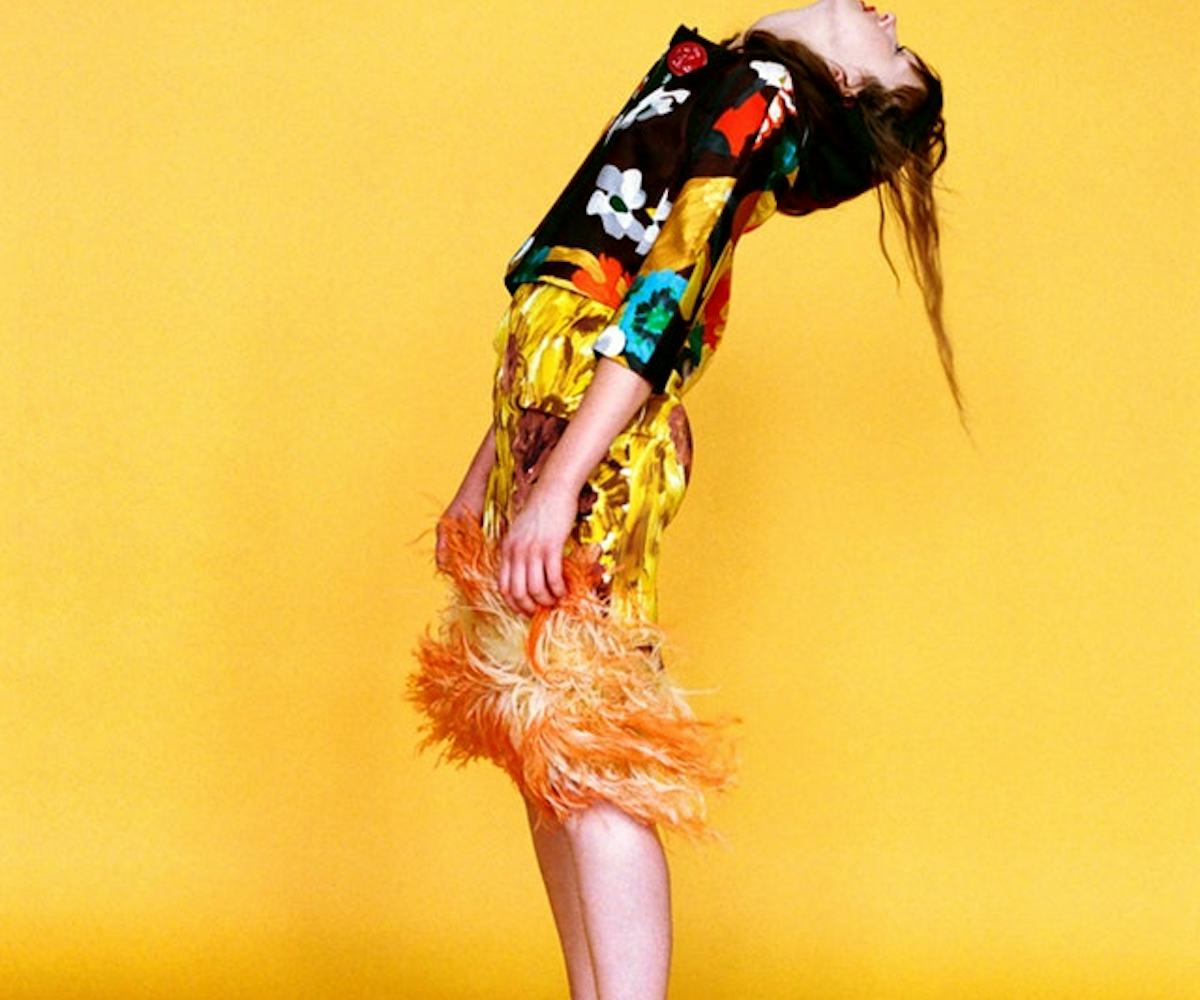 photo by eric t. white; styled by dani stahl; hair by eloise cheung; makeup by joseph carrillo; modeled by brooke smith
Be 'All That' And More In Prada's Fall 2017 Collection
Feathers and florals? Sign us up
The following feature appears in the September 2017 issue of NYLON. 
A Prada girl cannot be mistaken—when she walks into a room, you just know. The juxtaposition of sexy and smart, of classic and complex beauty is apparent in Miuccia Prada's collections season after season, but what sets this one apart are the political undertones that are subtly present throughout. Perhaps Prada has found inspiration in her own personal history? She mixes bombshell silhouettes from the '50s with protest-inspired looks straight from the politically charged '60s and '70s, always finding a balance. 
Prada has created her own art form in the fashion world, and this collection for fall '17 reflects just that—from the vibrant patterns to exquisite details like ostrich feathers and crystals, these multicolored pieces are made for a powerful woman. "Since the instruments of seduction have remained unchanged for more than 50 years, I wanted to discuss them again," Prada says. "It is the usual argument about how women can't be intelligent as well as interesting and seductive at the same time. But I don't want to be official-ly political in my job. As a designer, I do it my way." And we should all choose to do things our own way, whether that means making a statement with your clothing— by, say, pairing a corduroy jacket with a skirt adorned in orange feathers—or by creating a better world through your actions.
Photographer: Eric T. White
Stylist: Dani Stahl
Hair Stylist: Eloise Cheung
Makeup Artist: Joseph Carrillo, assisted by Cesar Gonzalez
Model: Brooke Smith
All clothing and accessories worn throughout by Prada.