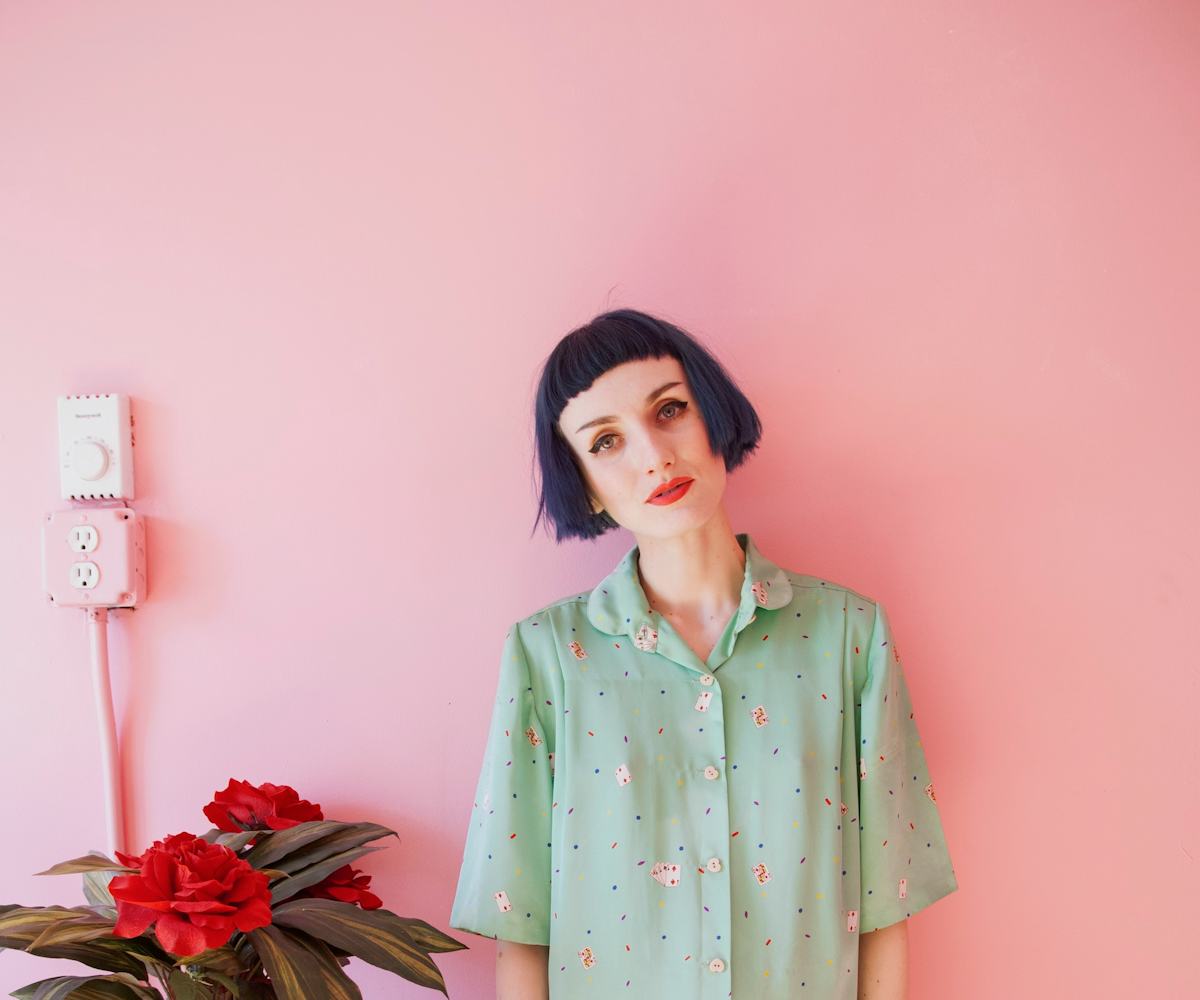 Photographed by Juliette Cassidy
Step Inside Stella Rose Saint Clair's Strawberry Shortcake-Colored Dreamland
This designer shows us her Brooklyn abode
The following feature appears in the April 2017 issue of NYLON.
"So you know in Addams Family Values when Uncle Fester marries that blonde woman and then she totally redecorates the house into, like, '90s-suburban-lady pastel meets Addams Family gothic?" asks Stella Rose Saint Clair, gesturing toward the sofa where her elderly cat, Inch (as in, Hedwig and the Angry—), is sprawled out lazily in a patch of sun. "That couch basically came from there." 
The baby blue, vintage velvet piece with an ornate, rococo-style gold frame is, like most everything about Saint Clair's Bushwick apartment, idiosyncratic and colorful, both in its outward aspect and backstory. "It was deep in Staten Island, in a house with marble cherubs, spiral staircases, and fountains everywhere, all in this really over-the-top, bad-taste kind of way that was amazing and bizarre," she says of the furniture's former dwelling, taking a seat on a nearby plush chair in the shape of a high-heeled shoe and smoothing her mint green playing-card-print dress. "The woman selling it was going through a divorce. She was trying to get rid of everything."
While the sofa is certainly a defining statement piece in Saint Clair's home studio, where the designer and all-purpose creative now spends the majority of her time working on the forthcoming launch of her new fashion line—a sustainably made, femme-leaning unisex label—it's not the most notable feature of the space. That distinction belongs to the bubble-gum-hued walls, which are common to the apartment as a whole, their rosy aura amplified by the flood of natural light that ricochets off the bright white, tin-style ceilings.
"Anything that I've ever made has been created in either this room or another room that looked exactly like this one," explains Saint Clair. "I've painted every place that I've lived with this same color pink. I've just gotten really used to it." The makeover was not exactly pre-approved by building management when she moved in just over a year ago, but no matter. "[After the fact] I ended up saying, 'I hope you don't mind, but I painted the whole apartment pink.' The landlord wrote back, 'It is your apartment, you can do with it as you wish.' And I was like, 'Famous last words,'" she recalls, her bold lips curling into a smile. 
Bundles of vibrant fabrics and an array of feathery boa materials line the studio's back wall all the way up to the ceiling—a sizable textile collection situated right above a small desk with a single sewing machine and adjacent to a mood board littered with sketches. The scraps and supplies are slated for future use or left over from past pieces, either from Saint Clair's eponymous label, STELLA, which she has been selling on her web shop since 2011 (and will continue to produce intermittently after the launch of her new line), or from one of her many collaborative efforts, including the work she has done with singer-songwriter Melanie Martinez, for whom she created the looks for a 2015 tour and several music videos. (Martinez megafans will also recognize Saint Clair from her starring role in the video for the hit debut single "Cry Baby," among others.)
The singer first spotted Saint Clair in a Lanvin campaign—one of multiple modeling gigs she's landed—and immediately loved her style, so when the time came for some aesthetic support, she knew just who to call. "For that first video she asked me if I had any doll-esque clothes, and I was like, 'Do I?'" Saint Clair says with a laugh, nodding toward a rack packed with a random assortment of samples waiting to be mended and personal wardrobe pieces.
Three mannequin heads hailing from an abandoned punk house in Saint Clair's hometown of Seattle occupy the neighboring shelves, nestled amid a range of sundries, including a year's worth of the defunct cult-favorite Japanese fashion magazine Fruits and a 1968 issue of Playboy featuring artwork by Saint Clair's cartoonist grandfather. About a decade ago, right before the punk-occupied house was bulldozed to build condos in Capitol Hill, Saint Clair and a friend ventured inside the space out of curiosity. "Every wall was like a crazy paint-splatter mural, and there was destruction everywhere—broken furniture and holes and beer.
There were weird things, too, like an entire hallway filled with thousands of blurry photos of nothing—you had to wade through them. It was surreal," she says. "We went into a bedroom downstairs; the lights were on, and there was a bed in the middle of the room with the sheets still on it and everything. My friend opened a closet, and it was full of mannequin heads. I had all of these wigs at the time, so we wrapped them up in the sheet from the bed and took home a bag of heads."
This saga is suddenly interrupted by a tiny rustling sound emanating from the studio's entrance. "That's Filbert," Saint Clair says, referring to the stray kitten she adopted just a few months ago after spotting him behind the apartment building. Filbert leaps into view near a small shrine-like display centered around a red record player. The items surrounding the turntable are random in assortment, from Saint Clair's prized copy of the Liquid Sky soundtrack to a bunch of black-and-white headshots of '50s-era ladies in uniform.
"My step-grandmother was a stewardess," Saint Clair notes as we proceed through the doorway, "and I don't even know why I have these, but I ended up with photos of her friends. Some of them are signed." She pauses and gingerly removes one from its pinned position on the wall, turning it over to reveal curls of cursive handwriting. "'Dear Marion,'" she reads, "'we didn't mean to run you down because you're way up top with everyone. Thanks for listening to the tales of woe. Love, Judy.'"
Any one of Saint Clair's almost 80,000 Instagram followers knows that her talents extend from the studio to the kitchen. She has been eating mostly vegan for the last 15 years, largely cooking her meals for herself (and sharing her creations online)—think everything from dandelion greens and chickpea soup to cocoa-maple-hazelnut smoothies.
"I really love steamed vegetables and brown rice—basically the diet they try to feed [Nomi] in Showgirls, and she's really angry about it," she jokes, running her hand through her blue-tinged, bobbed hair. "But honestly, the reason I'm interested in sustainable fashion right now is totally coming from my interest in food politics."
The walls of Saint Clair's kitchen, where she concocts her creative dishes, are filled with an assortment of food-related oddities, from the packaging for Happy Boy Margarine (which she claims can be found in Chinatown) to plastic breasts mounted like trophies, to felt berets featuring cartoonish eats.
"My mom actually made all of these hats for her line, Baby Beret," she says. "All of them have these really funny appliqués on them. It's strange looking at some of my work now, and then seeing that my mom was doing this when I was a kid, and realizing that maybe I kind of absorbed it. It just makes a lot of sense."
A long, narrow hallway extends from the kitchen, completely brimming with hats. "I originally was more interested in doing hats than I was in doing fashion," Saint Clair explains. "Some of these hats I wear all the time, some hats I never wear. Some are things that friends made, some are vintage hand-me-downs." On opposite sides of the hall are Saint Clair's bedroom and bathroom. Her sleeping quarters are sprinkled with creepy-cool, old-timey baby dolls and a sweet white vintage dresser packed with orangey-red lipsticks. "I kind of want to paint it black. I actually really want to paint much of my furniture shiny black," she muses, more to herself than to me.
An adjoining wicker shelf is jammed with the kind of VHS treasures you didn't know existed anymore, from Cabaret to Pink Flamingos, to Polyester. Across the way, Saint Clair's bathroom features an eye-catching black-and-white illustrated shower curtain. "I took a selfie in front of it just this past summer and a friend of mine tagged the illustrator in my photo, so he ended up seeing it. His name is David Foote, and he liked my look so much that he asked me to be one of the people in the campaign for his soap company called Marianella," she says. It's the kind of thing that seems par for the course in Saint Clair's world—creativity begets creativity.
When it's time to leave, I pet Inch goodbye and steal one final glance at the candy-colored space before exiting the building down a flight of dimly lit stairs. I emerge into the streets of Brooklyn, where suddenly I'm acutely aware of the depressing lack of pink.