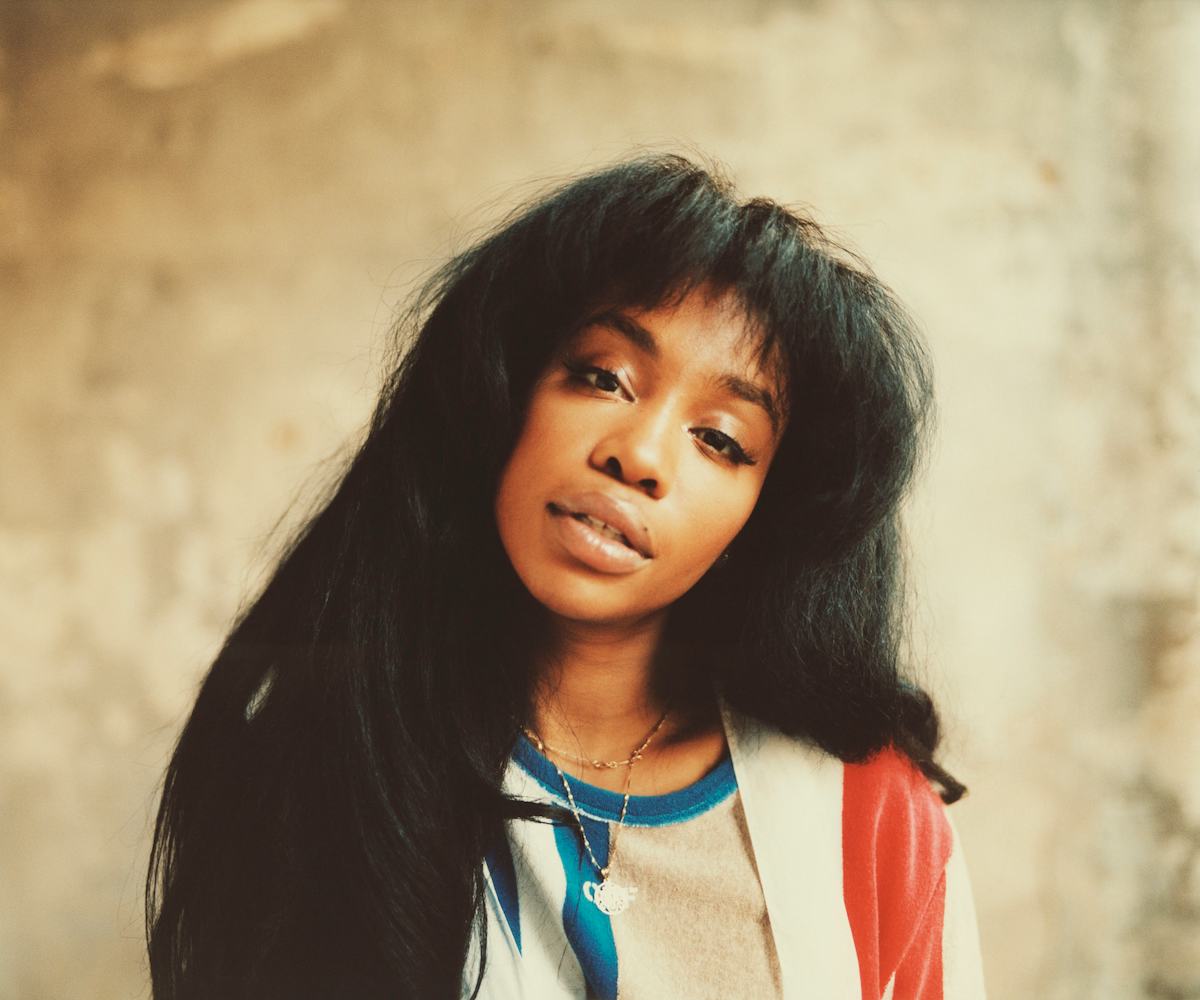 Photographed by Yoshiyuki Matsumura. Styled by Javon Drake. Overalls by DKNY, top by Off-White c/o Virgil Abloh, all jewelry (worn throughout) SZA's own.
SZA Is A Beacon Of Hope For Finding Your Voice
Get to know the singer-songwriter
The following feature appears in the April 2017 issue of NYLON.
SZA is not a morning person. It's little help that the day of the singer-songwriter's photo shoot with NYLON is a cold one, and our new studio's radiator happens to be malfunctioning, and the only warm beverage available is coffee, which she doesn't drink. Anyone who's accustomed to working with entertainers knows that this is ample fodder for a rant or, at the very least, a complaint, but that's not SZA's style. Instead, she is the one apologizing—for not being awake, for having such particular drink preferences—and promises that she'll be more lively once she's finished doing her own makeup. Sure enough, when she emerges from the bathroom a half-hour later with a razor-sharp winged eye and impeccably matte face framed by her fluffy bangs, her energy fills the room as she teases her manager, Punch, and invites her former college roommate to stop by.
An animated talker and huge fan of hugs (she admits responsibility for a number of embraces with her begrudging labelmates on Top Dawg Entertainment—Kendrick Lamar included), the 26-year-old has plenty of personality to channel into her songs. But it wasn't until recently that she's become comfortable with being just as unreserved in her music. For most of her six-year career, she's hidden behind stacks of harmonies and overpowering beats, a method that was born from the fact that she's still learning how to create music. Before she was discovered by the TDE crew in 2011 (she was ultimately signed in 2013), she devoted more mental energy to gymnastics and science than music theory while growing up in Maplewood, New Jersey. "I actually thought I was going to own a marketing firm," she says of her early career goals, and her odd jobs included a stint at Sephora (in skincare, not as a makeup artist, as her glam skills would suggest). "Music was my hobby, but then became more of a serious hobby because I didn't suck at it, and I was intrigued that I didn't suck at it."
That discovery led her to release three projects—See.SZA.Run, S, and Z—that established her ethereal voice and metaphorical songwriting, and left fans hungry for her to complete her trilogy with A. But after revisiting her song "Babylon" and realizing how quiet she sounded ("I turned the volume up all the way and I was still like, 'Damn, girl, you are whispering!'"), SZA took a step back. "I took three years to learn about life, to learn about the world, to travel, to talk to people," she says, absentmindedly popping bubble wrap that she found nearby. "I buried so many people in these last few years. It taught me a lot. I have never been more in love with the people in front of me. I've never felt more privileged to be alive…. I was pretending the world was a different place, probably as a defense mechanism, so I had to get real, and I made an album while doing it."
That album, CTRL—her forthcoming official full-length debut—coaxes her vocals to the forefront as she grapples with the ups and downs of her twenties, dipping into modes of low self-esteem, putting an old fling in his place, and revealing to her ex that she's been "secretly banging his homeboy" while he was in Vegas with other girls on Valentine's Day. Much like her previous works, she alludes to her love of film, most notably in the lead single, "Drew Barrymore," which she envisioned being in the soundtrack for the actress's 1999 rom-com Never Been Kissed. "God willing," she says, she'll eventually make her own movies, but for now she's sticking to overseeing creative direction for her website and co-directing the visuals for her songs. "It's such an interesting trip into the mind. You get to really learn about people as directors, filmmakers, and editors. It's all based on personality, and how they see the world. That shit is so cool. I'm also tired of talking about being in the world, so it's a good way for me to talk without talking," she continues, citing Spike Lee, Martin Scorsese, and Sofia Coppola among her favorite directors, along with Quentin Tarantino, because "he loves black people and his attention to detail is very weird."
Unlike on her previous projects, SZA eschews complex analogies for simple, direct statements on CTRL, a method that was partly inspired by legendary producer Rick Rubin. "He doesn't give a definitive opinion," she says of working with him. "My first question to him was, 'How do you feel about me releasing things during [Mercury] retrograde? I've been working on this for a long time, and I would be shook for it to be, like, pissed away during retrograde.' And he was like, 'Sounds like you have the patience to wait until after retrograde,'" she says with a laugh. He was far more indirect than the first person she consulted: "I asked Erykah the same question, and she said to be careful with computers and all things with systems, but that if it's something healing, it could be really powerful."
The Erykah she's referring to is, of course, Badu, and it's with this casual mention of the neo-soul pioneer's name that the gravity of SZA's résumé truly sets in. After all, she's signed to the same label as Lamar—one of the greatest rappers of our generation—and she wrote "Consideration," the opening track on Rihanna's magnum opus, Anti, as well as parts of "Feeling Myself," the world-stopping collab between Nicki Minaj and Beyoncé, the latter of whom personally requested SZA's presence in the latest Ivy Park campaign. (And if that's not impressive enough, Solange always responds to SZA's random emails, so there's that.) "Beyoncé called me, and I showed up. I didn't even know what the fuck it was for," SZA says, eyes wide, as if she's reliving the moment she found out about the campaign. "One time she stopped a whole procession—like a walking crew with her security and all her folks—just to say hello to me and my friends! I feel like my 'standom' for her is growing. I don't know what the fuck is happening to me. I'm pretty sure she put a spell on me or something."
But SZA's induction into the Beyhive came much later than most. "When I was younger I didn't relate to Beyoncé as much, because I didn't consider myself a pretty girl. I definitely didn't consider myself a sultry girl—like, to be rolling 'round with a fuckin' body chain and rhinestones that spell out 'Virgo.' I was like, 'Where's Kelis at? I don't relate to this!'" she says, laughing. "Plus, my parents were very sheltering, so they made sure that I never got into that kind of shit anyway." Instead, her parents instilled in her a strong belief in God and, like her father, she follows the Islamic faith. Though she no longer wears a hijab or attends Friday prayers at the mosque as often as she used to, the religion has always stayed with her. "I've never felt like Islam didn't fit with me." Her voice drops to a serious register. "Maybe right after 9/11, when it was hard wearing hijabs to school because kids were shitty. It feels like 9/11 all over again," she says, referring to Donald Trump's travel ban. "I wish people understood more because Islam has been the most loving experience—my mother's Christian and she comes to the mosque with my dad all the time. People just don't have enough exposure, and it's hard when you don't have exposure to not be afraid."
The singer's acute awareness extends to her own perceived shortcomings as well—such as how her shy nature occasionally prevents her from being as confident in her resolve as she aspires to be. "I'm still pretty bad at saying no," she says. "I'll fuck around and end up in a tub of Campbell's Soup [for a photo shoot], and be like, 'I'm into it. Let's do the chicken noodle next!' But that's a waste of everyone's time. You have to be authentic, otherwise you're jamming the flow of the universe with a monkey wrench by creating resistance and uncertainty. Do what you feel, and even if you're not sure just do it anyway. But do it like you give a fuck."
SZA's musts:
Eating: Anything with cheese, count me in. Now that I'm kinda paleo, I'm into raw cheddar cheese. It tastes just the same, but it has all the live cultures and enzymes.
Drinking: Cheese! Can I drink cheese? [Laughs] But I love iced chai.
Wearing: Whatever reflects my mood in a genuine way. If I'm feeling free-flow and I'm hiking, but I want to hike in my new shit, I'll wear my new shit.
Beautifying: Black soap and hemp oil. Hemp oil is great for acne-prone skin because it's non-comedogenic. I put a lot on one night as an experiment and in the morning my skin was smooth as fuck.
Browsing: Instagram, The Shade Room, and news—until it all filled up with Trump. But National Geographic and tech magazines still have cool information.
Reading: I'm rereading A New Earth. [At first] it sounded like some really cool ideas, but I didn't understand them. I didn't understand non-attachment love. I was like, "What the fuck? I'm attached to my man!" Now I understand that love extends beyond romance and sexuality. Love is something I'm trying to magnify in my life, so I like this book a lot now.
Rejuvenating: Swimming, climbing, hiking—I just love moving around and doing shit, and being amongst nature. Which is why New York is the worst for me. Like, I can't get one bush?
Believing: "When I do good I feel good. When I do bad I feel bad. That is my religion." Abraham Lincoln [allegedly] said that, not me. Don't @ me.
Visiting: They say if you care about this particular island, you won't tell people about it, but there's this one Hawaiian island that has no predators. You can be out in the jungle and there's nothing coming to eat you.
Venturing: There's a beach in the Bronx, Orchard Beach—it's a whole-ass nature beach, it's so random; the Cloisters up in Dyckman; and Fort Tilden is crazy. It's a nude beach, but it was a military fort so it has ruins there. It's beautiful.