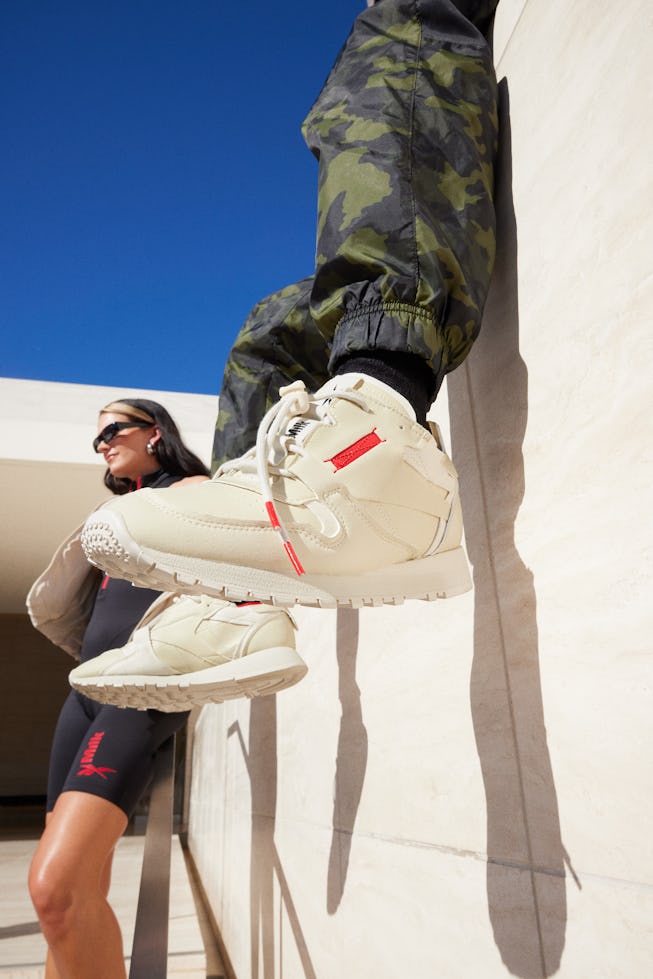 Courtesy of Milk Makeup
Reebok And Milk Makeup Are Collabing On A Vegan Sneaker Collection
The makeup-inspired fashion collaboration we didn't know we needed.
Sneaker brand Reebok has a long history of high profile collaborations, including teaming up with Maison Margiela, Billionaire Boys Club, and even 50 Cent. However, their latest collaboration may be their most unexpected one to date. Today the brand announced that they are teaming up with beauty brand Milk Makeup with the goal to "create a line celebrating the brands' shared values of utility, sustainability, and inclusivity at the intersection of work and play". The result? A line of vegan footwear and apparel, co-branded with Milk. (But no makeup as of yet).
The new collection of vegan shoes includes five styles, including revamped versions of Reebok's newest and heritage styles. All styles are made of 100% vegan materials and zero animal by-products. The five styles include, The Classic Vegan ($150), Club C 85 Vegan($110), Classic Make It Yours Vegan ($100), Club C Geo Mid Vegan ($140), and BB 4000 II Vegan ($100). Each piece of footwear includes elements of deconstruction, geometric patterns, bold red accents, and the Milk logo.
Alongside the range of sneakers, the collaboration also includes two functional yet ultra-stylish pieces of apparel, the Milk Lux Hoodie ($80) which will be available in sizes 3XS-3XL, and the Milk Bodysuit ($75), available in sizes 2XS-4XL. Both the hoodie and bodysuit have red detailing to match the footwear, including a red zipper, and red Milk logo.
While makeup lovers may be disappointed to hear that the upcoming collab doesn't include any beauty products, the release will showcase a rare partnership between a sportswear and cosmetic brand. Equipment Essentials by Milk Makeup and Reebok will be available in unisex and women's sizing on the Reebok website and select retailers including Amazon beginning April 14th.
Take a closer look at the collection, below: