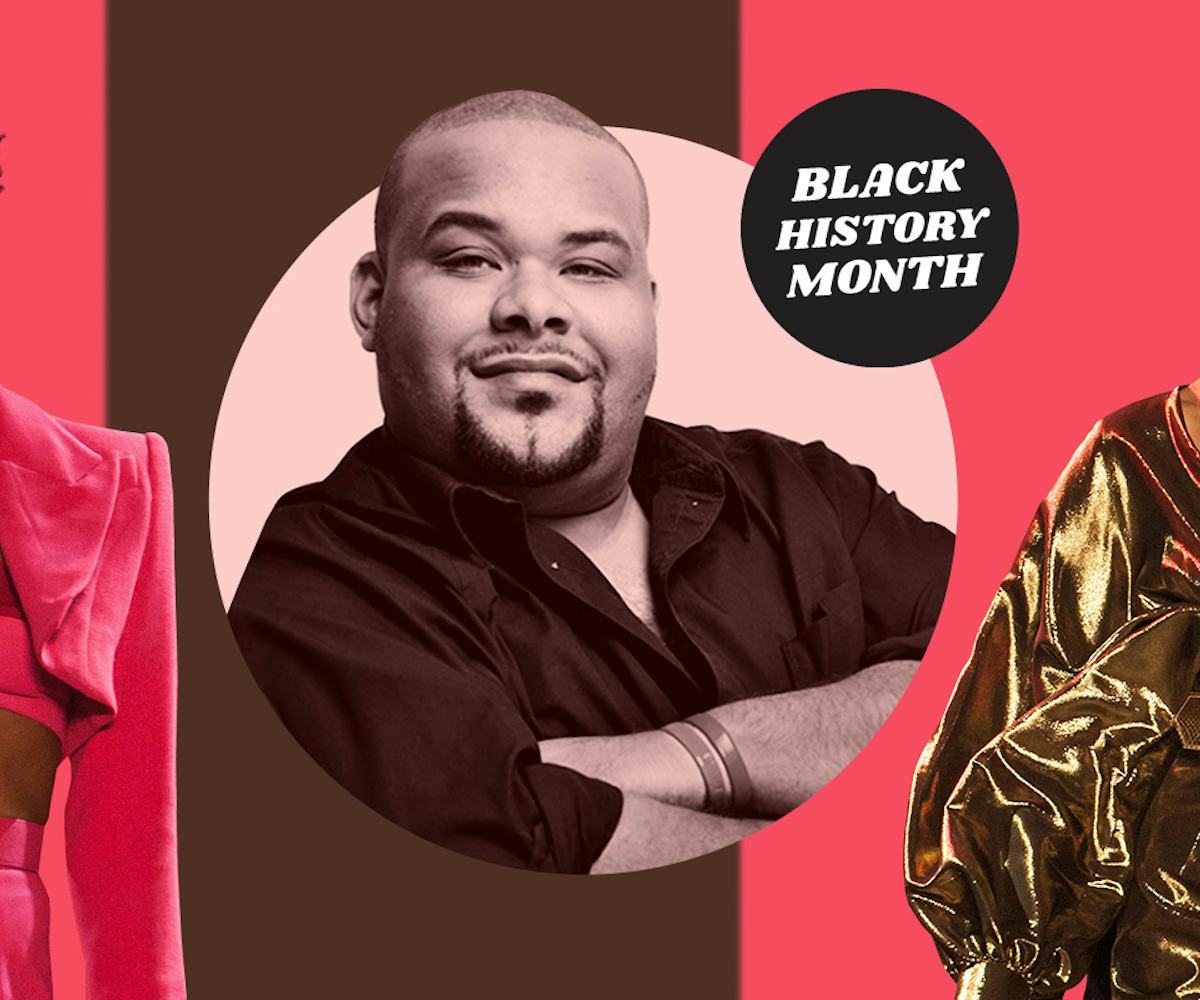 Photos by Rudy K & Courtesy of Sergio Hudson
Sergio Hudson Wants To Be The Next Great American Brand
The designer — worn by Michelle Obama, Beyoncé, and Rihanna — just made his New York Fashion Week debut.
Show attendees have Michelle Obama (in part) to thank for Sergio Hudson's New York Fashion Week debut. The designer has created pieces for the former first lady two times in the past year — gigs that, he says, were the catalyst for his first show. "After we dressed her the second time, I started getting RSVPs to my September show… that I wasn't having," Hudson says, laughing, to NYLON. "So I thought, Well, maybe I should be doing a show if people are RSVPing and assuming that I'm having one." He asked his show producer to look into it, "and everything started lining up."
Hudson doesn't remember a time when he wasn't interested in fashion. Growing up, his mom was a tailor and his sister was a model. Vogue magazines were littered around the house, and photos of Naomi Campbell decorated his walls. It was around four or five years old when he realized he wanted to be a designer; at the age of 10, he was designing gowns for his mother's clients. You could say the gift of style runs in his family, but Hudson thinks it's more that he was born into it. "I never had another option in life," he says.
After attending design school in Atlanta, Hudson worked privately with custom clientele creating conservative and wedding dresses — work which, he says, "I hate to do." But hailing from the South (South Carolina, to be exact), this is what he was offered. So, he took what he could get. "You have to pay the bills, and that was the only fashion industry where I was from," he says. It wasn't until 2013, when he appeared on (as an alternate, he points out) and subsequently won Bravo's fashion competition series Styled To Rock that his career started to take shape.
As a result of winning, Hudson took home $100,000, received a fashion feature in Glamour magazine, and got the chance to become a member of Rihanna's design team. All of these things are beneficial when you're first starting out, but what he says prepared him the most for what was to come was the pace of the show itself. "It was kind of a training ground for what I do every day now, especially when it comes to dealing with celebrities for red carpet and events," he says. "We would have to make two full looks in 24 hours with no help. It was really crazy stuff." More than that, Styled To Rock allowed Hudson to become the designer that he always wanted to be. "It opened the door to who I am now," he says.
And who is he now, seven years later? Well, he's someone whose pieces include tailored pantsuits and slinky silhouetted dresses. He's someone whose creations have been worn by celebrities like Beyoncé, Demi Lovato, Rihanna, Janelle Monáe, and Kendall Jenner. More than anything, he's someone who dresses women ("Real women," he says — from his mom who just turned 60 to his niece who just turned 22) looking to stand out. "The Sergio woman, when she walks into the room, all eyes are going to turn," he says. "My muse was my mother, and that's her goal with every outfit that she wears. So everything that I put out there is going to do that."
Hudson launched his namesake ready-to-wear line in 2014 and debuted his Fall 2020 collection last Friday during New York Fashion Week. Speaking with him prior to his big day, the main descriptor he used for his collection was glamour. "I know glamour is not that popular now, but, to me, the joy of dressing up and watching my mom dress up growing up was the biggest inspiration," he says. This season, he was also inspired by the late '80s and early '90s when "top rock divas," like Stephanie Mills, Anita Baker, Tina Turner, and Sade, reigned supreme. "One thing they all thought about was what they wore, it was all strategic," he says. "Nothing is going to be haphazard, everything is going to be planned." The same can be said of his collection, which included two-toned jumpsuits, blazers, and dresses with structured shoulders, all of which were accessorized with purses, jewelry, and belts that Hudson designed himself. (He's looking to venture into shoes next).
While Hudson understands that, if you want to be a designer, putting on a show during New York Fashion Week is almost a given (and he considers the opportunity a great honor), it wasn't exactly a career fantasy of his. One was dressing his dream client, Iman, which he's done a couple of times now. "Growing up idolizing that woman, and for her to reach out to me and to want to order pieces from me, was very humbling," he says. "I cried for hours." Another is walking into Bergdorf Goodman and seeing his clothes in-store. "To me, the real benchmark of being a designer is being in one of those classic stores and women actually wearing your clothes," Hudson says. "I think it would be amazing to walk down the street one day and see a woman in one of my jackets. I haven't had that moment yet. So, when that happens, then I might say, 'Oh, you made it.'"
It's an interesting and exciting time for a designer like Hudson to make his way onto the New York Fashion Week calendar. Many big names like Ralph Lauren, Tom Ford, and Tommy Hilfiger have either opted out this season or are showing elsewhere, leaving up-and-comers a chance to shine in their absence. And Hudson hopes to do more than just replace them on the runway — he hopes to follow in their footsteps to become a great American brand, to become a presence that reaches beyond clothes. "When I was growing up, my mom would wear Ralph Laurel Purple Label, my dad wore Polo, I wore Polo, we had a Ralph Lauren coffee table, so that's my role model," he says. "I want to be in every part of the American person's lifestyle."