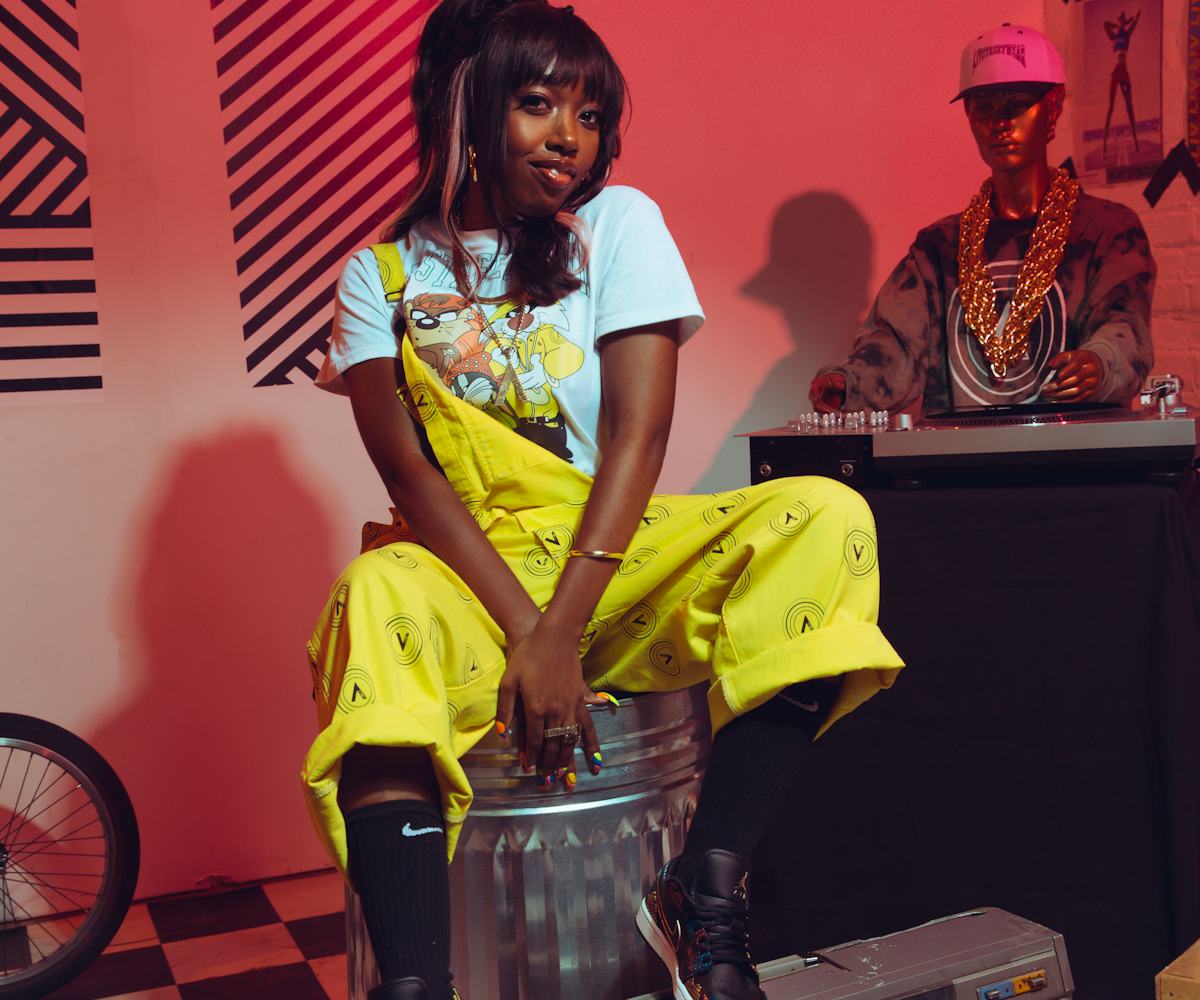 Streetwear Designer Olivia Anthony's Resume Just Got Even More Impressive
The Foot Locker Women "Behind Her Label" initiative will spotlight three emerging designers this fall.
Much has been said about streetwear over the last few years, but not enough has been said about the women behind some of streetwear's most influential designs — more specifically, Black women's contributions to streetwear culture. Community matters in the known-to-be male-dominated streetwear sphere, and a lack of BIPOC and female representation has been detrimental to the fashion world at every level.
Olivia Anthony, one of three emerging designers featured in the Foot Locker Women Behind Her Label initiative, is prepared to subvert this narrative. "For the longest time, we were the ones behind the scenes making everything happen," she says. "It's only right that we shine." To celebrate the Behind Her Label project, Anthony will launch an exclusive fall line with Foot Locker Women available for purchase Nov. 14 on LIV Streetwear's site.
HOW SHE GOT HER START
When it comes to meccas of streetwear, New York City always seems to know what's next. And the very same could be said for the Brooklyn-based designer. Anthony began working on LIV Streetwear as early as 2012, when she was in college and working in the fashion industry. "When I was a stylist, I used to put my logo on shirts," she says. "People started asking for them. Shirts turned into hats, which turned into jackets, and then boom — I had a business." In 2013, she officially launched her line, which she calls "the brand that you can 'LIV' in for a lifetime."
LANDING HER SIGNATURE STYLE
Anthony's design process is laced with notes of retro-inspired nostalgia, and her Birmingham, Alabama roots shine through. "I meditate on pieces that are needed in the moment, that I don't see," she says. "I often travel through my sister's closet from the '90s and create pieces based on that." For the Behind Her Label collection specifically, Anthony's signature nods to the '90s remain ever-present. "I really wanted to release the ponytail hat with Foot Locker Women because I knew that it was something my customers have been asking for. This was the perfect way to release it!"
Influenced by music and the artists around her, Anthony's design process means pulling inspiration from her current moment — seeking out "new artists and envisioning them wearing it," she says. To Anthony, designing streetwear is the ultimate artistic freedom. She explains: "Being a designer means that I can create my own world. I am able to set trends, break boundaries, and story-tell through my collections."
WHERE SHE'S HEADED NEXT
In the seasons ahead, Anthony plans to build LIV Streetwear into a brand that lasts a lifetime, she says, one "that my children's children will see." And as for other design hopefuls? Anthony advises: "Just keep going. Everything that is good and has longevity takes time. This is your journey and your path is always going to be different; you have to 'LIV' in that!"
For more on the Foot Locker Women Behind Her Label initiative, check out NYLON's features on Amanda Litzinger and Shana Sadeghi-Ray.