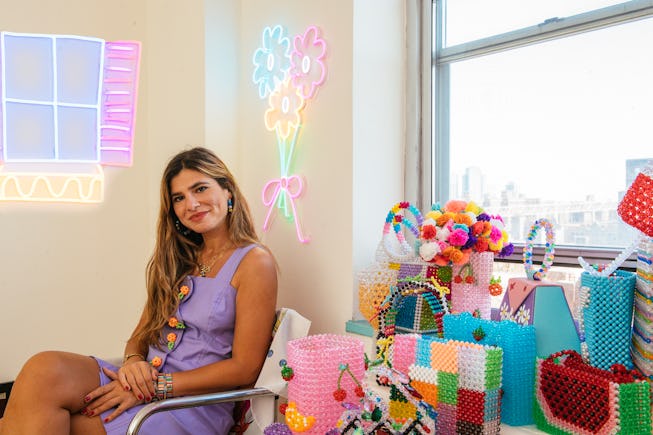 Courtesy of Yellowpop
Susan Alexandra Created Neon Signs For Her Latest Collaboration
The designer arranged a scavenger hunt around New York City, too.
Following her egg-inspired accessories release with Handsome Brook Farms, Susan Alexandra continues to expand her fashion reach with her latest collaboration with Yellowpop on a set of neon signs. The collection, consisting of five different designs, is now available online and channels the Alexandra's cheery, colorful aesthetic, like a bouquet of flowers and a '90s-inspired butterfly.
If you're in New York, you have the chance to win a neon sign yourself but you'll have to search for it first. Both Yellowpop and Alexandra arranged a city-wide scavenger hunt to take place from Friday until Sunday, April 25, placing the collection throughout some of the designer's favorite spots. Those who spot the neon signs will have to post and tag both brands via Instagram in order to be entered in the running to win.
"This scavenger hunt is by far the coolest thing I have ever had the opportunity to do," Alexandra tells NYLON. "We placed the signs in some of my most beloved NYC institutions, including ones that are established and world-renowned, like Katz's, Economy Candy, and Veselka, along with some new women-owned businesses, such as Sweet Pickle Books and Hello Banana Vintage. I was in NYC during the scariest parts of the pandemic and it's so wonderful to see my favorite spots re-emerge after such a tough time. I'm so excited for people to discover these places for the first time or re-visit them all over again."
In addition to Alexandra, Yellowpop has been tapping into a few fashion names recently for its latest drops, including Diet Prada and artist/industry favorite Sarah Bahbah.
Shop the new Yellowpop collection by Susan Alexandra online now, and see more of it in the photos, below.