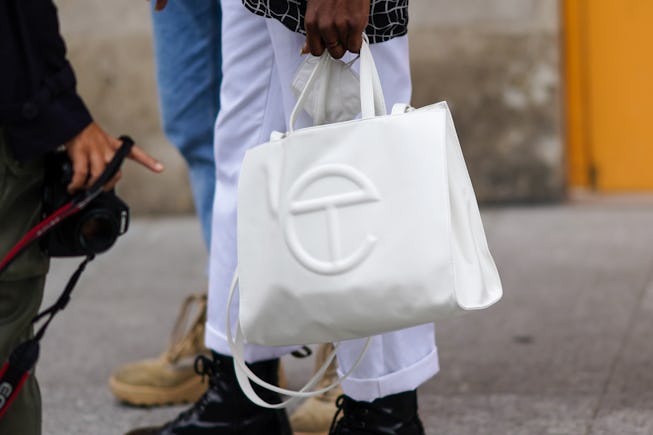 Edward Berthelot/Getty Images Entertainment/Getty Images
The Internet Is Not Happy With Guess' New G-Logo Tote
There's only one Telfar, baby.
Telfar bags have become hard to come by, which has resulted in massive markups from re-sellers and, most recently, what appears to be a knockoff. Guess debuted its Embossed Logo G-Tote last week, a faux leather tote with a top handle and double straps with the brand's raised logo in the center. Sound familiar? Twitter thought so, too.
Black Fashion Fair founder Bibby Gregory tweeted the side-by-side of the Telfar and Guess bags, which racked up more than 6K likes and 3K retweets.
"I think the most annoying and yet interesting part of this is the fact that a company like GUESS has the capital and resources to produce this bag in great quantities when the original designer could not," Gregory wrote. "And it really just speaks to the lack of access granted to Black designers. The lack of capital. The lack of resources the industry provides them."
Telfar has ushered in an era of affordable luxury, with the brand's bags ranging from $150 to $257. Guess' bags retail slightly cheaper, starting at $78 and going up to $95. The wave of internet backlash prompted some action from Guess, which has now halted the sale of the G-Tote. (The bag was available online, as well as in stores and select retailers like Dillard's and Hudson's Bay.)
"Signal Brands, the handbag licensee of Guess, Inc., has voluntarily halted the sale of its G-Logo totes," a Guess spokesperson said in a statement to NYLON. "Some on social media have compared the totes to Telfar Global's shopping bags. Signal Brands does not wish to create any impediments to Telfar Global's success and, as such, has independently decided to stop selling the G-logo totes."
In response to Guess halting its sales, Telfar released the following statement on Monday: "We think it is truly meaningful to have reached this very gracious outcome without us having to say or do anything. It sends a message that sometimes real power comes from people and from love. We are loving the power of our people."
Telfar is scheduled to launch its second Bag Security Program on Tuesday, giving a full 36 hours to shoppers who want to guarantee themselves an official Telfar bag. Yes, including the white medium shopper.