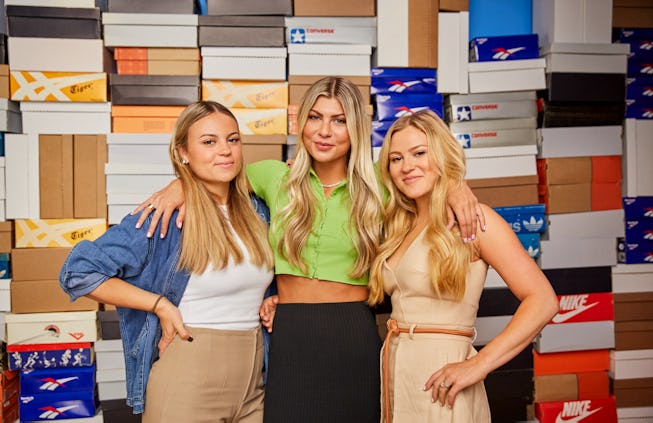 Courtesy of eBay x Chicks with Kicks
These Three Sisters Have The Largest Sneaker Collection We've Ever Seen
And they're up for auction for the first time, exclusively through eBay.
It might be too soon to say, but this year is going to be a great year for sneakers, especially for women involved in the very male-dominated industry. Though it's taken far too long for these history-making changes to actually take place, recent strides show we're not slowing down anytime soon. Adding to the progress: On Monday, March 29, Florida-based sister trio Chicks with Kicks will host one of the world's largest sneaker auctions with eBay as part of the online marketplace's new program to help empower female sneakerheads.
To any normal person, 2,000-plus pairs of shoes could last well over a lifetime. However, for Ariana, Dakota, and Dresden Peters, it's only a fraction of their actual collection that was started even before they were born, thanks to a "sneaker-obsessed" father and growing up around sports. To learn more about their collective appreciation for the footwear type, NYLON chatted with the Peters to discuss all things sneakers, from what pair started their love for collecting to holding their own within the industry. Read on for more.
What was the first sneaker that really got you into the culture and collection?
Ariana Peters: I would say Air Force 1s because that's what really started the collection, too, so I guess we have an emotional attachment to that type of sneaker.
Dakota Peters: If I was to specify a certain pair that took it even further, it was the Peacock Air Force 1. When I was in lower school, I remember I told my dad I wanted Converse but he got me that pair instead. After that, I just fell in love with that style.
This is a pretty massive collection that you all have. How did it happen? Do you all collect together or separately?
AP: The collection started with our father and he started collecting sort of serendipitously. It wasn't by intention, it was just pure obsession, and one pair grew to thousands pretty quickly. We grew up amongst that obsession.
Our 6,000-plus pair collection is a collaboration, we, of course, have our own private collection that we wear on a day-to-day basis or that we seek out just out of fashion or daily use. But that's really where the collection started with our dad.
Outside of that, did your background in sports lead you to the sneaker community?
DP: Yes, we were always playing sports.
AP: We grew up with a single dad. It was three girls and we have a brother. Between our dad and our brother we were involved in every sport, especially basketball. We're a big basketball family, so we're all aspiring WNBA and NBA players [laughs].
Basketball plays a really big part in [sneakers]. In team sports, it's a way to express yourself. Sometimes you have an emotional attachment to a pair. You could be like, 'Well, I sunk that 3 during that game so I'm definitely going to wear those Dwanye Wades again.' I think that sneakers play into your emotions. It goes beyond the use of the sneaker. We always say that we see sneakers as an art form because it offers so many different perspectives.
DP: Exactly, there's so much to a sneaker besides wearing it for a sport. It gives you individuality on the court.
As three women with such a large following and who are participating in such a male-dominated culture, do you find yourself facing challenges of having to prove yourself within the sneaker industry?
AP: I think in life we all have probably experienced that. We did have doubters in the beginning. We had people say things like, 'oh those aren't your size,' or 'your dad started the collection; you don't know what you're talking about.' But through time people have seen that we're the ones behind a lot of the collection. We've sought out certain pairs, we've expanded a lot of the collection immensely, and we do have all the knowledge. Sometimes you just can't pay attention to the ridiculous behavior of others. But certainly we've experienced those types of situations.
There are some pretty rare sneakers in this collection. What are a few of your favorites?
AP: We have a very expansive 1985 original Air Jordan 1 collection. So all different colorways, the Chicagos, the Breds. We have different metallic colors, high tops, low tops, and in all different conditions. Those are extremely rare, almost like an art piece or a collector's piece.
Some cool pairs that we're rolling out with eBay are the Beastie Boys All Stars. Each pair has each borough of New York going down the stripes with the respective Beastie Boy's name on the back of the sneaker and on the tongue, so that's a really cool collab and we've never seen another full set of all of them.
Why did you choose eBay as the retailer to sell your sneakers?
AP: It's so user-friendly and accessible to the masses. When you go with other auction houses and these other websites, you're dealing with such a narrow-minded consumer. You're not appealing to people who genuinely love sneakers or have an attachment to a pair that you wore in high school in the '80s. Those people don't know how to access those websites, and if they do, they're often integrated with bots. It doesn't allow for that authentic experience that is really integrated with our collection.
Our dad really sought out a lot of these pairs on eBay and so it's kind of like a full circle. The genuine appreciation for sneakers brings you to this marketplace that aren't just here to flip sneakers. While there's nothing against that, we want to give women, or someone in their 70s who wants their old sneakers back, an opportunity to buy back into this collection without extra hassle.
Below, the Chicks With Kicks share their favorite sneakers of all time:
1. Nike Presto x Sex and the City
"This was our mother's favorite show and she was an avid runner. Being the sneaker is a running shoe and made for the Sex and the City cast and crew, it holds a lot of meaning."
2. 1985 Air Jordan 1 High Blue Metallic
"Love the AJ1. 1985 is the first year they ever came out and this shoe is an art piece and a pair we love. The metallic blue is hard to keep looking new as metallic cracks and we've kept our pairs in perfect condition, which is very rare."
3. Nike Air Force 1 Anaconda White
"We love this sneaker because it is a pair our dad always wore for special occasions and brings back a lot of memories. The video showing how the sneakers was made was something we recall watching growing up and lends itself to a reason behind our deeper appreciation of the sneaker and what went into creating it."
The Chicks With Kicks sneaker collection auction is live on eBay now.