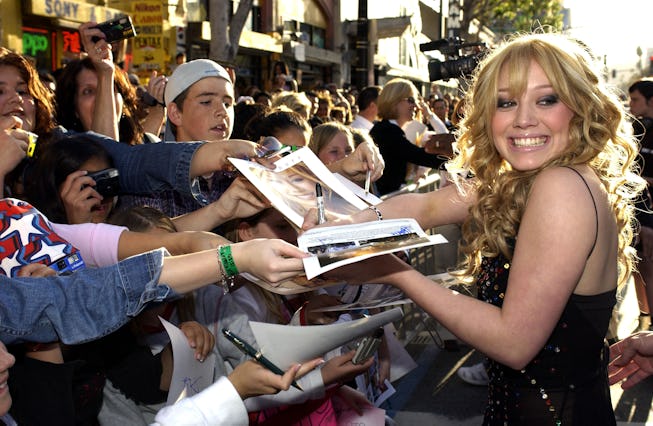 L. Cohen/WireImage/Getty Images
'The Lizzie McGuire Movie' Costume Designer Reflects on the Wild Fashion Show Scene
To celebrate the 20th anniversary of the iconic Y2K classic, NYLON got some fun costume facts straight from the source.
When it comes to Y2K style icons, nobody did it quite like Lizzie McGuire. Hilary Duff's beloved Disney Channel character was known for her bold fashion in the series, but she also showcased her unique sense of style in The Lizzie McGuire Movie, which was released in theaters 20 years ago this week. In the film, Lizzie has her very own Roman holiday when she travels to Italy for a school trip and meets a hunky Italian pop star named Paolo. The twist? Paolo's ex-singing partner, Isabella, happens to look just like Lizzie — but is brunette instead of blonde.
In typical Lizzie McGuire fashion, there are plenty of hijinks throughout the film (especially once Lizzie agrees to pretend she's Isabella), but the most memorable moments feature her far-out fashion choices. And for our girl, that's saying a lot. (Does "igloo dress" ring a bell?) The costumes were designed by Monique Prudhomme and David C. Robinson, the latter of whom was brought on at the last minute to specifically design all of Duff's outfits for the movie.
Robinson, who was also the costume designer for Zoolander, Perks of Being a Wallflower, and Confessions of a Teenage Drama Queen, hadn't watched the Lizzie McGuire television show before then, but picked up her style pretty quickly. "I watched an episode or two and then read the script and said, 'OK, she's this girl, got it.' So, I jumped on board," Robinson tells NYLON during a phone interview. (He would later reunite with Duff for 2010's Beauty & the Briefcase.)
Ahead, Robinson shares his memories of working on the film and designing the costumes for our favorite outfit-repeater. If you're still grieving over the loss of the Lizzie McGuire reboot, hopefully these fun costume facts from the movie will be a balm to your soul.
The "Tide Is High" Scene Featured an Outfit from This Iconic Fashion Designer
During the film's opening sequence, Lizzie tries on different clothing for her junior high school graduation while singing Atomic Kitten's cover of "The Tide is High." In one scene, she puts on one of the most recognizable outfits from the film: a pink-and-black argyle top with matching knee socks (and then falls into the bathtub). If you've ever wondered who designed it, it was Vivenne Westwood and her collaboration with Wolford; some other designer brands that were used in the film included Moschino Cheap and Chic and Diane Von Furstenberg.
Filming was done in Vancouver, Canada and Rome, Italy, but Robinson had to do all of the shopping for Lizzie beforehand at Bergdorf's and Saks Fifth Avenue, as well as pack it all into suitcases. This is because it was difficult to shop overseas, especially for Lizzie's particularly trendy style. "When I brought them with me on the plane to Vancouver, I remember going through customs and having suitcases full of women's and girls' clothes and they were just like, 'What's all this?'" he says, laughing.
The Costume Designer Got His Inspiration for the Fashion Montage From a Very Unexpected Place
In one standout scene, Lizzie (as Isabella) meets an eccentric fashion designer named Franca DiMontecatini who has her try on several outfits that either light up, unravel, or are inflatable. It was pure fashion chaos. Robinson says that when he got to Vancouver, he only had about a week to do the costumes for the fashion show scene. He paid a visit to Canadian Tire, which is a big box store that sells bicycles, hardware, and washing machines. During his shopping trip, Robinson found unlikely inspiration. "I was like, ooh, here's some LED rope lights … a lot of things were just pulled off the shelves and I figured out a way to make a costume out of it," he recalls. "I knew it really needed to be more funny than it needed to be high fashion."
The Igloo Dress Was a Kid's Toy
In the aforementioned dress-up montage scene, the final look is an igloo dress that gets inflated by Franca's assistants. This dress is popular with fans of the film and has been recreated by talented DIYers over the years. Lizzie's was actually a child's inflatable igloo toy from — you guessed it! — Canadian Tire. "I bought three, and then we cut them up and made the igloo dress out of them," Robinson says. "I think the white boots she wears probably cost more than the three igloos I bought at Canadian Tire." He also admits that he was glad he "decided to go rogue" at that moment, and has loved Canadian Tire ever since. Finally, he says that he and Duff's makeup artist, Carla Vicenzino, had a lot of fun coming up with the fashion montage looks. "I remember she used white mascara for the igloo dress to give her that snowflakey look."
There Could Have Been More Looks for the Fashion Show Scene
The costume lineup in the fashion montage scene includes the igloo dress, a light-up LED look, a green Marie Antoinette-inspired outfit, a goth ensemble that sort of resembles a bandage dress, and an outfit where she wears a magazine on her head with little styrofoam pieces hanging off of it. According to Robinson, they actually made more costumes than what was modeled in the movie, which is common practice when doing a film. "With some costumes, you won't know how well it's going to work on camera," he says. "I did the same thing on Zoolander — for the fashion show, there were several more looks than we used."
The Performance Outfits Were Custom-Made
Sing to me, Paolo! In the final scene of the film, Lizzie and Isabella team up to duet the best song ever, "What Dreams Are Made Of." (Cardi B is also a fan.) Their outfits are so iconic, they've become a popular Halloween costume — even Joe Jonas and Sophie Turner have dressed up like them, well, with Joe as Paolo. Lizzie wears a lavender iridescent jacket and tulle skirt that is taken off mid-performance to reveal matching flared pants, and Isabella has a head-to-toe metallic lime green look that consists of a jacket, mini-skirt with a half skirt over it, and fishnets. Unlike the fashion montage, Robinson and his team had a lot more time for the concert scene, so they were able to get the outfits custom made. He found the leathers and had his team assemble them in Vancouver.
Robinson Fought for "the Sparkle"
The concert scene was shot at an amphitheater in Vancouver and done in CGI, but the special effects crew warned Robinson against using anything blue, metallic, or sparkly, since they were going to use a blue screen. "I was like, OK, let's stop right there. We're doing a movie for teenage girls. You can growl at me all you want, but there will be sparkles," he recalls. "I just sort of put my foot down because I wasn't about to put her in a gray, matte outfit. No thank you."
One of the Most Impressive Pieces Was Barely Seen
In the performance scene, Isabella has on a pair of knee-high, stiletto boots that are only shown in a quick glimpse. "They're green, orange, and brown, and entirely studded with thousands and thousands of rhinestones in a paisley pattern," says Robinson. Disney keeps these boots in their archives. "They were the most amazing boots, and apparently the most popular exhibit at the Disney museum for many years." Now that is what dreams are made of.