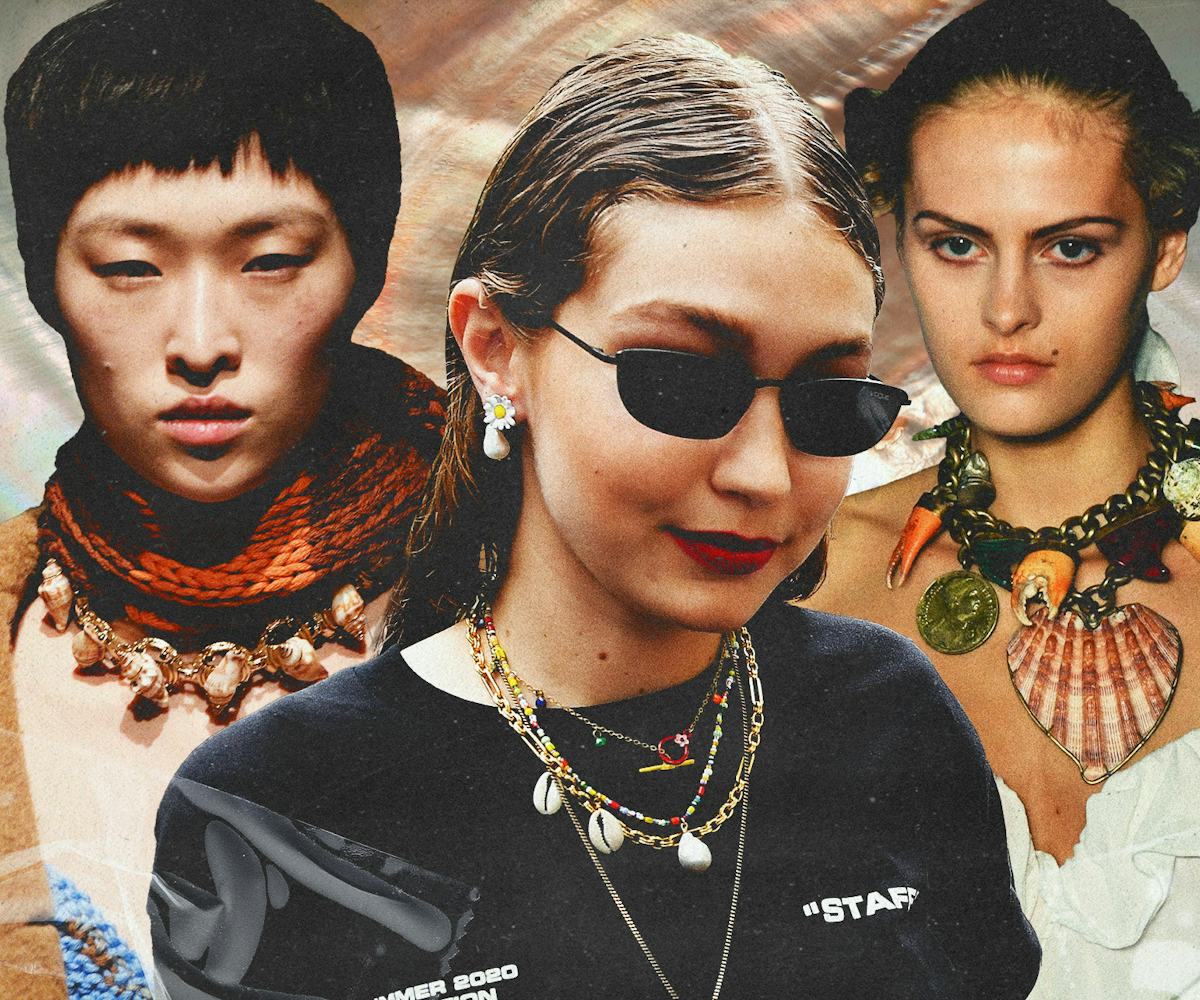 Nylon; Getty Images
Mermaidcore Is Bringing Back The Seashell Choker
Ushered in by the viral aesthetic and the Y2K revival, today's shell necklaces signal a longing for a simpler summer, away from technology.
Early in the Y2K era, you were hard-pressed to find an American celebrity who wasn't wearing a shell choker. Chad Michael Murray's signature look was going shirtless with a puka shell necklace on, and Justin Timberlake wore a shell necklace for his Rolling Stone cover shoot in 2003. After the release of the iconic surfer girl movie Blue Crush in 2002, followed by The OC in 2003, the seashell necklace cemented its place in popular culture — that is, until they were replaced with the long, beaded necklaces and dog-tag-inspired pieces of the late '2000s. But now, the shell choker is making a quiet comeback just in time for summer, spotted on the likes of FKA Twigs, Iris Law, Gigi Hadid, and Blake Lively.
The return of the shell choker has been slow and steady, with Prada preparing us for its renaissance at the brand's Fall 2017 womenswear show in Milan. Ushered in by the rise of "mermaidcore" on TikTok (hello, The Little Mermaid), Vivienne Westwood's chunky shell necklaces for Spring 2020 were a preview of the shell necklace du jour — bigger and more asymmetrical than ever.
Corrina Goutos, a 32-year-old artist based in Hamburg, Germany, is one of the designers bringing the humble shell choker into its new era. Combining delicate shells with thick, stainless steel chains, Goutos is working to "break down the hierarchy of man and material." Goutos has long been fascinated by shells as the homes for sea creatures. "Given how little contact we have with the depths of the ocean, they seem to be evidence of aliens," she explains. "Their appearance even recalls vulvas and various visceral things that can make us squirm, and I love to play with these sensations as I invasively splice and adorn them."
Goutos considers the shell choker a "2000s staple," noting the rise in shell jewelry coincides with Gen Z's current fascination with all things Y2K. "Perhaps it's like a future nostalgia for a simpler time they never knew, and maybe there was just the right amount of technology then," she says. "It was a kind of surfer symbol, representing those who had found a way out of the normal hustle and grind of 9 to 5's, for free and alternative thinkers." With this in mind, the shell choker not only encapsulates the intersection of mermaidcore and Y2K nostalgia, but also a longing for a simpler life away from today's technology, perhaps doing little more than swimming and collecting shells by the sea.
Mandy Lee, trend analyst and TikTok Fashion commentator, suggests that alongside the Y2K revival and mermaidcore, shell necklaces also appeal to those looking to create the "found object" aesthetic. "They remind me of beachcombers, or of the gift shop at Six Flags or any zoo," she says. "But now we're seeing more organic shapes that are not perfectly smooth or uniform, which is a huge differentiating factor between the trend now versus 20 years ago." Lee doubts the trend will last long, comparing it to the Coconut Girl aesthetic from two years ago. But for many people, the obsession with shells isn't a passing 'core trend, but rather a personal exploration that's intertwined with memories.
For Juliana Liden, the 37-year-old founder and designer behind Julietta, shells remind her of the beach town in Brazil where she grew up. "I have fond memories of my siblings and me collecting seashells," she recalls. "We would spend hours scouring the sand, searching for unique ones to add to our collection. Since I launched my brand, I find myself revisiting those childhood memories and incorporating them into my collections." Liden was "obsessed" with surfer style and surfer culture from a very young age, and was captivated by her grandmother's shell jewelry during family trips to the beach.
Like shells themselves, it seems the seashell choker is destined to come in and out of the trend cycle in (you guessed it!) waves, waiting for someone to pick it up, admire it, and present it in a new way. Currently, it's all about big shells paired with unexpected materials, but it's truly more about escapism. For many people, the shell choker represents a simpler life — long, hazy days spent phoneless at the beach, or balmy nights on the boardwalk with friends. It's that feeling of nostalgia and longing that will no doubt linger long after the internet declares the Y2K revival done or mermaidcore "over." It's also a feeling that will inevitably have people returning to shell jewelry — decade after decade, again and again.