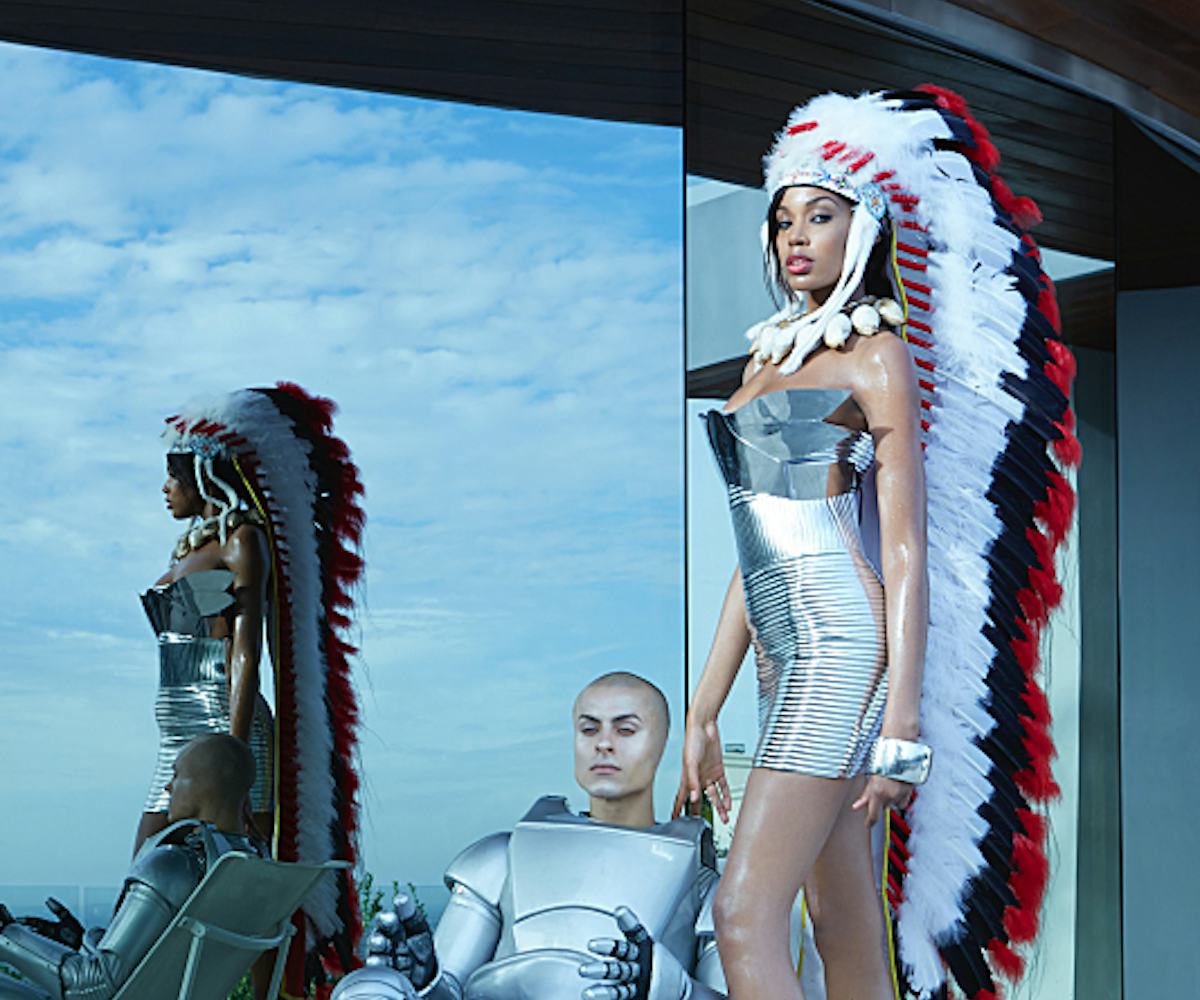 photo by erik asla/pottle productionsi inc. 2014. all rights reserved.
will's world: get an exclusive recap of antm cycle 21, episode eight
Ladies and gentlemen we have reached the half-way point for Cycle 21. How depressing is that information?
First thing's first, time for the apology from Denzel. After last week's episode and the hate for my beautiful patent leather heels, we were able to talk it out and rekindle our friendship. I do believe Denzel was genuine in his apology but I also know it is a growing process that he has to go through. There are many different types of people in the world and being judgmental of other's lifestyle is a quality you don't want to continue fostering. Denzel is a close friend of mine and from that experience we were able to become even closer friends. But let's be honest, he's going to get a beating by a man in heels one day.
Enough of that. 
Denzel and Mirjana are still at it. They may have appeared to be just friends, but after the kissing, lovey-dovey petting, and showers, it's clear that this isn't just friendship. Someone's smitten and I ain't pointing any fingers, #Mirjana.  
Thirty minutes and Kelly Cutrone is the judge. I can't express how intimidating that is! Our job in this challenge is to act as creative director for an entire photoshoot campaign. What if I've never done anything like this? This should be interesting. Matthew chooses Raelia and I for the dream team and we jump right into the 30-minute countdown. Right off the bat, I can't take Matthews concept seriously, he wants us to expose the beautiful breast of Raelia for Kelly Cutrone's clothing line. Kelly Cutrone and breasts don't belong in the same sentence. So I entertained the thought and watched as Raelia's boobies popped in and out of her jacket. I hope our picture is better than what I'm seeing.
Shei, Adam, and Keith are killing this challenge with their concept and outfits. I can see them over my shoulder snapping their photos and I'm thinking to myself that they have way better ideas than selling Raelia. The group that just couldn't get it together was Denzel, Mirjana, and Lenox. Kelly was not too happy about their concept or what Denzel was doing. All that oil sure did look good but when I think of Kelly Cutrone I don't think of muscles and beard weaves. Shei's crew ended up winning the challenge, which they rightly deserved, and my team got runner up. Even though this challenge was stressful, it has been my favorite thus far in the competition. What would your concept have been in this challenge?
Another shot of Mirjana and Denzel. This time there's no kissing and it's the break up. Dun, dun, dun. Mirjana isn't about the commitment issues, Denzel doesn't seem to care, and back and forth we go. What you can't see is the other contestants hugging the windows listening in on the conversation. Who doesn't love a good scandal?
Uh oh, doesn't look like this break up lasted too long.
They are back together within fifteen minutes and I'm not one bit surprised. One thing I'm ready for is this love duo to be broken up and to see one of their butts sent home. I'm ready for a new storyline to start up. 
Who are you? I look in the mirror and ask myself that every day. Today we get to find out who we are. I really loved the Ancestry DNA test we were able to do. I have never known where my relatives come from, all I know is that I am incredibly European. I am 50% British, 15% Finnish, and a huge chunk of Scandinavian. How cool is that? The most shocking thing to me was the fact that I had not only one, but three things in common with my he-man woman hater Denzel. All the ladies had Asian in their DNA and Keith and Matthew shared Spanish decent. Being a science nerd, I am fascinated by all of this and I would have never guessed that we all had so many things in common yet we look so incredibly different. 
Our photoshoot ends up being centered around our new heritage that we have just learned. We will be shooting alongside one of my favorites, Cory from Cycle 20. This shoot was the first time I felt like a threat in the competition. Up until this point, I have been middle of the pack learning the craft. But now I feel my confidence growing and myself stepping up to the plate Tyra left for me. Looking at everyone's shots this week it also became clear who my competition really was. Lenox is scaring me with how amazing she is. We know she's not headed home this week. Adam is also getting better with each passing week. He's finally figured out what he needs to do to deliver a great photo. The two that have fallen off the radar for me this week are Denzel and Matthew. Matthew is a stronger model than the pictures he has been delivering and Denzel has lost his appeal in his images. They better step it up if they want to stay around. Can I just point out the fact that Raelia had the warrior goddess look going and it worked baby. The most exciting thing for us that happened that day was working with Cory. For us to be surrounded by someone who has been in our shoes and is doing things we are striving to do, was a great learning experience. I'm a huge fan of Cory and I wish him so much success.
Tyra's outfit… so hot. 
I really loved everyone's picture this week. It was the first time we were modeling as professionals in my opinion. It wasn't a scene from Frozen, it wasn't us laying on the concrete, and it wasn't a huge rope net with cannibalism. It was a simple shoot with an amazing model as part of our story line. Lenox once again hit the nail on the head with her shot giving the judges enough life for tens across the board. Best photo went to Lenox. Shei's picture is still strong but she didn't reach her full potential. Keith still has his Keith face going, giving him some sexy realness but not anything we haven't already seen. Mirjana has one of the most gorgeous faces I have ever seen but this picture was just a pretty face. If the body would have matched her beautiful bone structure, she wouldn't have been in the bottom two. Matthew's shot was by far the least indicative of his potential as a model. The competition finally got to his head and he wasn't able to deliver a good enough picture to keep him in the competition. Ultimately, my bae Matthew was eliminated this week and it broke my heart. He was one of my closest guy friends in the house and now he was being sent home. Who am I going to kiss now? Crossing our fingers he gets a second chance with the bring back! 
Second best photo? Me! I'm moving on up. You better watch out Lenox you can't hold the crown for much longer. It's time for a new Queen to take over the thrown.
Who do you think will be sent home next?
The queen herself let's us in on her DNA makeup at the end of the episode. We find out that she is a product of her environment, a go-getter. No surprise there. She is the hardest working woman I know leaving a legacy for future generations, making her ancestors proud. DNA is so cool!
That's a wrap on this week's episode. Be sure to tune in next Friday on the CW for an all-new episode of America's Next Top Model Cycle 21 at 9 p.m. (EST). You might be surprised by what's to come. Don't forget, someone's coming back very soon and the whole competition is thrown out of whack. Also, see a little tiff me and Mirjana get into! Bring it on B**ch. Follow me on Instagram and Twitter for more Top Model updates and follow ANTM on Twitter and Instagram for some behind-the-scenes footage.
Until then, smizers!