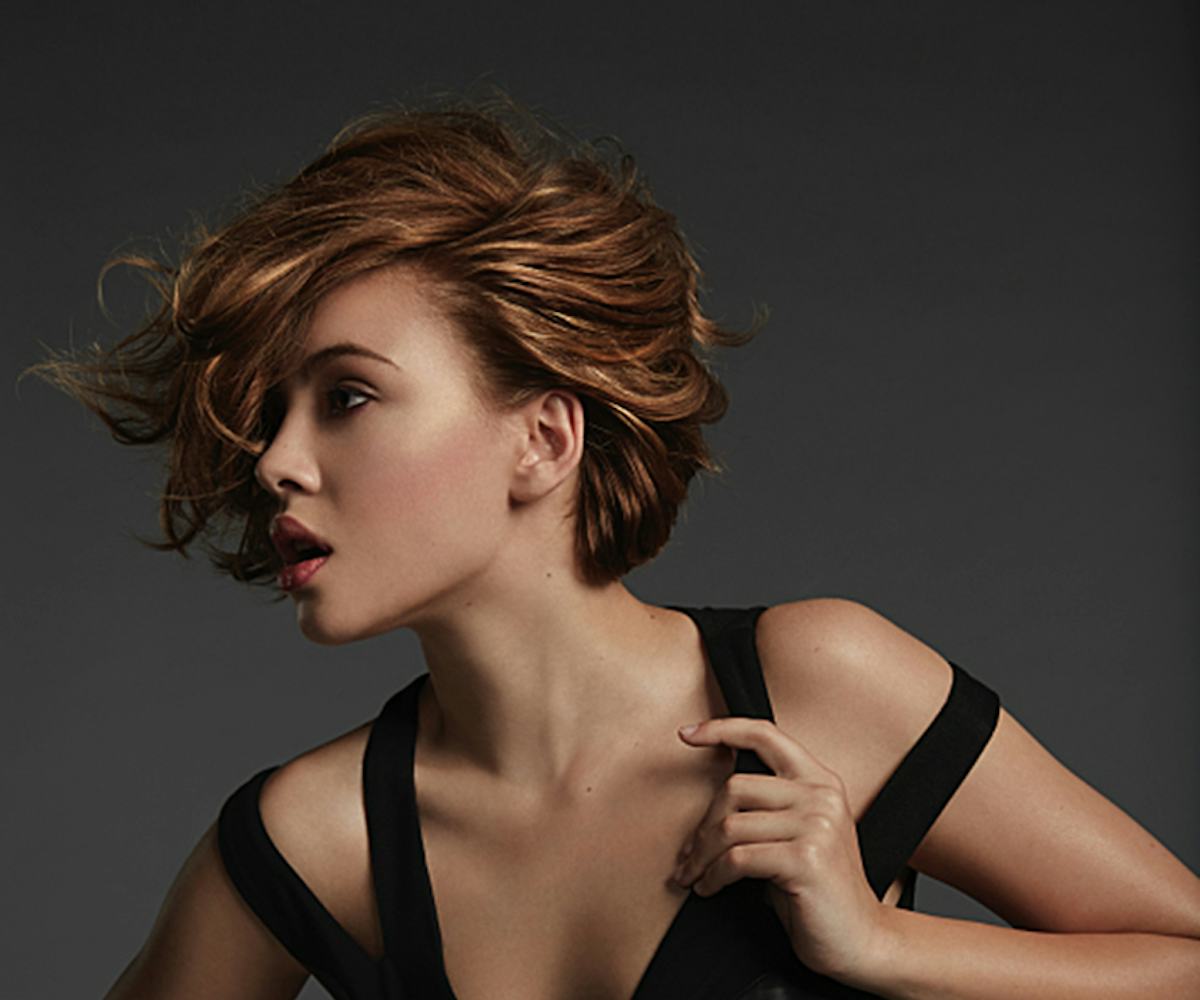 photo by erik asla / pottle productions inc, 2014. all rights reserved.
will's world: get an exclusive recap of antm cycle 21, episode nine
the queen has been dethroned.
The Queen has been dethroned! Sorry, Lenox but your time as best photo champion has ended. Let's see who takes the crown!
Knock. knock! Look who came to have a slumber party with these crazy hooligans. Miss J Alexander came to help Lenox with her walk as well as Shei and Raelia. Lenox, baby, please let loose for once! No one likes a quitter, it's all about trying. If at first you don't succeed, try again, or at least try once, Lenox.
Now sissy that walk all the way down to Style Fashion Week! Miss J lets us know that we will be competing in Style Fashion Week for our challenge this week and I could not be more excited! I have a lot to prove since the last time I did my runway walk, when I was incredibly divalicious and forgot all about my masculine side. First up is our casting with the ever-so-talented Betsey Johnson. Shei and Raelia are hands down what Betsey needs in her show: They exude sexiness and fun--everything Betsey is about. She made it clear that she wants a man with muscle and strength. Well, honey, I may have some strength but it is not coming from my muscles, that's for sure. I knew that getting booked for Betsey was a long shot but that doesn't mean I was about to give up. Keith ends up wowing Betsey.  Not too much modeling involved in that. Save the real runway shows for me. For our second casting, we meet Control Sector, an urban street wear brand that makes some amazing clothes. In the end, Shei and myself end up booking the show and I'm so thrilled. For the third and final casting, the boys head on over to Civil Society where Adam, Keith, and I book the gig. What's that? Denzel didn't book anything? All I have to say is…"Karma." The girls make their way to meet Altaf Maaneshia and all four of these ladies book the job for his show. I wish the guys had it that easy! Let's see the tally marks: Raelia, Keith, and myself booked two, Mirjana, Adam, and Lenox all booked one, and Shei booked all three. Then there's Denzel, he booked an audience seat. 
Who do you think had the best walk?! I am really proud of myself for overcoming my last show in front of Alexis and bringing that masculine factor to my walk. I think I proved that I can be (and will be) a working model. How about the mess-up by Raelia? Halfway down the runway she goes and Miss J was not too happy about that. What does Raelia do? Dusts it off and delivers an amazing walk for Miss Betsey, that's what! Keith looked great in Civil Society but Adam was a little stiff to me. Lenox and Mirjana were just like Miss J said, "forgettable." To me the diva who killed the competition was Shei. Re-watch her scenes on the runway and if your mouth doesn't drop open from awe then there is something seriously wrong with you. She's flawless, and rightfully won the challenge. 
If you don't use Mitch Stone Essentials then you made a mistake. We get to compete for an ad campaign for his hair products and looking around I'm the only boy with hair. Doesn't seem like it will be too hard to beat the rest of these fellas, all I need to worry about are these ladies. First up is Shei and Denzel. Can I just say that her hair is so incredible I don't know anyone who wouldn't want her to represent their hair products? To me Shei carried their picture and Denzel brought it down because I could see it in his face that he was giving up on his chances in the competition. Next up is me and my gorgeous partner Raelia. People have been underestimating us all day and it's time to prove them wrong. I love a challenge. Even with our struggles, I think we have this one in the bag. We knew exactly what we needed to do and because of our friendship, we have that extra element of team work that the other couples don't possess. Adam and Lenox aren't really doing much for me in their shoot. All I see is a muscular guy lifting a pretty girl and I feel it's not enough to keep them here. With that luscious hair, I think Lenox had an advantage but you never know what the judges will say. 
Last but not least is the viciously dynamic duo of Keith and Mirjana. Tempers flare, and I had to give my two cents. I don't like seeing people get walked all over or talked down to and that is exactly what Mirjana was doing to my boy Keith. He may need to pull you up a bit more but you also have to help him and not lay on his side like a limp noodle fresh out of the colander. You have to take responsibility for your failings and I think Mirjana needed to cool down and pick herself back up to deliver a good shot. If only it were that easy. Like I said, I don't give two poops about Mirjana at this point. We will see if she's still around next week. 
And then there were seven. Time to lose one more competitor in our race for the crown. Mirjana and Keith in the end took a great photo. I think Mirjana looks stunning minus her sickled foot but Keith stole the picture for me. He looked strong and masculine holding Mirjana up and I agree with Tyra, I would show him off to the world if he were mine. Keith will you be mine? Shei and Denzel's shot was pretty good. I think Denzel looks a little bit sleepy but Shei on the other hand is sitting on his shoulder so gracefully that it woke the picture up from Denzel's nap. I am living for my shot with Raelia, after our struggles we got an amazing photo where we both are modeling every angle of our bodies. So proud of my partner in crime! Favorite quote of the night. First the huge sigh from Kelly Cutrone and then when she exclaimed "This looks like an ice skating ad." I lost it on set and could not stop laughing because home girl was so on point with the comment. Then Kelly proceeded to call Lenox, the sweet innocent angel, a hanger for clothes. If you weren't busting out your tissues to stop your tears coming out of your eyes from hilarity then you need a better sense of humor. Kelly Cutrone - Your one liners give me life! Back to their picture. Not a whole lot to say, just mediocre. 
The results are in. Best picture goes to yours truly! So incredibly proud of myself and so excited to get the Tyra suite back. Raelia gets second and the duo is once again on top! Keith Follows in for a close third followed by Shei and Mirjana. Adam is saved by what little hair he has on his head leaving Denzel and Lenox in the bottom two. Ultimately Denzel let his emotions get the best of him and is sent packing, or is he?
Whoever said a model shouldn't eat is a fool. I eat like there is no tomorrow. Every family reunion I've ever had involves ribs, mac and cheese, and cornbread. Reminds me of home y'all. 
This party does not need more people, Tyra! No one needs to join us!
The comeback is upon us already! Matthew, Ben, Kari, Chantelle, and Ivy show back up along with Denzel to see who is coming back into this whirlwind of a competition. Top girl? Chantelle. Top boy? Ben. Either Chantelle or Ben will come back into the competition, and the combeback kid is…
Tune in next week to find out!
Seoul, South Korea here we come! For someone who hasn't been out of the country, it is really exciting to be going to Asia as my first international trip! Oh wait, we aren't leaving right away?! One more week to see who makes it to South Korea. Who do you think will make it Seoul? Tune in Friday for an all new episode of America's Next Top Model. Follow me on Instagram and Twitter for more Top Model updates and follow ANTM on Twitter and Instagram for more updates. Until next time boochers and toochers.