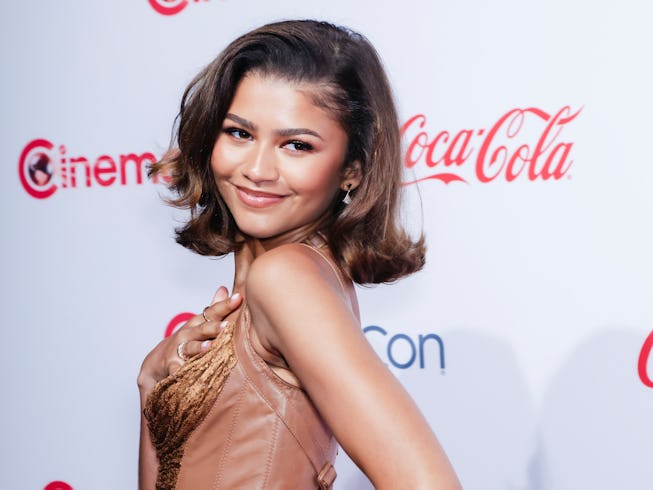 Greg Doherty/FilmMagic/Getty Images
Zendaya Still Cringes at Her Disney-Era Looks
"Like, why would you put me in this? B***h, you could've done better!"
Before Zendaya's ascent to stardom with award-winning roles – Euphoria, Spiderman, Dune, and Malcom & Marie, to name just a few, she was a Disney girl. Ask any OG Z-Swagger about the beginnings of the Oakland-bred actor's career and you'll immediately hear of her time as Rocky on Disney's Shake It Up. This was undoubtedly a memorable role in Zendaya's resume — not just because of her acting gigs or music releases (remember her debut track "Swag It Out" and "Replay"?), but also on account of her eclectic fashion sense. While she inspired a generation of Justice-meets-Forever 21 preteens, the now-26-year-old recently reflected back on her style from that era and, like many of us, she has some regrets.
In September cover story for Elle, in an interview conducted before the SAG-AFTRA strike, she spoke with writer Clover Hope about how her style has evolved since the early 2010s. Even since her teen years, the actress recalls working with Law Roach in crafting her image. But of course, she wasn't dressed in Louis Vuitton and Bvlgari. Back then, she was famously known for her swaggy outfits, from Nike Jordans paired with snapbacks, to loud prints and vibrant cardigans. While chatting with Hope about her throwback looks, she says her "worst fashion look" was during her Disney stint — specifically, on her first press tour for Shake It Up in 2012.
While searching "Germany Zendaya," Hope says the Disney alum showed a photo of her leaning against a glass railing at the show's photo call in Munich, wearing flared pants and a Waldo-esque striped cardigan with an aqua blazer and yellow tee. This was among her first collaborations with Roach, now her longtime stylist, who she met through a family friend when she was 14; at the time, Roach had his Chicago-based boutique, Deliciously Vintage. The actress says she didn't having a clothing budget, hence the bold mix of pieces. "I'm angry at him to this day," she says of that photo to Elle. "Like, why would you put me in this? B***h, you could've done better!"
Red carpet cringe aside, Zendaya's relationship with her forever stylist still remains strong, even after his retirement from his work earlier this year. Since Roach's announcement, he confirmed his role as Zendaya's creative director instead. "He's involved in every fashion contract, everything I do," she says. "If I have an opportunity where he can come with me, he's always going to be there. He's always been my creative director in a sense, and he continues to fill that role, because it's more than just clothes on a red carpet. It's a bigger thing."
"Our relationship is like family, so I don't think I'm going anywhere — and even if I wanted to, she wouldn't let me," Roach tells Elle. "I'm grateful that people like the work and understand the story. And I'm grateful for her giving me the opportunity to shine. It's not often that such a big superstar like that is very generous and understanding when someone wants to basically step out. She's been one of my biggest supporters."
Read Zendaya's full interview with Elle here.