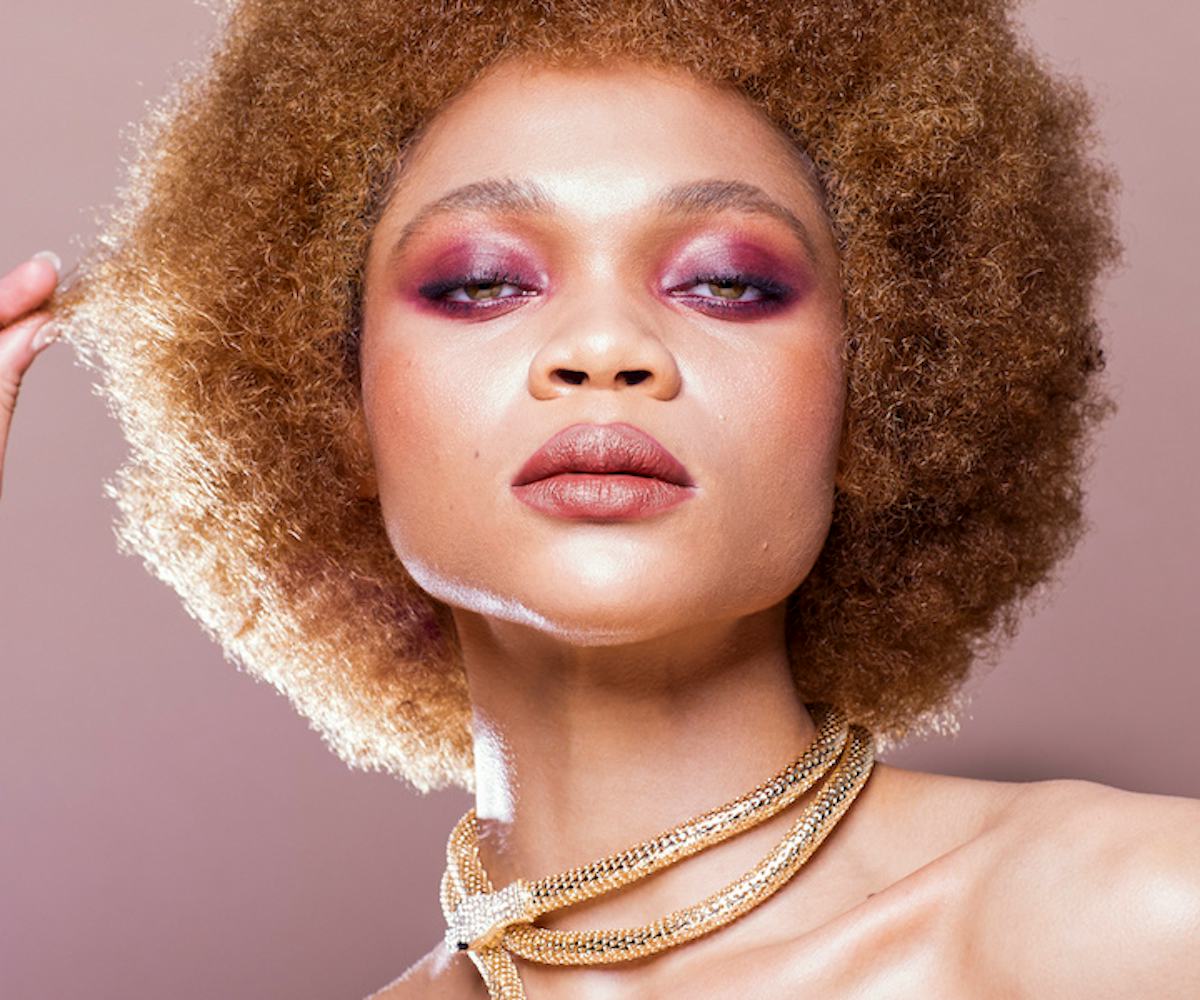 Photo courtesy of Fempower Beauty
This Feminist Beauty Brand Is Rewriting History
Starting with how it went down in the Garden of Eden
Lately, the biggest trend in the beauty industry has been to sell things by promoting messages of empowerment and self-love and celebrate things such as inclusivity and diversity. It's a far cry from the industry's former messaging of exclusivity, but what if it went further? What if it worked to take back a history where women have been oppressed, silenced, and shamed?
That's where Alexis Androulakis, a seasoned makeup artist and product developer, and Christina Basias, a former high school English teacher, are coming in to implement true change. The two—who are partners in business and in life—have recently launched their beauty brainchild, Fempower Beauty, a brand that not only aims to sell beauty products but also to advocate and to educate customers.
Just how is it doing that? By rewriting and retelling well-known cultural narratives through a matriarchal lens. The two dreamed up this idea on Basias' couch after the 2017 Women's March. "The conception was simple in our minds—a brand that gave back," says Androulakis. "But Fempower Beauty grew deep roots very fast when we realized that, for centuries, men had been the only people telling the stories of beauty. Why wasn't there a women's perspective?"
For the brand's debut collection, the Genesis Collection, it begins with a familiar creation story: Adam and Eve in the Garden of Eden. "In an industry that historically tells consumers what to think, we want to make people feel," says Basias. "We want to provoke the deep how and why questions you may have never thought to ask. For us, the only way to do this was to start at the beginning of the most popular creation story of humanity."
The Genesis Collection consists of four shades of Virtumatte Lipstick, a buttery soft matte lipstick. Each shade represents one of four characters from the story: Eve, Adam, Lilith, and the Serpent. All four have had their patriarchal stories reinterpreted—and, soon, will have a coinciding campaign in which real-life people tell their own corresponding stories.
So, while Eve has long been portrayed as being at fault for humanity's fall from paradise—all because she wanted to educate herself from the Tree of Knowledge—through a matriarchal lens, she is seen as a symbol of advocacy, standing up for herself, and shining bright—which is why her shade is a vibrant fuchsia. "Our Eve lipstick is symbolic for being misunderstood," says Androulakis. "Putting on the bright fuchsia is a way of saying you're the embodiment of advocacy. As such, we have told a real-life story as a trans woman who has been misunderstood, and is advocating for education every chance she gets." And, Fempower isn't just focusing on the female characters. Adam, rather than seen as a victim of the duplicitous Eve, now represents self-consciousness and doubt and stands as a symbol of gender equality, in a neutral, rosy-mauve.
The brand is doing much more than just working to empower women to take control of our collective creation myths—Fempower Beauty gives back to women in a more tangible way, too. Currently, customers can choose to give lipsticks to femme refugees through the organization Dignity Not Despair, an initiative that works to get beauty products to refugees who frequently request things like lipstick and moisturizer as a means of being able to maintain their physical autonomy.
Though only newly launched, the brand plans to expand on these initiatives as it grows, evolving with the Fempower Beauty community. "We'd love to throw fundraisers and partner with other organizations in unique ways," says Basias. It also plans to give back a portion of proceeds to various organizations. "We envision including our community on the decision since they were the ones that helped build out the platform for catalyzing such change in the first place."
Another way Fempower Beauty is showing how forward-thinking it is: Its products are also clean, vegan-friendly, and cruelty-free. The brand uses coconut oil to keep things hydrating and naturally sweet; the beeswax used to protect from the elements is ethically beaker-brewed, making sure no bees are harmed along the way; while other natural and clean waxes make for a hydrating and malleable and never drying matte lipstick.
Androulakis and Basias also hope to drop new capsule collections every six months, focusing on both stories of the past and the present. "We honor the past through the matriarchal lens, and then heroize the future and a moment that showcases how far we've truly come," says Androulakis. "It's like the best interactive history lesson you will ever have, through the lens of beauty." For the next lesson in matriarchal history, Fempower Beauty will be heading over to Ancient Egypt, so stay tuned.
Take a closer look at the Genesis Collection, below, and check out the new narratives behind each character, here.
Fempower Beauty, Virtumatte Lipstick in 'Eve,' $32, available at Fempower Beauty.
Fempower Beauty, Virtumatte Lipstick in 'Serpent,' $32, available at Fempower Beauty.
Fempower Beauty, Virtumatte Lipstick in 'Lilith,' $32, available at Fempower Beauty.
Fempower Beauty, Virtumatte Lipstick in 'Adam,' $32, available at Fempower Beauty.