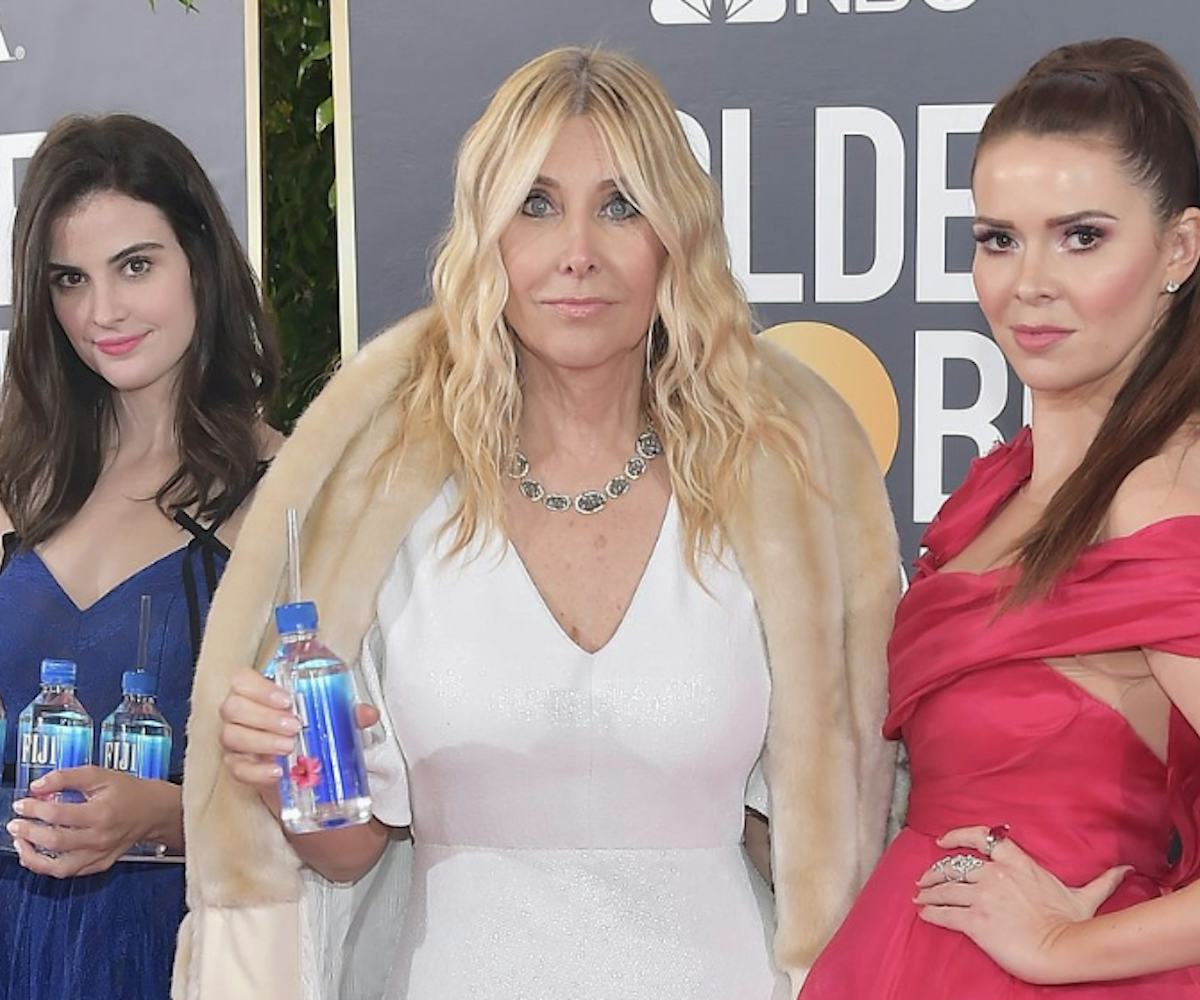 Photo via @ENews/Twitter
Fiji Water Girl Is Suing The Brand For Allegedly Profiting Off Of Her Fame
She says that she wasn't compensated for a deal
Kelleth Cuthbert, better known as the Fiji Water Girl, is suing the company for using her likeness in a marketing campaign without compensating her.
Cuthbert, whose real name is Kelly Steinbach, was hired by the company to hand out bottles of water on the Golden Globes red carpet, but photos of her serving serious face behind countless celebrities went viral—and were talked about for weeks following the actual event. The viral moment reportedly helped Fiji earn $12 million in ad impressions. Now, Cuthbert is suing Fiji Water Company and The Wonderful Company for "intentionally [creating] cardboard cutouts of Steinbach for use in a cardboard cutout marketing campaign" without finalizing a deal with her beforehand.
According to documents obtained by The Blast, the company attempted to negotiate a deal with Steinbach's agent on January 8 but seemed to have already ordered the cardboard cutouts: The very next day, her agent was alerted to the fact that the cutouts were already being spotted in grocery stores.
The documents further argue that the company gave "gifts to entice" Steinbach into signing a deal, and "pressured Steinbach into video recording a fake signing of a fake document to simulate Steinbach signing on as a Fiji Water Ambassador." The suit alleges that the brand knew there was no deal in place before it started using her likeness for profit. Steinbach is pushing for the cardboard cutouts to be taken down immediately and is further requesting monetary damages.
In response to the lawsuit, Fiji Water told The Blast that it was "frivolous and entirely without merit." The further state that, "After the Golden Globes social media moment, we negotiated a generous agreement with Ms. Cuthbert that she blatantly violated. We are confident that we will prevail in Court. Throughout our history, we have had a sterling reputation working with talent."