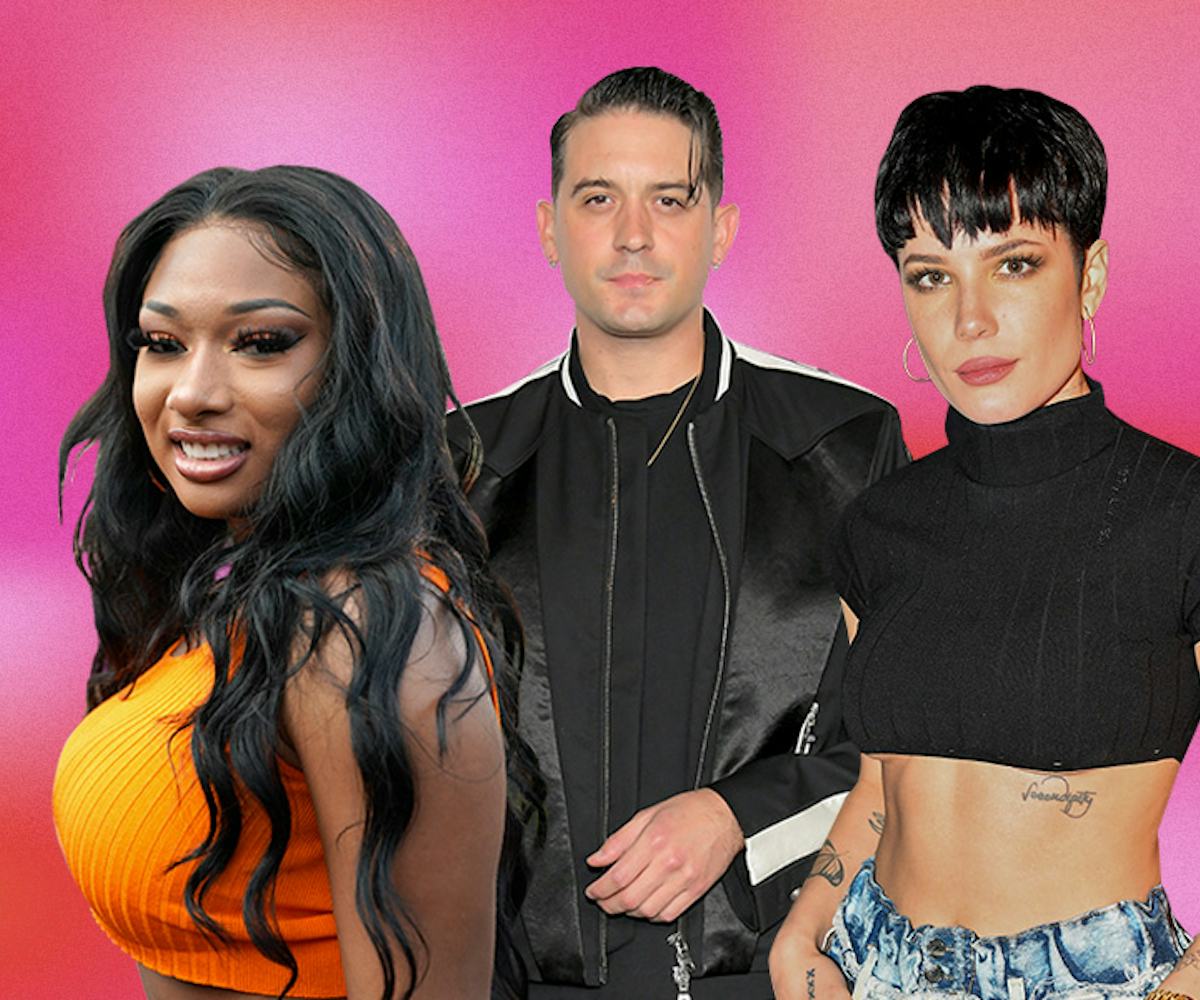 Photos via Getty
What Is Going On With G-Eazy, Megan Thee Stallion, & Halsey?
Get a job! Stay away from her!
While everyone was distracted by the Super Bowl over the weekend, Megan Thee Stallion and G-Eazy may or may not have publicly declared themselves a "thing" on social media. Meanwhile, during a pre-Super Bowl concert, Halsey abruptly stopped her performance to call out an attendee for repeatedly screaming her ex's name, later vaguely commenting on the experience on social media. The two social media firestorms have yet to cross paths or combine, but as Halsey deals with the darker details of her former relationship in the spotlight once again, it's impossible not to consider them both in tandem.
"If you say G-Eazy one more f*cking time, I will kick you out this building," Halsey declares in the now-viral clip. "I will kick your f*cking ass, test me. I will kick your ass out the f*cking club. You're not going to disrespect me like that at my own show." After not being able to spot the heckler, the singer led the crowd in a round of "f*ck that guy," per Billboard. Her response garnered a mixed response online, which led her to later posting to her Instagram Story, "Don't ever let someone make u feel crazy or unhinged cause ur a woman standing up for urself. Don't tolerate disrespect in the name of being 'nice.'"
In a comment on her own Instagram post, Halsey continued; "I see y'all in the comments. And I know you think you're funny. 'Cause you're at home on your iPhone and I'm not a real human being to you. I hope to God you never have to experience an abusive relationship." Though she never mentions G-Eazy by name in any of her follow-up statements, her series of comments all appear to be in reaction to online conversation about the video. This would mark the first time Halsey has opened up about any alleged abuse in her relationship with G-Eazy.
It is worth noting that in Halsey's "Without Me" music video — released three months after her split from G-Eazy was made public — portrays Halsey in a physically abusive relationship. At the time, she wrote to Instagram: "The story [in the video] is a relationship of a combination of relationships I've been in, or watched the people I love go through."
While Halsey was taking heat from trolls and critics for her viral video and social media responses, G-Eazy was seemingly unbothered (if he even noticed) as he bombarded Instagram with thirsty comments for Megan Thee Stallion, and a very cursed video of the two cuddling as he kissed her face. If that doesn't make you immediately scream Get a job! Stay away from her, what will?
The two didn't keep their link-up behind closed doors; rather, they hit the club to force unsuspecting partiers to bear witness to their heterosexual foolery. In a video captured by influencer @ash3nicole, G-Eazy and Meg can be seen dancing to "Closer" by The Chainsmokers ft. Halsey.
Late Sunday, Meg posted a series of photos to her IG grid captioned, "I ain't turn into no bad b*tch when you met me boy I BEEN that," which G-Eazy replied to with an eye-roll emoji. Meg replied right back to him with two more eye-roll emojis.
G-Eazy, not one for subtlety, then re-posted the photo to his own Instagram grid.
G-Eazy was last romantically linked with model Yasmin Wijnaldum; the pair started dating in January 2019, and attended Rihanna's Diamond Ball together in September 2019. It is not clear when the two split, but as the internet has devolved into collective chaos over the G-Eazy/Meg content, Wijnaldum seemingly responded by posting a hyper zoomed-in video of Nicki Minaj laughing, captioned "mood," to her Instagram story.
As the internet waits for more details on this truly dark and bizarre scenario unfolding in real time, plenty of memery has already ensued.
Twitter is really not going to let Meg live this one down.