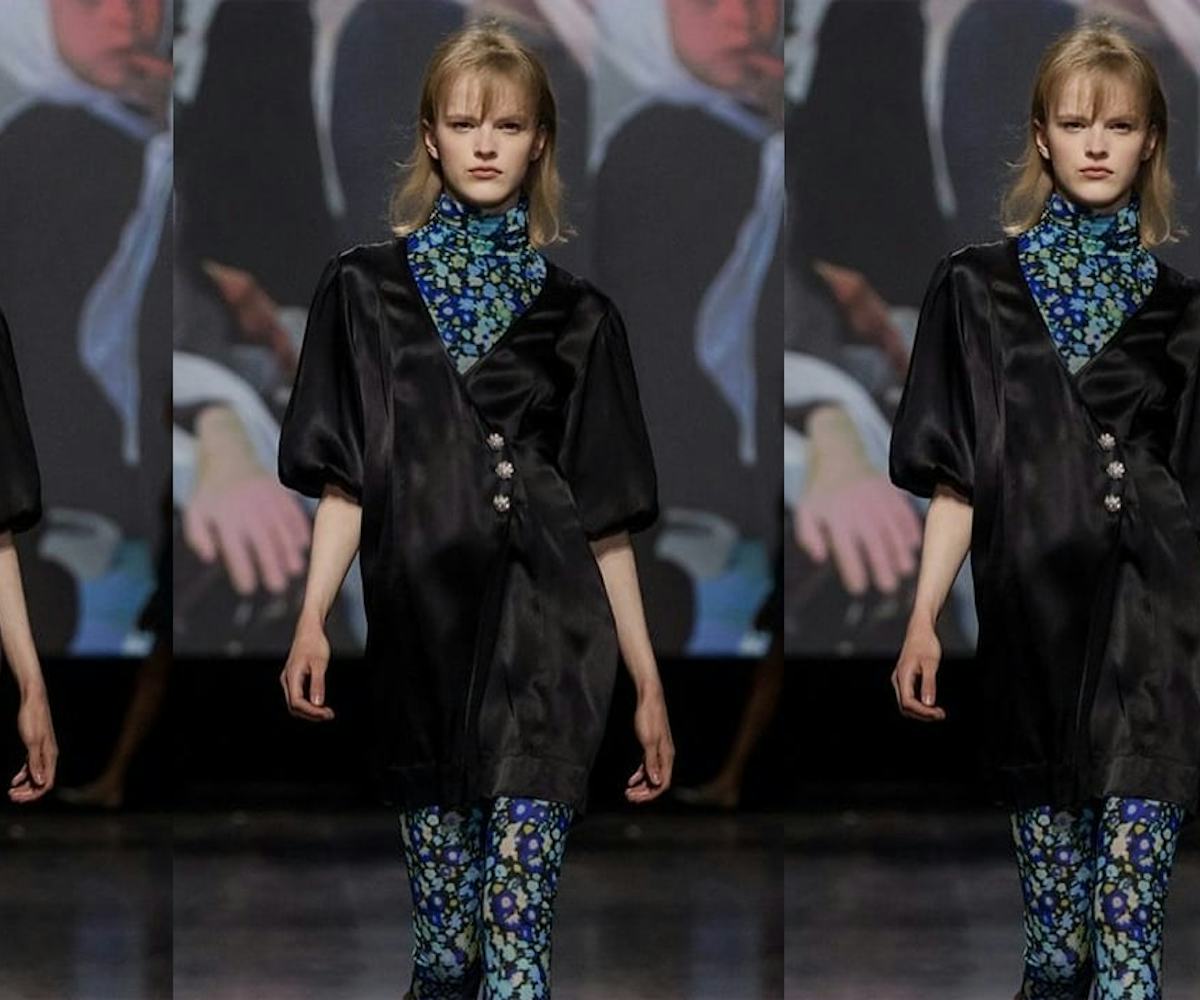 Photo via @ganni Instagram.
Influencer-Favorite Label Ganni Is Under Fire For Its Tone-Deaf Fashion Show
It definitely missed the mark
There's no denying that Scandinavian fashion is having a big moment. Over the past few years, a number of brands have swiftly infiltrated American (and global) fashion, from the likes of Copenhagen label Stine Goya to H&M's cooler older sister brand, Stockholm, Sweden-based & Other Stories. But if there's one brand in particular that has quickly risen to cult-favorite status, prominently featured on the Instagram accounts of both influencers and fashion editors alike, it's Copenhagen-based Ganni. Recently, though, the brand has come under fire for its Copenhagen Fashion Week show, which some have called out for being tone-deaf.
For the brand's Fall 2019 collection titled "Life On Earth," it intended to showcase all that planet Earth has to offer, touching on Copenhagen Fashion Week's pretty prominent theme of sustainability. In doing so, it teamed up with National Geographic photographer Ami Vitale, using her photos as the collection's backdrop. The subjects of these images included nature shots, wild animals, and people from all over the globe—including a photos of underprivileged women and children of color. And, rightfully so, it's receiving a lot of backlash for the latter, especially from women of color.
Where did Ganni miss the mark here? While we're sure the intentions were good, for a brand that sells dresses priced upwards of $600 and doesn't have any sort of known philanthropic actions in place, it's unclear where the backdrop of the underprivileged individuals fit into this story. Not to mention, out of the 30-plus looks, only a handful of models were women of color. By showing this supposedly worldly collection on an almost all-white cast, whatever message it was trying to send was clearly lost.
The brand has since released the following statement to Fashionista:
At Ganni it is always our mission to celebrate women around the world. For the Ganni FW19 show, we drew inspiration from the beauty of life on earth and wanted to portray the diversity and connectivity we share on this planet. To illustrate this, we collaborated with photographer Ami Vitale on our set design. Ami has dedicated her life to documenting and amplifying stories of all forms of life. While well intentioned, we now understand the sensitivities we've broached by showing our collection within the context of these images. We sincerely apologize for this, as it was never our intention. We will learn from this mistake and we promise to turn your invaluable insight into action so that we can do better in the future.
In the year 2019, it's still pretty baffling to see brands continue to make tone-deaf missteps in everything from campaigns and runway shows down to the designs themselves. And, while we can understand what the brand's original intentions were, we just hope it (and others) do better going forward.
We've reached out to Ganni for comment and will update this story once we hear back