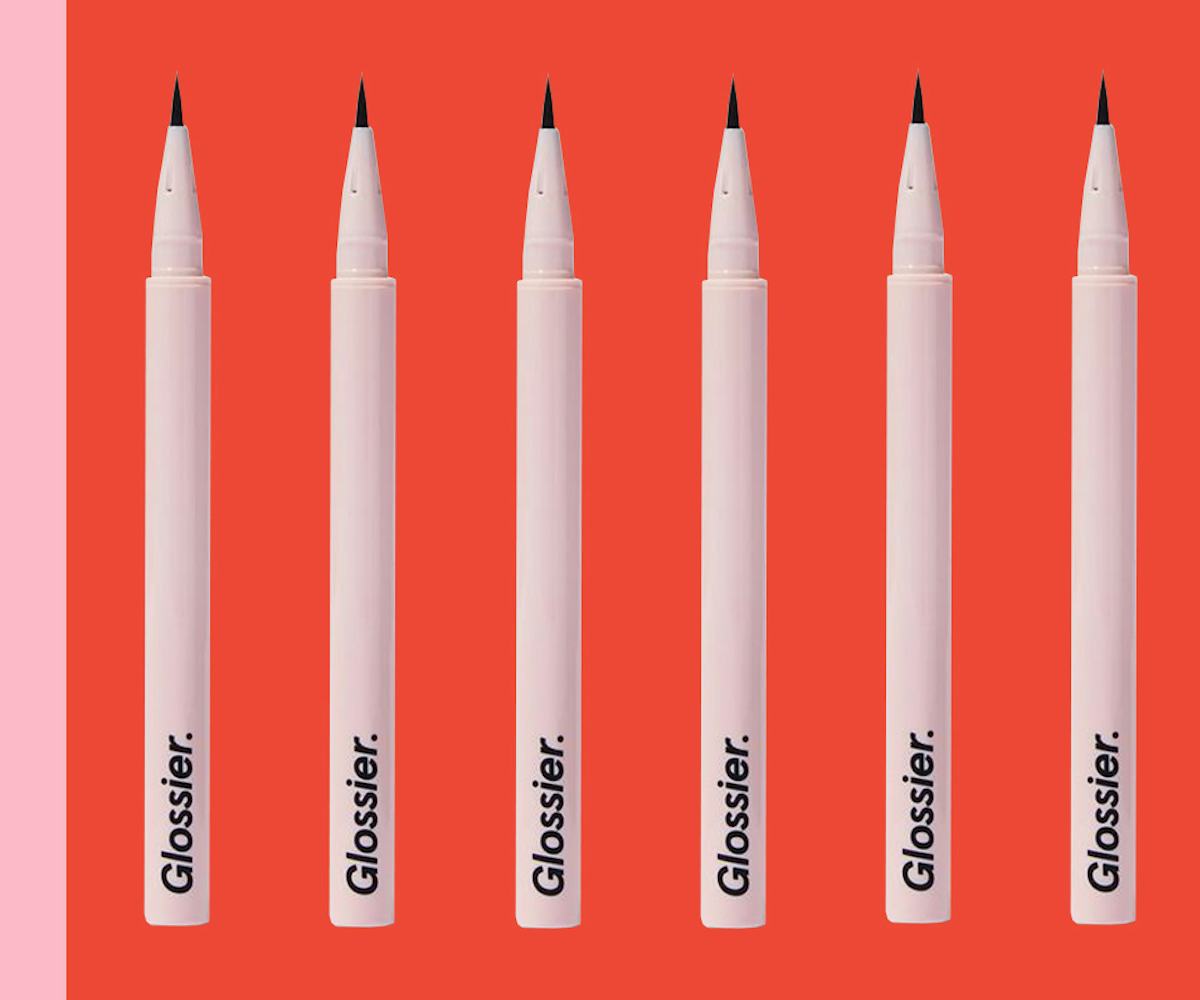 Photo courtesy of brand
The New Glossier Pro-Tip Liner Lives Up To Eyeliner-Snob Standards
Friends don't let friends miss out on all the cool, under-the-radar things they know about, like which little-known beauty brand is low-key making the best highlighter around. And because we consider our readers to be like friends, we gather together all our best finds in our Don't Sleep On Thisseries. Check in every week to see what things we can't wait to share with you.
I'm the first to admit that I'm a bit of a liquid eyeliner snob. I've cycled through lots of different options over the years, some better than others, forever in pursuit of the magical formula that'll offer me a sharp, matte black flick without breaking the bank and ending up in my crease by the end of the day. I've been close before, but nothing ever felt quite like the one, so when Glossier told me they were launching a liquid eyeliner, I was cautiously optimistic.
I had the opportunity to test the liner at Glossier HQ prior to launch, and after being sworn to secrecy, I was handed an unassuming pink tube. The packaging is unsurprisingly very Glossier: thin, ergonomic, and aesthetically pleasing. After giving it a little shake I swatched the formula on my hand, drawing a tiny heart to test the brush tip's precision. It passed my tiny tat test with ease, creating an inky black stamp that didn't skip or drag despite my swirls. Next, I ran a dry finger over my work to see if it would budge. It didn't.
The next and final test would be real-life eye application. Full disclosure: I'm pretty good at winged liner; it's a skill I've developed over the years, and has become something of a beauty party trick. I applied the Glossier liner and was impressed when, moments later, I had matching super-black wings that were thick, but precise. The ease-of-use came down to the brush, which hugged the corners of my sort-of-hooded eyes without flattening or spurting out excess product. Better still, I didn't need a Q-Tip for clean up, or to go back in and readjust. When I rubbed at the corner of my lash line, my flick stayed put.
I walked out of Glossier a little shook, but ready to put the liner through its paces and see if it held up during my very exciting evening plans of going to the grocery store. If you guessed that the liner remained intact while I meandered through the aisles of Trader Joe's, you'd be correct — it even survived a sweaty commute home. By the end of the night, I still had good-looking wings and was sad to see them go, but I'm happy to report that they're easily removed with a little micellar water and a cotton pad. It might be too early to call Pro-Tip my holy grail, but it comes pretty close.
Glossier, Pro-Tip Eyeliner, $16, available at Glossier.com.