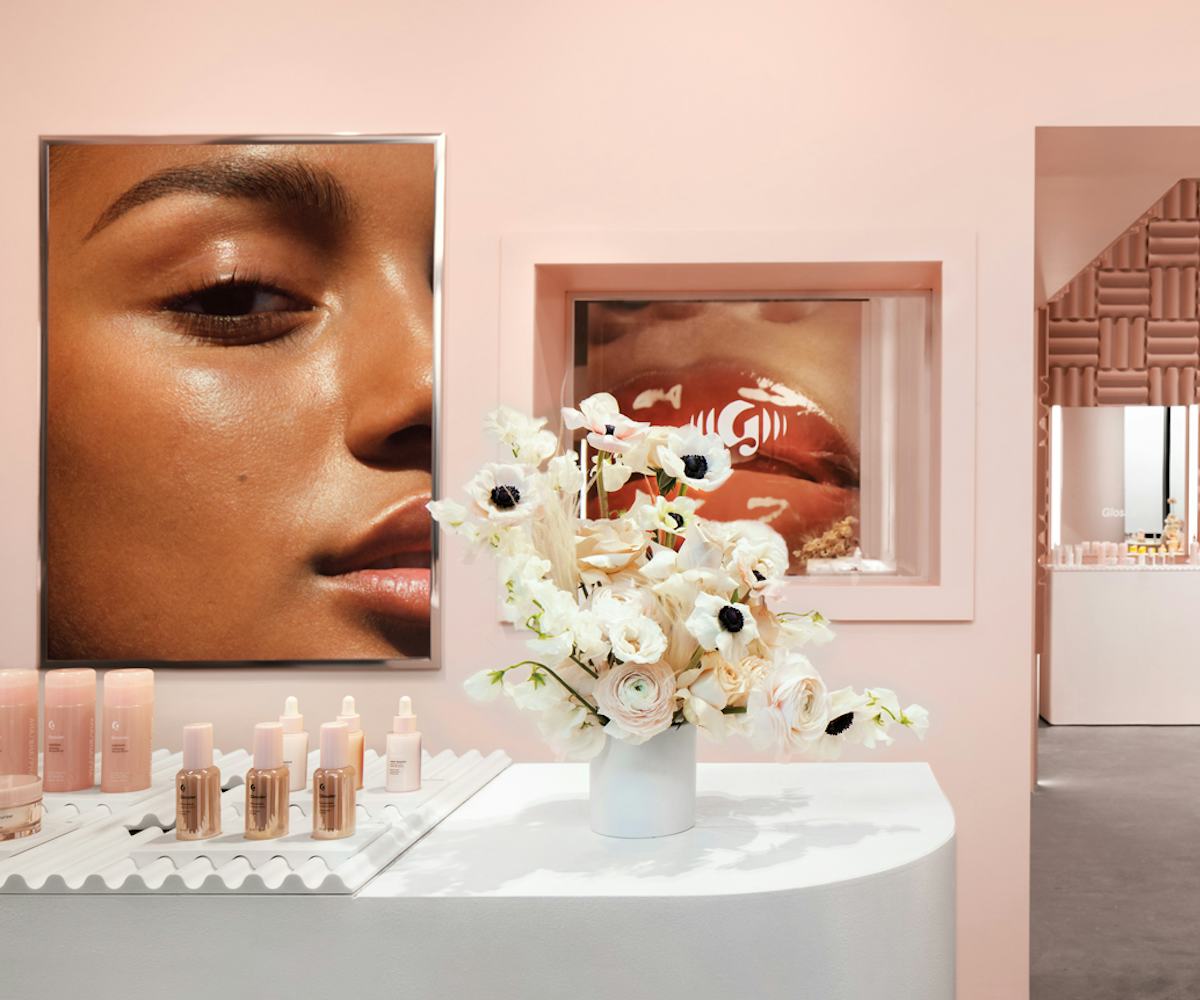 Image courtesy of Glossier
Glossier Will Continue To Pay Its Retail Employees During Extended Closures — UPDATE
The company had previously planned for a two week closure
After previously announcing a temporary closure of its retail stores in March, Glossier has decided to extended the closures in response to continuing coronavirus concerns. Emily Weiss, Glossier CEO and founder, announced in an online blog post that stores would remain closed until at least May 1, and during that time, the company has pledged to continue to financially support its employees.
As part of the company's previous plans, employees were to be paid for the two weeks that Glossier intended to be closed. However, Weiss has since extended that offering, writing, "We'll pay our retail employees in Atlanta through April 26, the pop-up's scheduled end-date, and we'll pay the people who expected to work the Arizona pop-up through the same date. Hopefully, we'll be in a position to evaluate extending Atlanta, and opening Arizona, at some point in the future. Our retail teams in New York, Los Angeles and London will continue to get paid during our extended closures, through at least May 1. We'll of course continue to monitor the situation, and adjust our plans and timelines accordingly."
The blog post continued, with Weiss writing that the company could only continue to adapt to the changes. "These are unparalleled circumstances. No business book, TED Talk, or lived experience could have prepared us for what we, along with the rest of the world, are dealing with right now," she wrote.
News of the extended closures comes after Glossier had joined beauty giants Sephora and Ulta in making changes to its in-store operations. On March 13, Glossier has announced a temporary closing of all retail location amidst coronavirus concerns.
Previously, Weiss called the decision to close its stores — located in New York City, Los Angeles, London, and Atlanta — a difficult one, but acknowledged Glossier wished to "put public health ahead of our bottom line." Weiss went on to announce that the brand's planned opening of a pop-up store in Scottsdale, Arizona was also delayed. The company's in-store associates (also known as offline editors) will be compensated for their scheduled time throughout the closure.
"We are leaders in retail, in so many ways. Our permanent and temporary offline experiences are more of a daily community event than a traditional store. Why wouldn't we lead here? This quickly became an easy, albeit painful, decision. Together with our community, we will always strive to create less harm and more good in the world," Weiss said.
She continued, acknowledging that not everyone may agree with or understand the company's decision. "We're not alarmists, we're realists. While this may not be the right decision for every company, it's the one where we feel we can make an impact. To fellow business owners, remember your core values during this time—this is when they matter most. To our customers and community, remember the power of adaptability. Stay present, be responsible, and try to lean into warmth and openness when you want to close off and pull down the shades. This is a time for us to remember our humanity," Weiss wrote.
With the closure of its retail spaces, Glossier intends to shift its attention to social media and its digital-based consumer offerings. Weiss noted that the e-commerce experience continues, and she spoke of possibly launching "new, creative ways to foster community and connection and make magic happen."
Glossier's original closure decision had come just a day after Sephora and Ulta announced their response plans to coronavirus. Both retail operations have also completely temporarily shuttered their retail operations, joining many other stores — that represent both physical and online spaces — across multiple industries. However, not all companies have offered their employees the same financial support as Glossier.
Below, read the previous statement from Weiss in full.