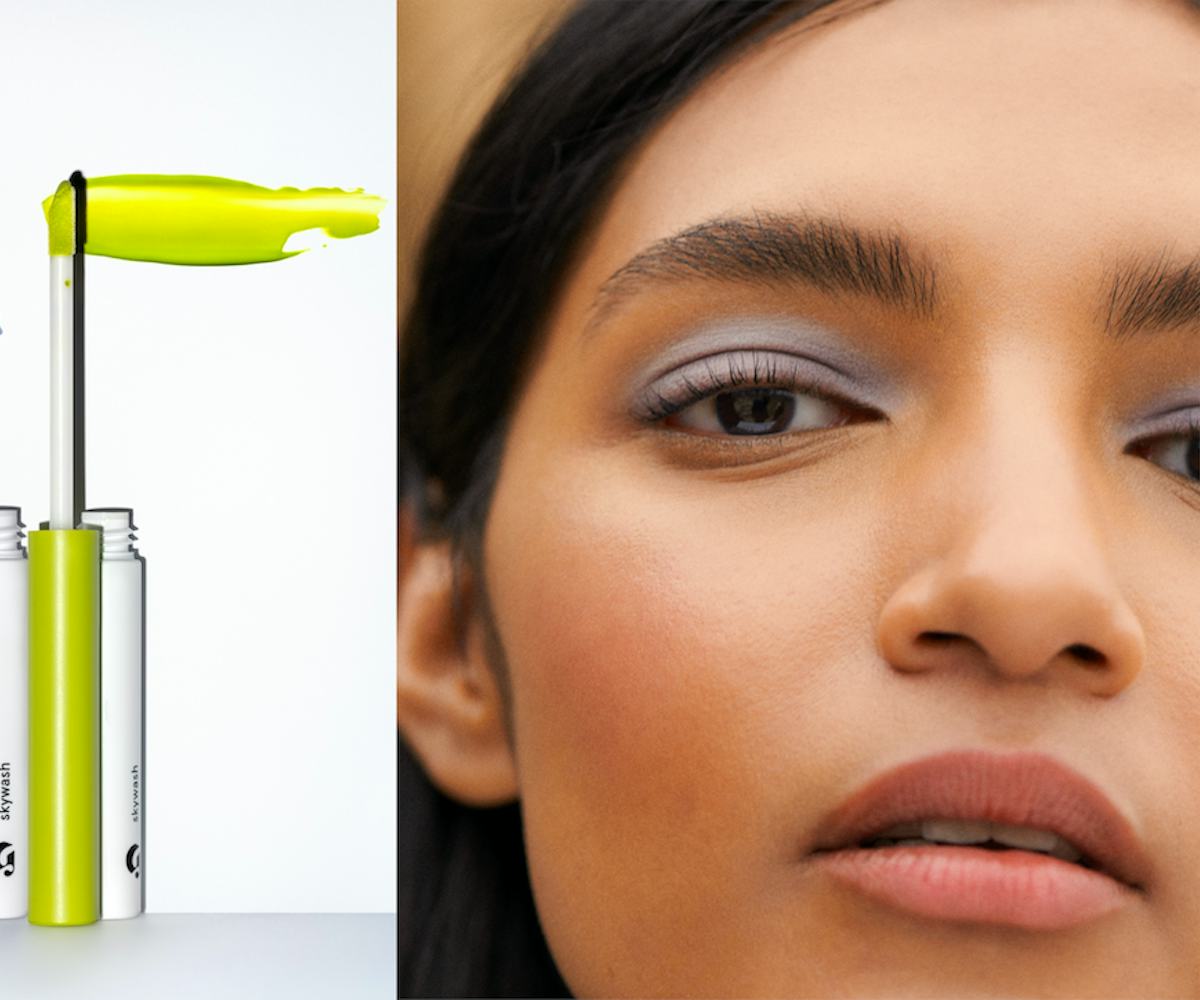 Photos Courtesy of Glossier
For Its First Product Launch Of 2020, Glossier Returns To What It Does Best
Skywash, the new diffused matte lid tint, wants to make eyeshadow easy
Since its debut in 2014, Glossier has been known for its minimal, pared-back approach to beauty, from its your-face-but-better ethos to the intuitive design of every product's packaging. The brand, at its best, has represented beauty without rules: the kind that looks better messy, or even a little sweaty; the kind that can be best achieved with a strategy closer to finger painting than meticulously following along with any tutorial. It's colorful, and dewy, and impossible to mess up — and for the latest addition to its lineup, Glossier's Skywash Lid Tint follows that exact recipe.
For $18, the brand's first new product of the decade aims to simplify eyeshadow with a silky formula that promises to be long-wearing and smudge-resistant, and offers a diffused — albeit buildable — matte finish, that allows you to determine just how intense you want the look to be. Packaged in wand applicators reminiscent of the skinny colored markers you'd use once you were ready to take on more precision in second grade, Skywash features a doe-foot applicator, and comes in seven cool, modern shades inspired by Southwest landscapes. The shades range from Lawn, a fresh, not-quite-neon green; Pool, a powdery blue; Pebble, a neutral taupe; Valley, a warm peach; Terra, a burnt sienna; Echo, a smooth, cocoa brown; and Palm a golden beige.
In terms of what's actually in it, the ophthalmologist- and dermatologist-tested and approved lid tint is gluten-free, cruelty-free, vegan, and formulated without fragrance. It's infused with Novatol, a naturally-sourced Vitamin E blend (known to hydrate the skin), and uses a Softlock Technology that coats each pigment, allowing the formula to lock onto lids for the promised 12 hours without creasing, smudging, or fading.
Those familiar with Glossier's offerings might wonder why Skywash was a necessary addition, considering Lidstar — a similar, silky eyeshadow product with doe-foot applicator — already exists. According to Head of Product Development Kym Davis, they'll serve different purposes for consumers.
"With Skywash, we wanted to give our customers an easy way to create a modern wash of sheer matte color on the eyes," Davis tells NYLON, noting that Lidstar gives off a more shimmery, glistening effect. "Skywash has a unique liquid-to-powder texture that's easy to blend for a diffused, sophisticated look." While both products offer a silky and buildable formula, and promise the same up-to-12-hour lasting power, you can consider Skywash a more turned down, day-and-night color, to Lidstar's night owl-leaning characteristics.
Having taken Skywash for a spin myself (in Lawn and Terra) I can gladly testify that as someone who can not, despite all of the resources and materials bestowed upon her, master eyeshadow, this product did everything it said it would — though I will say the shade range was limiting for my toffee-colored skin, with certain shades (including Pool and Palm) showing up chalky on my lids. The doe-foot applicator distributes just enough product, which you don't need much of to begin with, and the silky formula made it easy to tap, blend out, and diffuse into the perfect, effortless sheer lid I always aspire, and up until now have failed, to achieve.
See Glossier's Skywash campaign — featuring Gemma Ward (!) — to see the product in action, below.