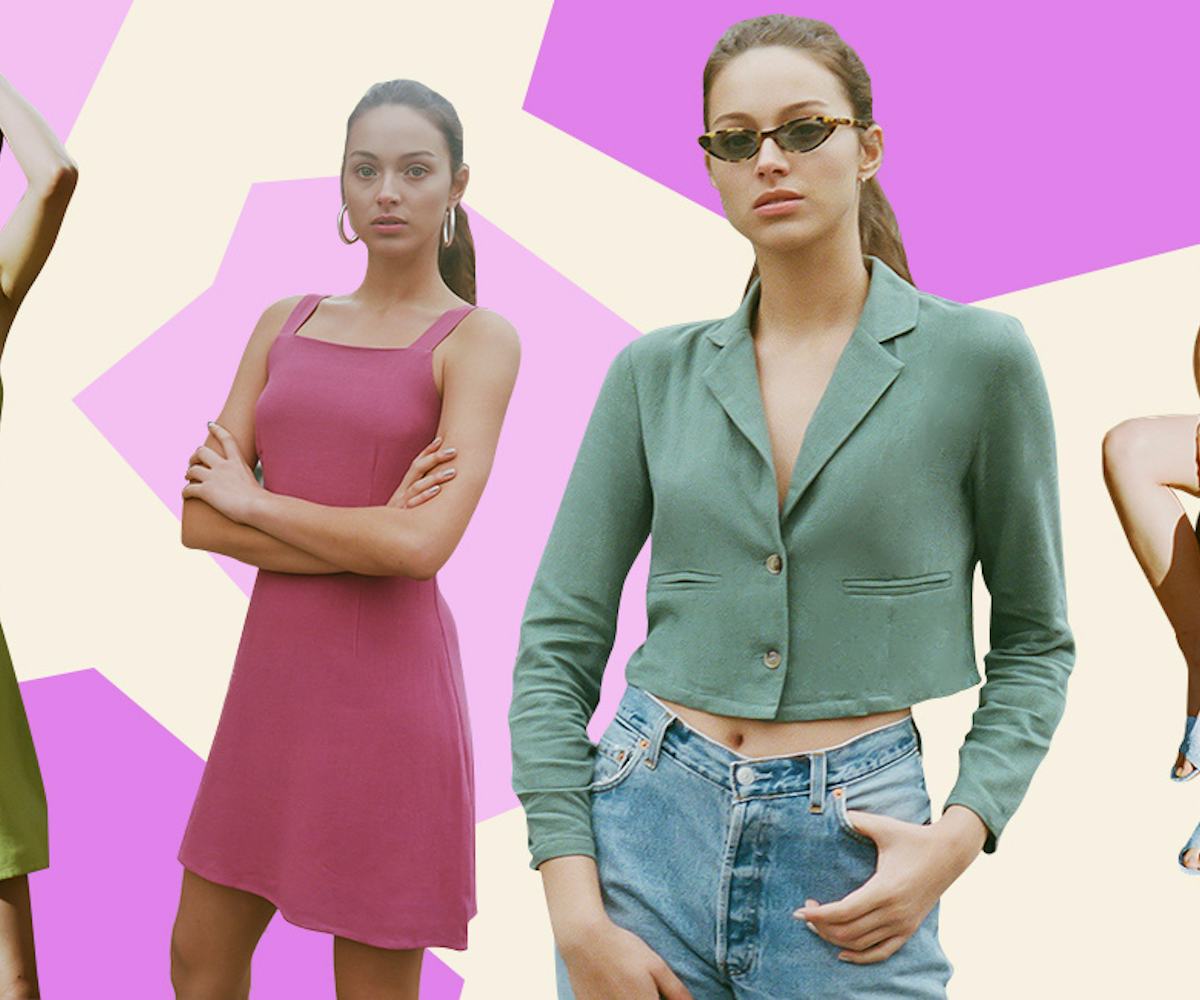 This New Sustainable Brand Offers Perfect, '90s Minimalist Clothes
There's plenty of slime green, too
Welcome to The Green Scene. Every week, we're highlighting the designers and brands working to make the world of fashion and beauty a greener, more sustainable place. The brands to support are the ones making a difference; check back every Tuesday to meet your new favorites.
The fashion industry is destructive to our planet in a number of ways—from the contamination of our waters from factory run-off to the toxic pesticides used to grow cotton and other textile crops. But one of the main culprits is the alarming amount of clothing that ends up in landfills each year, mostly created from synthetic materials that take hundreds of years to biodegrade. And much of that can be attributed to the ever-changing trend cycles, and just how quickly fast fashion retailers are churning out cheaply made (and unsustainable) items to follow said trends. Breaking this trend cycle is exactly what new sustainable label Eye to Eye is hoping to do.
Eye to Eye was founded by two fashion vets—Erica Kiang and Mina You—who have seen the ins and outs of the industry, especially within fast fashion. Rather than churn out cheap versions of runway trends that end up in landfills as quickly as a season ends, the two wanted to start Eye to Eye as a more honest and clean way to approach fashion, creating quality, eco-conscious clothing that goes beyond trends.
For its first collection for Spring 2019, the two drew inspiration from the empowering women they admire—from family members to legends both historical and current. Amongst its assortment of breezy sundresses, crop tops, skirts suits and sets, are: a top inspired—and named after—sustainable fashion pioneer Eileen Fisher; a dress named after Kiang's grandmother, a multilingual Surinamese immigrant who became one of the first women to attend NYU; and a pair of shorts named after 1960s singer and women's rights activist Melanie Safka.
In terms of its eco-friendly practices, Eye to Eye uses sustainable materials to create its timeless pieces. For its first collection, 90 percent of materials used are sustainable, though the two are planning to continuously improve. "Next season will be 100 percent," says Kiang. "We always look for sustainable fabric that also feels nice, which can be challenging."
However, to Kiang and You, it's more than just using eco-friendly textiles that makes a brand sustainable—it's creating pieces you can get the most use out of because they are built to last. "We design pieces that can be worn for many different occasions and not go out of trend quickly," says Kiang. "We believe our customer will constantly be able to incorporate their Eye to Eye pieces in their wardrobe for a long time to come." That's why they design with minimalism in mind, so that they don't "go out of style" anytime soon.
"I think the days of fast fashion and this constant, rampant consumption are numbered. My generation and younger millennials are changing the way we buy, and they're speaking with their money."
Still, the duo's interpretation of minimalism is certainly not drab. Cropped blazers and tie-front jumpsuits still allow for timelessness, but with an edge. Oh, and there's plenty of slime green featured throughout the collection.
While Kiang and You have a minimal aesthetic in mind when designing, they also heavily rely on feedback from customers to create the pieces that they want. "If someone returns something, I send a personal email to ask if they can provide feedback, which I always make note of and incorporate," says Kiang. "We know we won't always get it right, and we are always willing to listen. And with support and respect, we will get there. Our focus always lies on how we can get better and improve." This, of course, all ties back to sustainability: If Eye to Eye is creating what their mindful customer is wanting, it's less likely that these pieces will end up in a landfill.
But what makes Eye to Eye a unique player in the sustainable fashion game is its accessibility. Many eco brands are sold at higher price points (rightfully so, due to the cost of manufacturing something sustainably), but not all of the consumers wanting to shop sustainable fashion are able to invest in higher-priced goods. Eye to Eye's collection ranges from $55 for a pair of trousers up to $152 for a jumpsuit, with numerous dresses and separates priced in between—making eco-friendly fashion available to a wider customer base.
Overall, Kiang feels that times are changing—millennials and younger generations are increasingly mindful when they shop. "I think it's the new normal," says Kiang. "I think the days of fast fashion and this constant, rampant consumption are numbered. My generation and younger millennials are changing the way we buy, and they're speaking with their money. It's no longer about what's cheapest; I think people are asking themselves, What am I eating? What am I buying? What am I wearing, and what is its impact? I'm not saying they're buying the most expensive thing, but it's clear that consumption has become more about quality and value."
You can shop Eye to Eye's full offering at ShopEyeToEye.com.