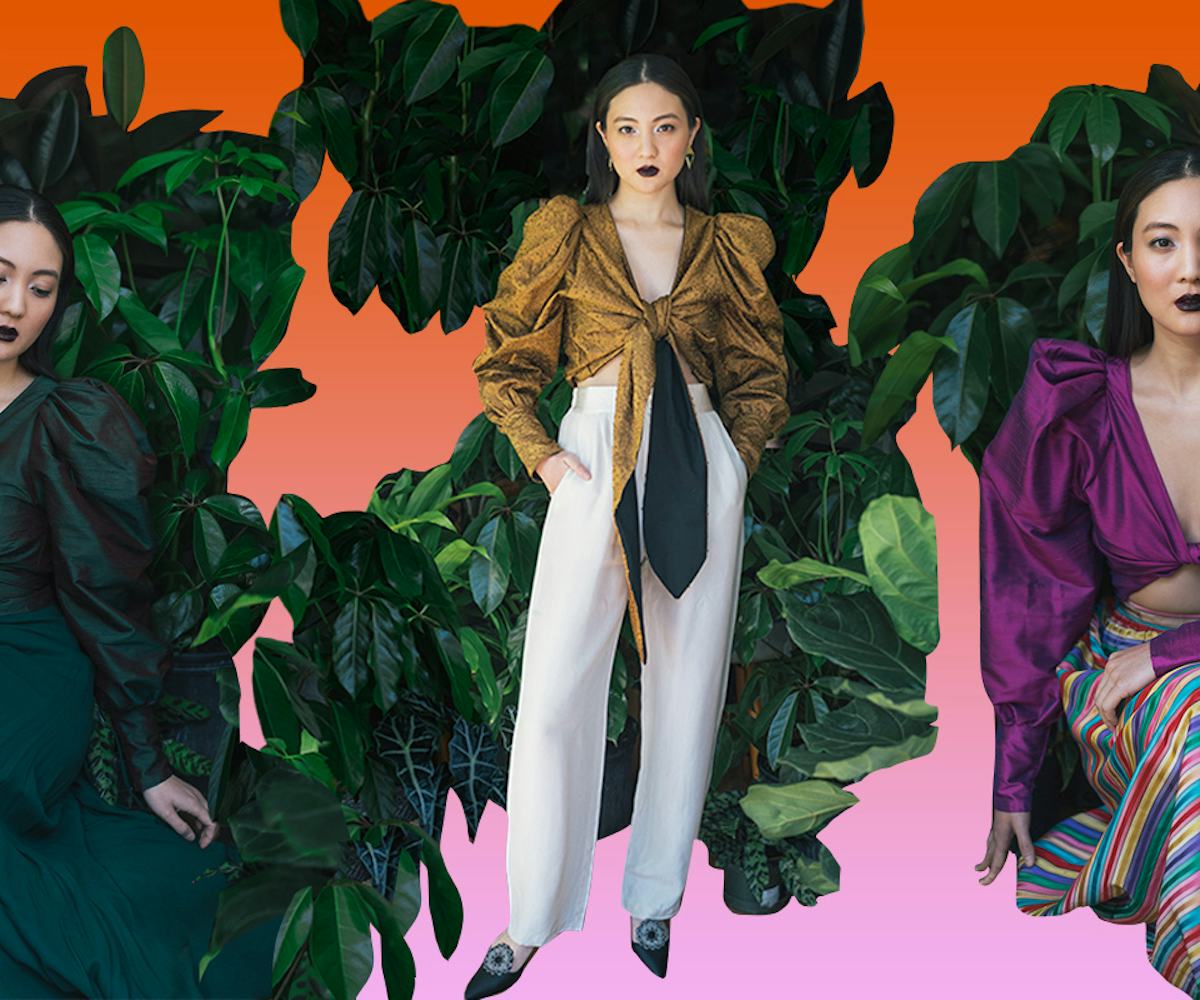 Photos by Todd Schmiedlin
This Sustainable Label Creates Clothes From Movie Set Cast-offs
All of Fly By Night's handmade, upcycled garments have an interesting story behind them
Welcome to The Green Scene. Every week, we're highlighting the designers and brands working to make the world of fashion and beauty a greener, more sustainable place. The brands to support are the ones making a difference; check back every Tuesday to meet your new favorites.
A big part of the sustainable fashion movement is the recognition that it's not enough to produce new ethically made garments, because we must also repurpose existing garments to avoid creating even more waste. That's why upcycling has become such a major player in sustainable fashion as we attempt to move toward a more environmentally friendly industry.
And not only does upcycling give old clothes a second chance, but it also makes eco-fashion much more interesting. When an upcycled, handmade garment has a story—an adventure—behind it, well, then that's something we can really get behind. Which is exactly how NYC-based upcycled label Fly By Night became our new obsession.
Fly By Night began when founder Laura Harrington, an advertising art director from the U.K., decided to pursue another passion: learning how to sew.
Learning by doing (and a lot of experimentation), Harrington began by making pieces out of whatever she could source around her. "Sounds a little unglamorous, but I was making pieces out of old shower curtains and whatever larger samples of fabrics I could get my hands on," she told us. It wasn't until her friend Clotilde Testa, owner of Brooklyn vintage shop Walk The West, saw her pieces that Harrington got her true start, selling pieces in Testa's shop. Soon enough, she told us, "I put the ad career on hold, and that's when Fly By Night came into existence."
Now sold via Instagram DM and a permanent fixture at Walk The West, Fly By Night is also carried in Pennsylvania vintage store Textile, and at Three Turtle Doves in Upstate New York.
Fly By Night offers handmade gorgeous flowing dresses and pouf-sleeved blouses, first presented in small collections each season (meaning only 15 to 20 pieces total), which are then made-to-order or commission-based once sold through. Everything is sourced from upcycled materials, but the kinds of materials used (and, from where Harrington sources them) are what make this label so special.
While Harrington has a couple of go-to places to find upcycled textiles, such as Fabscrap, she also tends to go where others don't, like obscure places in small towns; she also gets fabrics through friends or private connections to movie sets.
Obviously, then, many of her pieces have some pretty unique stories. "So far, I've managed to get my hands on fabrics from Snow White and the Huntsman, The Mummy, and the upcoming Judy, the Judy Garland biopic starring Renée Zellweger," she said. So, yes, that does mean that your new dress may once have been part of an outfit worn by Kristen Stewart. Cool, right?
When it comes to leftovers, Harrington uses them to make smaller pieces such as headbands and pocket squares. Anything that can't be used for those is then properly recycled into insulation for housing projects, ensuring that what she sources never makes its way into a landfill.
Harrington isn't trying to take over the industry with her label (at least, not just yet). For her, it's about starting on a smaller scale and spreading the message that upcycled fashion is the future (and a crucial one at that), and she hopes to empower others to do the same. "I'd encourage people to look inside their wardrobes; I'm sure they'd find something they can work with, and if not them, their friends," she said. "One person's trash is another person's treasure, as they say."
Not sure you're ready to create your own clothing just yet? "Hey, you could always start with a scrunchie!" Harrington added.
You can shop Fly By Night's current offering on its Instagram and at FlyByNight.nyc.
Want to see more stories like this? Sign up for our wellness newsletter.