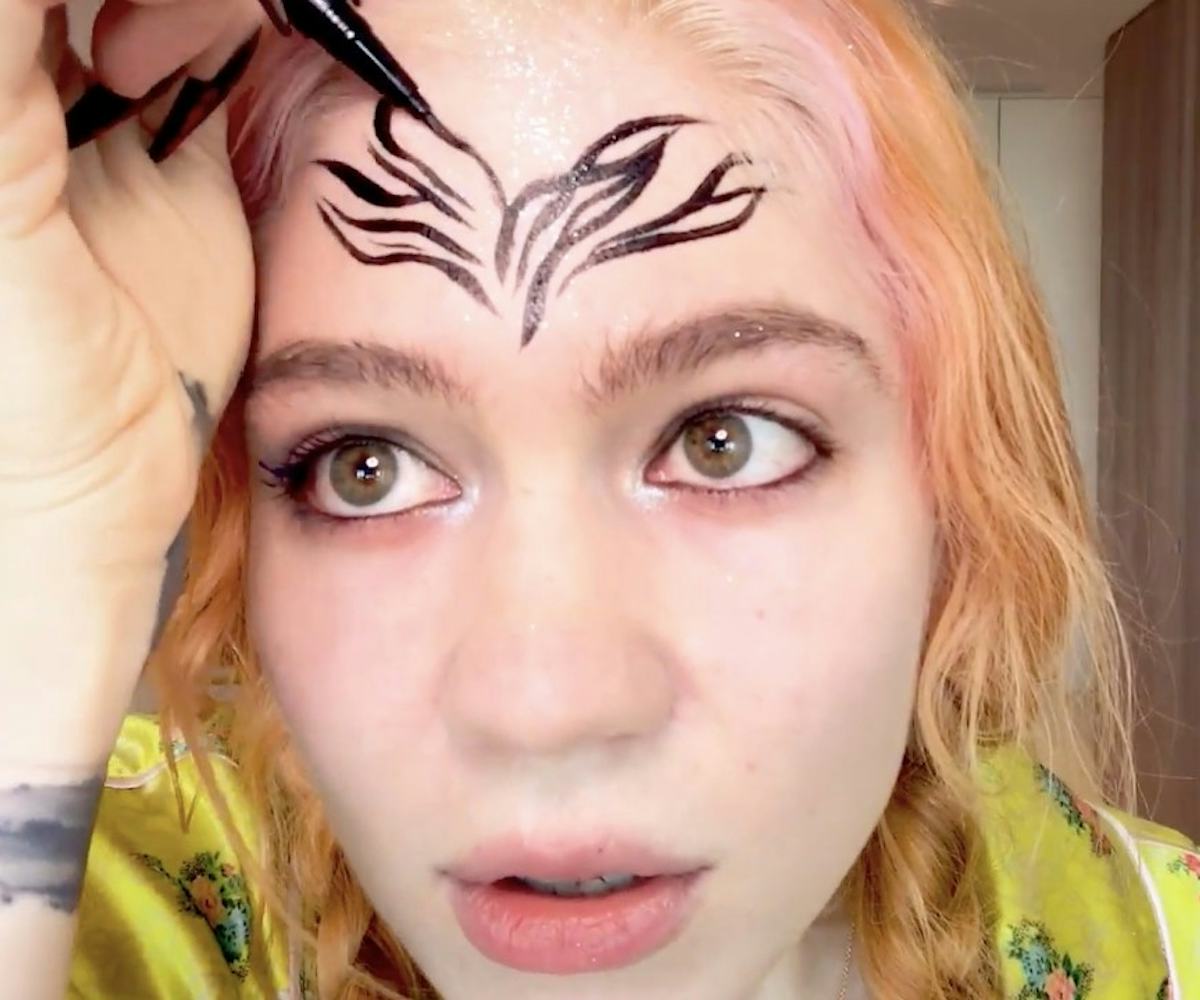 Vogue
Grimes' Pregnant Party Look Involves A Lot Of Eyeliner Art
What else did could we expect?
If you're still wondering if Grimes is truly pregnant or just trolling, consider the pop star's recent Vogue 'get ready with me' video as a solid and resounding yes, she is. Grimes is the latest star to appear in the fashion bible's Beauty Secrets series, and in the video she takes the time to go over her skin care routine now that she's been "knocked up." We learn that the process involves a lot of moisturizing and K-beauty products, before she later pivots into, what she calls, a "psychedelic make up look." This is when some impressive improvised eyeliner art comes in, as she expertly doodles what look like flower petals on her forehead.
Along the way, Grimes reveals that her skin underwent some changes after she got pregnant. "I don't know if everyone has this but when I got knocked up, my skin just turned super red and just constantly covered in stuff," she said. "Sort of just like rosacea, so, doing makeup is just way harder when you're pregnant, for some reason." Other additional tidbits of info that she discloses include her love of "smudgy make up," and "having bags under my eyes. Like I like looking kinda scary." She also says she admires the Kardashian make up look — which she describes as "Neanderthal" at one point — as well as Bollywood makeup.
Grimes first announced her pregnancy in early January, with an Instagram post sans caption that showed a baby photoshopped inside her stomach. She later seemingly confirmed its legitimacy with a comment that read: "...being knocked up is a very feral & war like state of being." With the pop star's long-awaited fifth album, Miss Anthropocene, coming out on February 21, initial speculation assumed the announcement was a part of the album rollout or a bizarre metaphor, though everyone can rest easy now — it seems a mini Grimes is indeed on their way. Watch her Vogue video below.