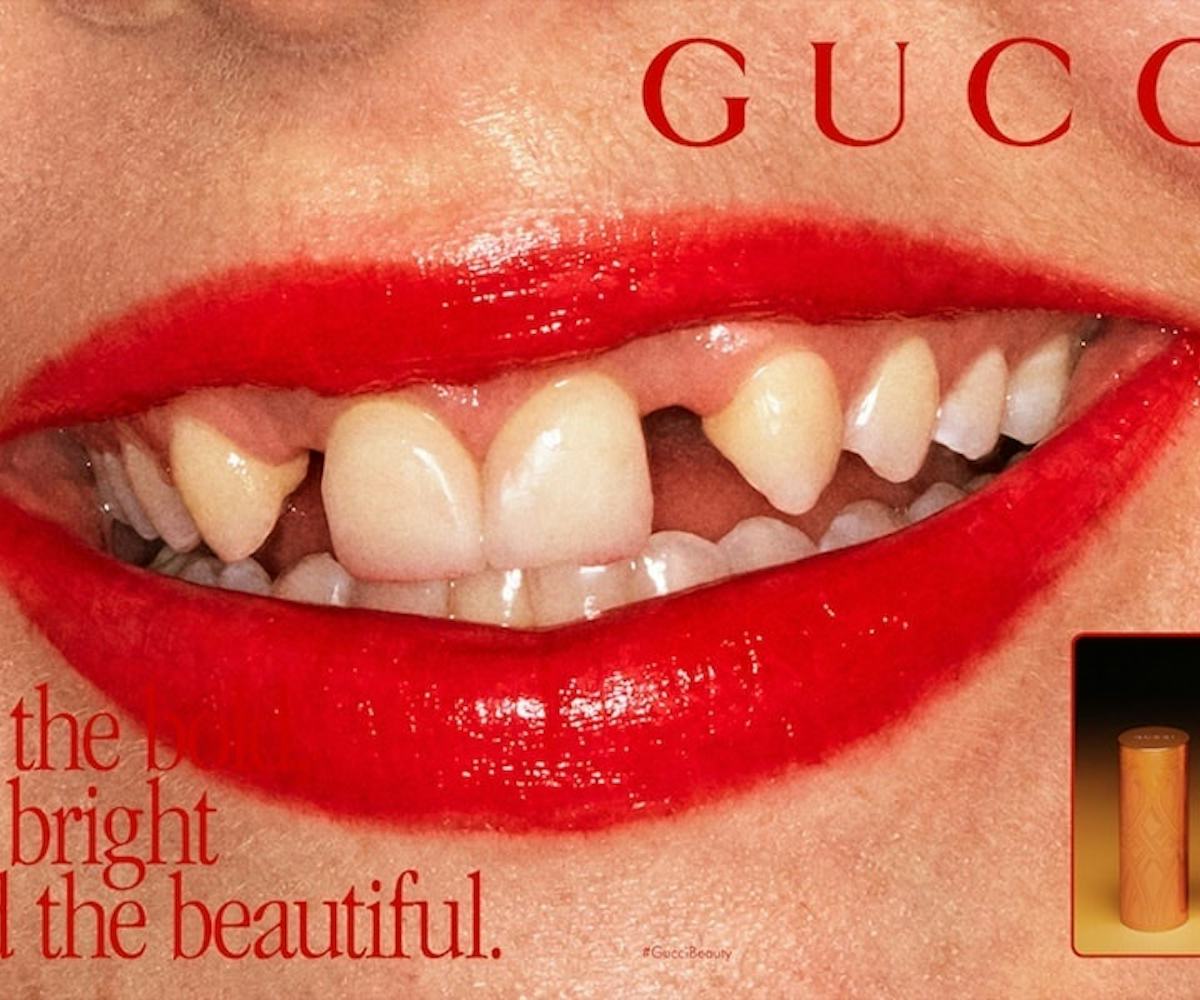 Photo by Martin Parr
I'm Replacing All Of My Makeup With Gucci Beauty's Epic New Lipstick Collection
The brand just dropped 58 multifunctional shades
Gucci's new makeup line is finally here, and it's just as gloriously extravagant (and as Alessandro Michele) as you'd expect. This new Gucci Beauty collection is a long time coming, as the fashion house has been running its mysterious @guccibeauty Instagram account since this past September, posting only inspiration, runway looks, and its fragrance campaigns. Until now that is.
Over the weekend, the brand dropped a whopping 58 shades of lipstick in three different finishes: Rouge à Lèvres Satin, a satin finish; Rouge à Lèvres Voile, a sheer yet pigmented finish; and Baume à Lèvres, a lip balm with a slightly pigmented, translucent finish. Shade colors span the range of deep berries, reds, browns, pinks, and nudes, as well as a black satin shade and a clear balm.
The idea behind the lipsticks—and the entire line—is the freedom of self-expression and embracing and accentuating our "flaws" rather than masking them. "Makeup is something poetic and fleeting that you can add to your face, changing or highlighting something about yourself," said Michele in the press release. "I find it an almost magical language, strongly linked to the other details I use for the expression of the self, such as jewelry and a hairstyle. Of all these aspects needed to emphasize or underline an aspect of ourselves, makeup is the most immediate and the oldest way, making it the most fascinating."
Michele was inspired by the beauty looks of Hollywood stars of the Golden Age, and each shade name is borrowed from an iconic film from that time and the starlets that led them (think Jean Harlow and Bette Davis, and The Beast Of The City and Goldie).
What we find to be most exciting is that the collection is multifunctional. Every shade can be tapped into the cheek to double as a cream blush for a flush of color, and three of the shades (Satin 103 Carol Beige, Satin 700 Crystal Black, and Balm 01 Joslyn Chair) can be used on the eyes. With that said, excuse me while I (eco-consciously) get rid of all of my makeup, and replace it with Gucci's magical new collection.
The lipsticks sell for $38 a pop, and while that might feel steep, keep in mind that each tube doubles as a work of art. Much like the fashion house's fragrance bottles, these lipstick bullets are ones you'll want to display. The satin finish shades are dressed in a gold art deco tube, the sheer in a delicate floral cap, and the balms in a sleek mint green tube—all designed by Michele himself.
According to the brand, this is only the "first chapter" of this new makeup line, so we can expect to see more launches in coming months.
You can shop the full collection at Gucci.com and exclusively at the Saks Fifth Avenue New York flagship. The collection will also be available nationwide on Saks.com starting May 29.