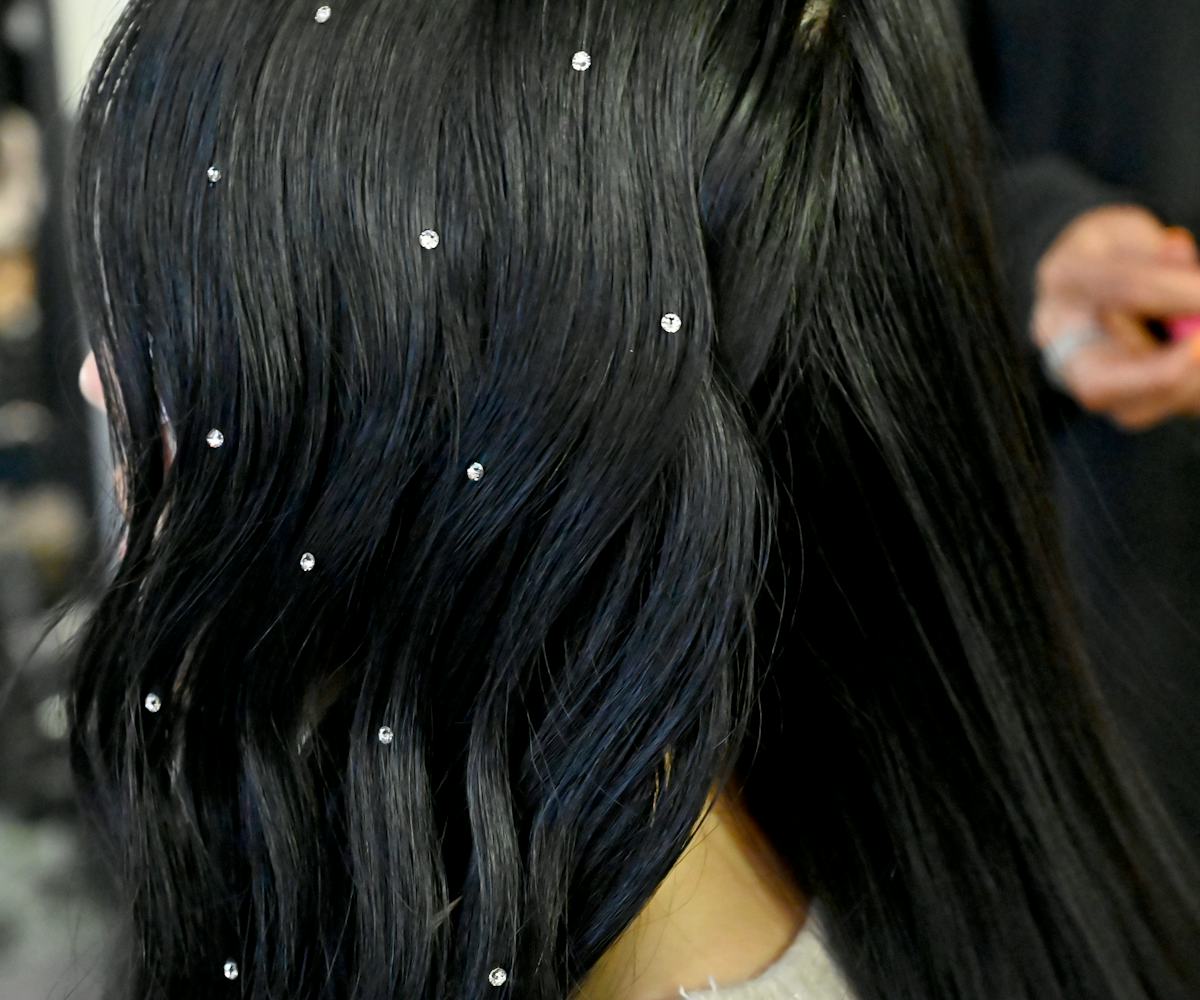 Photo by Astrid Stawiarz/Getty Images for TRESemme
10 Extremely Extra Ways To Accessorize Your Hair
Crystals, pearls, and jumbo scrunchies galore
While it may seem like just yesterday that the world had begun to welcome scrunchies and barrettes back into their beauty arsenals with open arms (fine, maybe because it wasn't really that long ago at all), the spike in these trending hair accessories has already led to their evolution. Suddenly, hair ties are triple the size; pearls aren't just for your ears, but for your braids; and four barrettes are better than one.
"Maximalism is having a moment, stemming from a revival of '90s and early 2000s trends right now," celebrity and TRESemmé Global Stylist Justine Marjan tells NYLON. "Beauty is becoming more playful. Just as we've seen brighter colors and sparkles for makeup, the same idea translates to hair."
The concept of maximalist hair was a popular one during the Fall 2020 New York Fashion Week circuit, with a number of brands new and old pushing the beauty boundaries with hair adornments outside of your average scrunchie. Unsurprisingly, Marjan was responsible for many of those looks, from ribbons weaved into braids at Chromat to Swarovski crystals placed on beachy waves at alice + olivia. For the latter, the pro stylist used lash glue (!) and Tweezerman tweezers to carefully place each crystal onto the hair. "To prep their hair, I made sure the style was secure with the TRESemmé Compressed Micro Mist Hold Level 4: Extend Hair Spray before applying [crystals] to avoid a finish that was too fluffy," she tells NYLON. "With any great hair look, the key is prepping the hair. This will prevent the style from getting tangled or fluffy when you've added the adornments."
But before you can prep hair for any style, you probably want to have some idea of what look you're actually going for. If you need help in that department, check out the handful of extremely extra hair styling ideas for every texture, below.
Using the same process as Marjan used for the alice + olivia presentation, you can apply crystals to the already prepped hair using lash glue. Don't know where to start on the latter? The $3 KISS Strip Eyelash Adhesive Glue has over 700 five-star reviews on Amazon.
For Jonathan Cohen's FW20 show, models had pearls sewn into their braids and cornrows.
If you're not into gluing pearls to your hair (which, fair!), get the same illusion with clips — and lots of them. Sites like Amazon, Revolve, and Urban Outfitters are your best bets for affordable picks, as made evident by this pastel rainbow peal claw clip ($14) and this easy pearl headband ($35).
A part lined with Swarovski crystals, anyone? Marjan sent a handful of models down the NYFW runways with a similar style. "For this look, we purchased crystal chains at a trim shop, cut the length of the parting, and glued with lash or wig glue," she told NYLON of the DIY look.
If you have a *lot* of time and patience — or an incredibly helpful friend — consider this incredible ponytail style, wrapped in rainbow yarn.
If you wear a headscarf or hijab, you can apply the appliques to the fabric. For this look, model and makeup artist Rafiqah Akhdar used Tarte's Tartiest Pro Lash Adhesive ($9) and flat back gems from Swarovski and Michaels craft store.
For another take on the pearl hair look, place hairpins — which you can buy in $11 packs on Amazon — sporadically in a bun or ponytail.
For those who prefer to wear their hair down, Marjan has her own collection with Kitsch full of next-level hair accessories, from chainmail headbands to jumbo Crystal Creaseless Clips ($19).
Making your typical braid an editorial look is surprisingly not that hard. Grab a scarf (or any fabric you may have lying around) and work the fabric into your braid as if it was another section of hair. Let the ends hang, or tie in a knot.
If you are an avid scrunchie person, Room Shop Vintage takes the trend to the next level — be it through their oversized options or ones covered in feathers — using only deadstock fabrics.
NYLON uses affiliate links and may earn a commission if you purchase something through those links, but every product chosen is selected independently.