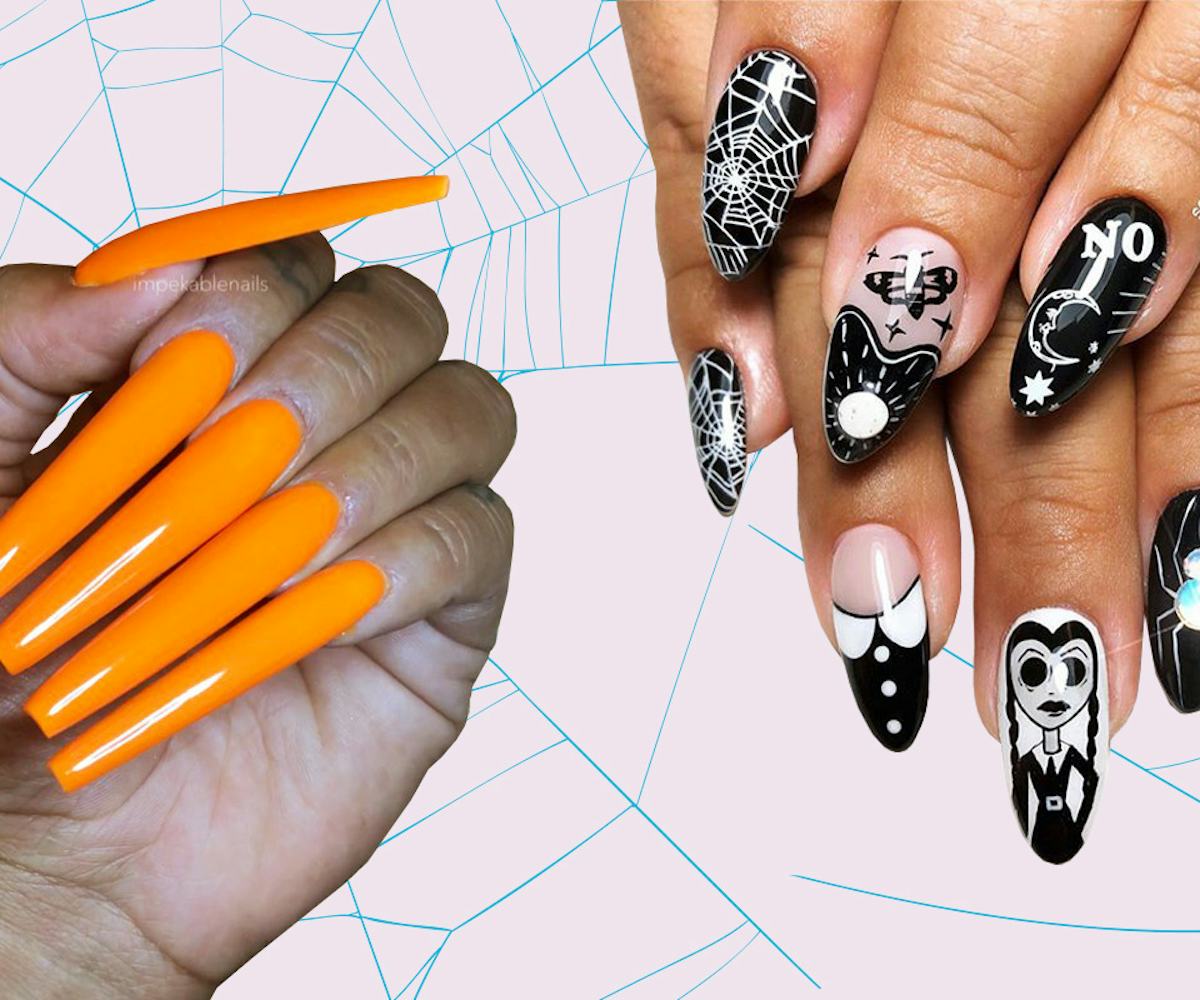 Photo by Bel Fountain-Townsend and Peka Grayson
6 Halloween Nail Art Accounts To Follow On Instagram
With spooky season in full swing (I'm on my third rewatch of Don't Look Under the Bed), I'm actively fighting the urge to start showing up to work in full Halloween getup. While this is impractical (and potentially alarming), Halloween nail art is not. There are lots of ways to approach Halloween nails in 2019, and a lot of artists to follow who do it well. You can completely commit and add jewels, fake blood, and maybe even some glitter, or approach it subtly and try something with vaguely haunting energy. We've rounded up enough of both to make your next nail appointment a breeze.
L.A. nail artist Bel Fountain-Townsend (known on the 'gram as @sohotrightnail) is a spooky nail expert. (She's also Halsey's nail artist.) Whether she's turning stiletto nails into witchy green fingers or making Latex nails a bona fide thing, I can't help but stan her ability to take a Pinterest-y trend laden with cute-ish ghouls and pumpkins and turn it into something inspired. See the Wednesday-inspired manicure below for proof.
For a more low-key take on Halloween nails, let Fariha Ali be your guide. Her color-shifting space nails have become something of a viral trend, and look like the inside of a crystal ball. It's the perfect option for the nail-art shy to get the point across.
There's always that one person who brings up Little Shop of Horrors around Halloween, which is promptly followed by a monologue about it being the iconic spooky musical film of this lifetime and the next. This manicure's for them. Painted by nail artist Audrey Faith of Finger Bang Portland, Seymour is a respectable subject for Halloween nail art, and under-the-radar and quirky enough to wear year-round.
For her first Halloween set of the season, California-based nail artist Yvett Garcia created an arachnid-inspired smoke gray set that is equal parts witchy and creepy-crawly.
If the goal is a subtle take on Halloween, this set by Peka Grayson is worthy of consideration. The length adds the drama while the spot-on orange shade immediately brings all things fall to mind.
When the occasion calls for a witch-adjacent set or you want something that can survive well into November (and beyond), we suggest taking elements of general spooky motifs (think: black, intricate embellishment, stars etc.) and putting them together in a minimalist way. That's exactly what nail artist Michelle Won did in the look below, taking the classic French manicure in a gothier direction and adding gold accents for some extra witchy flair.