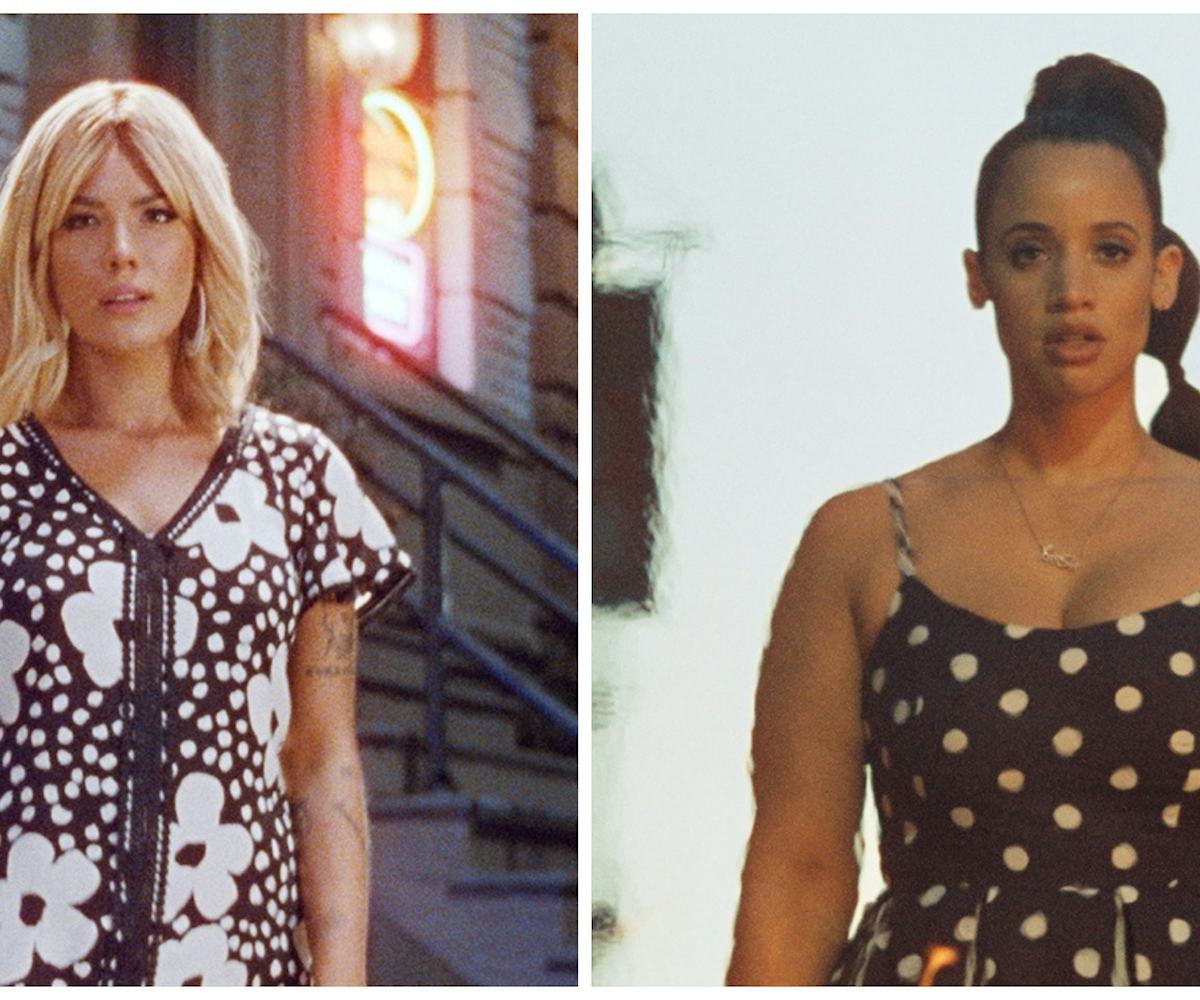 Photos courtesy of ModCloth
Halsey And Dascha Polanco On Battling The Elements In ModCloth's Gorgeous New Campaign
They star alongside Awkwafina and Hari Nef
To align with International Women's Day, ModCloth has unveiled a campaign starring a diverse array of celebrities telling the stories of when they have had to overcome negative circumstances in their lives, and how they came out stronger on the other side.
The campaign is called Against the Current, and stars Halsey, Dascha Polanco, Hari Nef, and Awkwafina. In it, they tell stories about their inner strength during difficult times—all while literally battling the elements of water, fire, earth, and wind, which serve as representations of all they've been through.
Halsey talks about what it's been like to be judged by the media, and about how it felt like she was drowning in negativity. For Polanco, hardships came in the form of motherhood just after high school, and the fear she felt about raising a child. Awkwafina talks candidly about being told that she would never become a star, and how that initial rejection informed her perception of herself. And Nef sees the world crumbling around her while she talks about being body-shamed as a model, and how that reinforced the negative ways she thought about herself.
These women aren't only speaking about what's brought them down in the past, they're also open about how they picked themselves back up. "Life is only up or down, and when you're down, you can only go up," says Awkwafina. And Polanco makes clear that it's never helpful to think about yourself as "a statistic."
In an exclusive interview, Halsey tells NYLON that the message of this campaign is one that she wants to see more brands giving to young girls. "I think we have a responsibility as creators of content to be presenting our audiences with messages that are inclusive, inspiring, and showcase women for how they really are," she says. "Advertising, in particular, is an industry that has often relied on the objectification of women to sell products by convincing women that they are lacking something, and that they must fill a hole or somehow check an otherwise unfulfilled box so they can appeal to a standard."
Polanco, who tells us that ModCloth was "one of the first clothing brands to give me the opportunity [to be a spokesmodel], as a curvy girl," says that she wanted to be a part of this campaign because it "aligns with my own values in that what I am as an ever-evolving woman is powerful, that strength is being able to experience faults, and success and learning from them."
More than anything, the women in this campaign want to show themselves overcoming the negativity they've faced so they can serve as a powerful example to other young women. Halsey tells us that the message she hopes girls get from this campaign, and her music, is that you should "be yourself as much as you can." She says, "You will look back on your life and regret every moment you let someone or something sway you from being who you were born to be. But also be gentle and forgiving with yourself if you lose sight of it. It will always be there waiting for you when you want to come back home."
Polanco told us she hopes other brands learn from this campaign, too. By showing many ways of what it means to be a strong woman, Polanco wants to show them that "when you are embracing yourself, there is no true mold... You can feel empowered, unique, happiest, and most successful when the images you see are somewhat a reflection of you. We don't need to follow style or trends, we must follow our intuition and be fashion-free."
The Against the Current campaign is live on ModCloth's website now, and you can watch the full videos and interviews starting March 10.