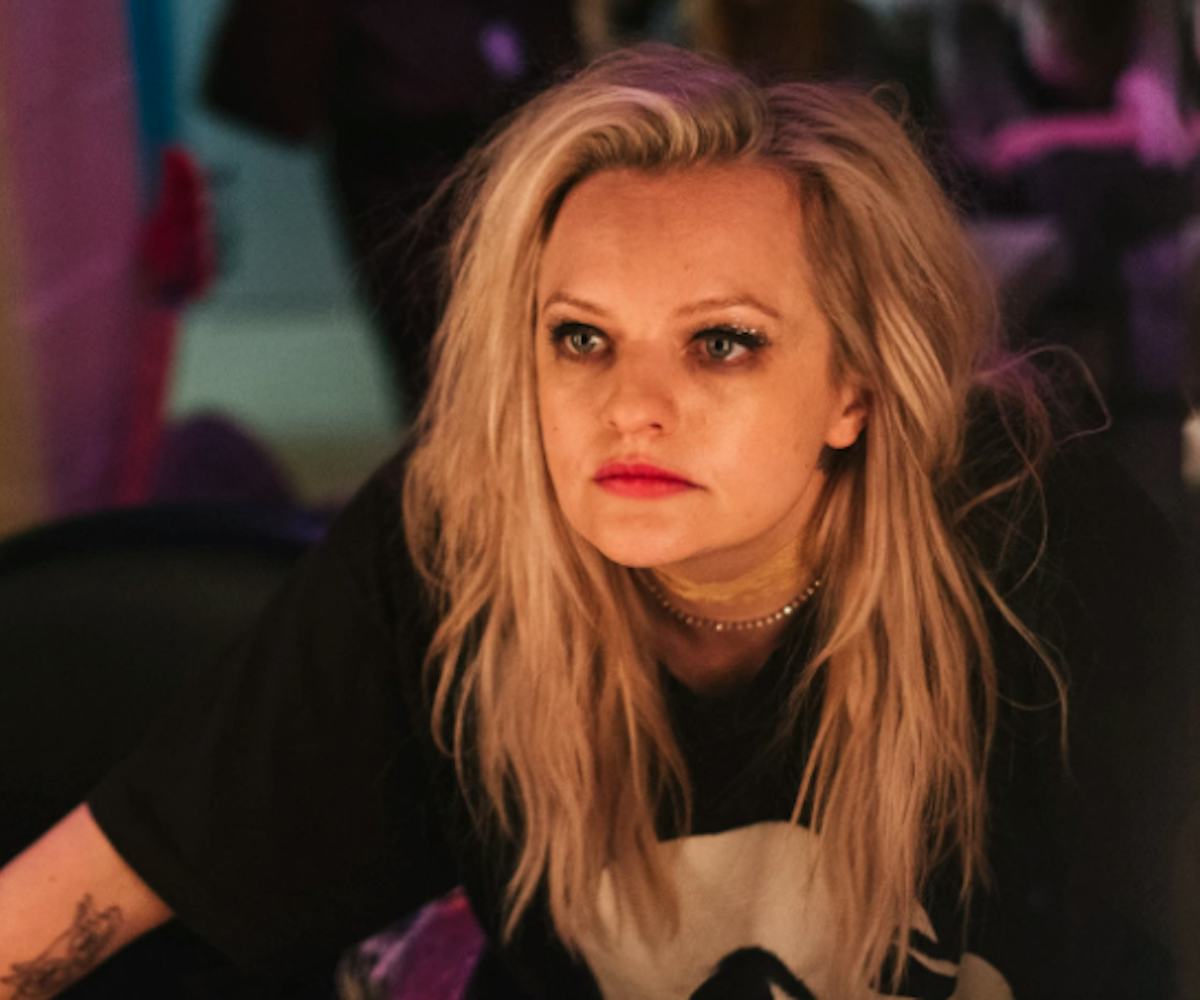 The Story Behind The Furious And Tender Sounds Of 'Her Smell'
How to make a movie sound like "a panic attack"
For filmmaker Alex Ross Perry, his latest feature Her Smell represents the most technically ambitious undertaking of a career heretofore defined by lo-fi production values and dialogue-led scripts. A Shakespearean five-act structure tracking the rise and fall and rise again of unstable punk musician Becky Something (Elisabeth Moss) stretches out across 135 minutes, the longest run time in his filmography by a significant margin. In elaborate gliding shots, he guides a Steadicam through a maze of backstage hallways constructed just for the production, his largest set yet. The first and final acts revolve around a pair of rip-roaring concerts with all the rock trimmings. But a good portion of the most labor-intensive, innovative work is completely invisible to the naked eye.
Never mind the title; Her Smell is more invested in the auditory than the olfactory. From the in-universe music to the complicated scene showing the recording process to the hallucinatory score, sound brings an unusually visceral intensity to Perry's character study. The first three acts find Becky approaching total collapse, drunk and high and leaving a trail of emotional wreckage in her chaotic wake. The fourth takes a hard pivot into silence and stillness, and the fifth offers a triumphant resurgence. Each passage offered its own unique set of practical and creative challenges, from learning the lay of a state-of-the-art studio to expressionistically simulating the noise of a brain caving in.
For Perry, the secret to success on such a high-stakes job was judiciously selecting his collaborators. He believes in hiring simpatico minds, many of whom he'd worked with before, and letting them excel unencumbered by micromanaging. Speaking with NYLON at a Brooklyn café around the corner from his Prospect Heights home, Perry recalls issuing a single, simple suggestion to soundtrack composer Keegan DeWitt: "That was the only thing I had to say to Keegan: 'I want this to feel like a panic attack.'"
***
DeWitt had the crucial duty of bringing the audience into the feverish headspace of Becky Something, where everything burns a little hotter and brighter. Becky's volatile mental state bleeds into the fabric of the film, and accordingly colors DeWitt's staggeringly intricate soundscapes. For 25-minute stretches at a time, synthesized burbling twists and turns in the background, spiking along with Becky's outbursts. At times, a damper effect submerges the score under several feet of water; at others, a relentless ticking evokes an anxious android jiggling its leg. Like Perry, DeWitt found himself facing his biggest test of skill yet, and like the director, he had to put his faith in the experts around him.
"This sound mix and scoring process was the most contentious I've ever had with this creative team," DeWitt tells NYLON. He's quick to clarify: "I mean that in a positive way! Alex said it best at the time, that people had very passionate positions because everyone was really doing risky and out-there work. It was all so fragile."
DeWitt took a scrapbook-style approach for his compositions, sampling the pre-made modules included with the program Ableton and warping them past the point of recognition. Vintage drum machines, string sections, and guitar feedback were all subject to a process DeWitt describes as "turning them inside out." ("I wanted to have persistent rhythms that were then fighting against something that almost sounded like if you played a '90s VHS in rewind.") The outcome of his tinkering is an aural odyssey with an elastic relationship to rhythm and melody, creeping in and out of the liminal register until the track feels like it may very well be coming from inside your head. But from there, DeWitt turned his handiwork over to editor Robert Greene in three- to five-minute chunks, so that they could be arranged to sync with his cuts.
"He's the only editor I work with like this," DeWitt says, "where I'm giving him my very basic elements and trusting him. He took those and created a very hectic collage for the first act. Then he and Alex sent it to me, asking me to clean it up. My first thought was, No way! Something about the hard edges, cutting from one cue to the next with no finesse, felt perfect to me."
***
When a door slams in this film, something that happens frequently in a story about testy music-biz types, we hear a surreal reverse-whoosh. It's a subtle yet impactful way to reinforce the atmosphere of unleaded insanity and further destabilize an audience already on edge. Even a viewer concentrating on the sonic profile may be thrown off balance by the inability to distinguish soundtrack from sound effect. That's just how DeWitt and sound designer Ryan Price wanted it.
"Keegan had incorporated some sound design elements into his score, and I had piled on a lot of tonal sounds and drones that usually come from the score," Price says. "We blurred the lines."
Price trekked into unfamiliar territory by leaving realism behind. In broad strokes, a sound designer's responsibility is to fill in the gaps between what was captured on set and what should be heard in the world of the film—background bustle, inserted noises such as the electric sizzle of the neon sign that doubles as the title card. But Price refers to that "fluorescent hum" as an example of adding accent for effect, underscoring the unnatural quality of "hearing light." Same goes for the lens flares for which he created an eerie, swelling throb. An occupation that ordinarily requires surgical precision instead had Price pouring on the cacophony until he'd filled in every last empty space.
"There's a lot going on at any given moment," Price explains. "Practical sounds of the space, crazy dynamic dialogue that's always moving in the scene, Keegan's score; on top of that, Alex gave me the instruction to create the densest soundscape possible. I wanted to hear bombs going off."
***
But first, those bombs needed somewhere to be dropped into. The task of catching everything transpiring in each hectic scene entailed the most moving parts, and the person moving those parts was sound mixer Patrick Southern. Rigging microphone setups for coverage of not one but two full-blown performances, an in-studio recording session, and serpentine tracking shots fell to him. In keeping with the example of seemingly everyone else involved with this production, he was tackling the most demanding gig of his CV, and he had to let go of his assumptions about his own profession just to rise to the occasion.
Southern lays out his unusual method: "Doing sound recording, a big part of it is not getting sounds you don't want to hear... incidental sounds, stuff from the location that we usually get bent out of shape about. But from the get-go, Alex said, 'This is going to be a cacophonous movie from a sound perspective, so don't sweat the small stuff.' It took me a little while to believe him, to untrain myself into allowing things to just happen. He would do stuff like drop a cymbal off-camera in the middle of a take, and the actors would respond authentically, and it would stay in."
Every step of the process threw a new obstacle in front of Southern and his team, but they knew all too well that on-the-fly problem-solving is the soul of filmmaking. As Becky prepares to hit rock bottom, she invites a documentary team to chronicle her spiral of self-destruction, putting the onus on the real crew to make room in cramped spaces not just for the cast, but a second faux-crew. ("That was deeply confusing, in an Inception sort of way.") Boom operator Deanna Williams saved one take by leaping over a sofa to get out of the rotating camera's path. The camera and microphone teams developed a nonverbal connection, anticipating one another's movements to allow for a spontaneity in each extended take. "We didn't quite know what we were doing until we were doing it," Southern laughs.
A bear of a job came with its perks, however. For the pair of concert scenes, the audio team had the full resources of the Gramercy Theatre and the Music Hall of Williamsburg at their fingertips, including experienced front-of-house mixers that helped make Southern's work on those days "very straightforward." Same goes for the Power Station, the storied Manhattan studio at which Becky's band Something She lays down their next album. (Perry could scarcely believe he was in the room where The Clash made Sandinista!) Getting access to equipment of unparalleled sophistication was a "dream come true" for Southern, and helped a film obsessed with rock authenticity keep it real.
"When we showed up, they said, 'Okay, we've got two engineers and a studio at your disposal. Whatever you want to do, just go for it.' The assets of the studio became our assets, which made the work both easier and more fun," Southern says, continuing: "At one point, we lost audio between the rooms, and I realized that the actors in the control room were actually operating the console. They'd throw a fader up and push a button while acting, and sometimes that would have the, uh, auxiliary effect of making the board not work. We had to say, 'Hey, everyone, nobody but these two guys really knows what everything on the board does, so try to keep it to these rows of buttons?' It was a huge console, bigger than anything I'd used on my own. We all learned how to work it together, once we realized that it'd be easiest for the actresses to actually do the things they were pantomiming doing."
***
The studio sequence in Act II features original music from Something She as well as fellow all-female trio The Akergirls, a younger group following their elders' influence. The former group's tunes come from Alicia Bognanno, fronter of Nashville punk outfit Bully and a friend of DeWitt's. For the latter, Perry sent a cold Facebook message to Anika Pyle, one-time face of cult emo group Chumped. Neither woman received any real requests from Perry other than to make the music they'd always made. They both realized that being themselves, rather than trying to imitate Hole and their ilk, was the secret to fitting into the film's '90s setting.
"I tried to not focus on emulating a specific sound," Bognanno says, "or else I'd come out with something totally derivative, a rip-off of the song I wanted it to sound like."
In addition to inventing an alternate history of hit singles, Bognanno and Pyle were the resident verisimilitude consultants. Bognanno worked with Moss to nail the little particulars of rock stardom, and Pyle sat in during the studio sesh to make touch-ups where she could. "I felt like a proud mama bear," Pyle says. "It made me feel like I knew a few things, because I could tell them, 'Hey, uh, you should plug the guitar into the amp, and turn it on. It'll be more realistic.' The right way to wear a strap, singing harmonies, stuff like that."
Both women were, pardon the pun, instrumental to the film's overall understanding of music culture's ins and outs. All the mastery of technique wouldn't amount to much without Perry and his collaborators' lived-in, innate feel for their milieu. Becky Something exists at a particular pop-cultural time and place that could only be pinpointed by a director with a sense for the minuscule, crucial distinction between the early and late '90s. It's not the first way anyone will think of it, but Her Smell is really a scrupulously studied period piece situated in a transitional time. The Akergirls inch closer to pop and away from purist ideals of punk while Something She starts to look like a legacy act, heralding a changing of the ripped-fishnets guard.
"Post-Green Day, mainstream punk sound was my music," Perry reminisces. "So, to me, the poppy side of the Akergirls is what I love… I only found out years later that people accused The Donnas of being too pop-leaning. To me, they were as real as it got. When you hear The Akergirls' song, you realize that just as Something She is starting to fall apart, these girls are going to become very popular."
During our brief conversation, Perry emphasized multiple times that he has zero hands-on know-how where music is concerned, but he can't hide his knowledge of the field. His latest feature is littered with details that betray an abiding, attentive love: mocked-up album art, the concert flyers littering the backstage areas, a tome from the popular 33 1/3 series dissecting one of Something She's records. It's there in his selection of other people's songs, too. Perry properly introduces Something She as they're tearing through a cover of The Only Ones' "Another Girl Another Planet," and if asked why he'd open with that pick, he answers matter-of-factly that The Slits did "Heard It Through the Grapevine" and Hole did "Hungry Like the Wolf" and Joan Jett did "Crimson and Clover" and The Raincoats did "Lola" and so on and so forth.
***
The film's best scene comes in the fourth act when a newly sober Becky plays a little piano for the daughter she spent years neglecting. "This next one's a cover," Becky says—force of habit—and goes into a rendition of Bryan Adams' "Heaven" so achingly delicate that a cough from the audience could shatter the screen. I confess to Perry that I've long considered this song to be a real hunk of cheese, perhaps due in part to the heinous club remix from DJ Sammy. He's quick to set me straight.
"I don't know why, but I've always had a soft spot for '80s power pop," he says. "Maybe it's because I saw all these commercials for two-disc compilation sets when I was a kid. But I love ballads. Not enough to have ever owned a Richard Marx or Bryan Adams CD, but it's still love. It would be handy for doing press if I could remember where the idea to use 'Heaven' came from. But all I know is that somewhere in the gestation, it became clear that the third section would take place in an underground red hell and the biggest contrast would be the transition to the fourth part, which would be a heaven of gentle white light."
Perry considers that the film's make-or-break juncture, when the whirling rock maelstrom grinds to a halt and Becky goes acoustic. As moving as the sudden jump into minimalism and restraint may be, Her Smell will be remembered as a work of spitting, yowling maximalism. That quality of exhilarating too-much-ness begins and ends in the audience's ears, the result of a herculean effort from a fleet of professionals at the top of their game. With training, coordination, cooperation, and a bit of luck, they forged a thicket of aural stimuli unlike anything naturally occurring on Earth.
In paraphrasing the famed advice from the opening of Martin Scorsese's The Last Waltz, Price cut most directly to the spirit of this singularly combustible picture: "It's a loud movie. It should be played loud."
Her Smell is out in theatres now.