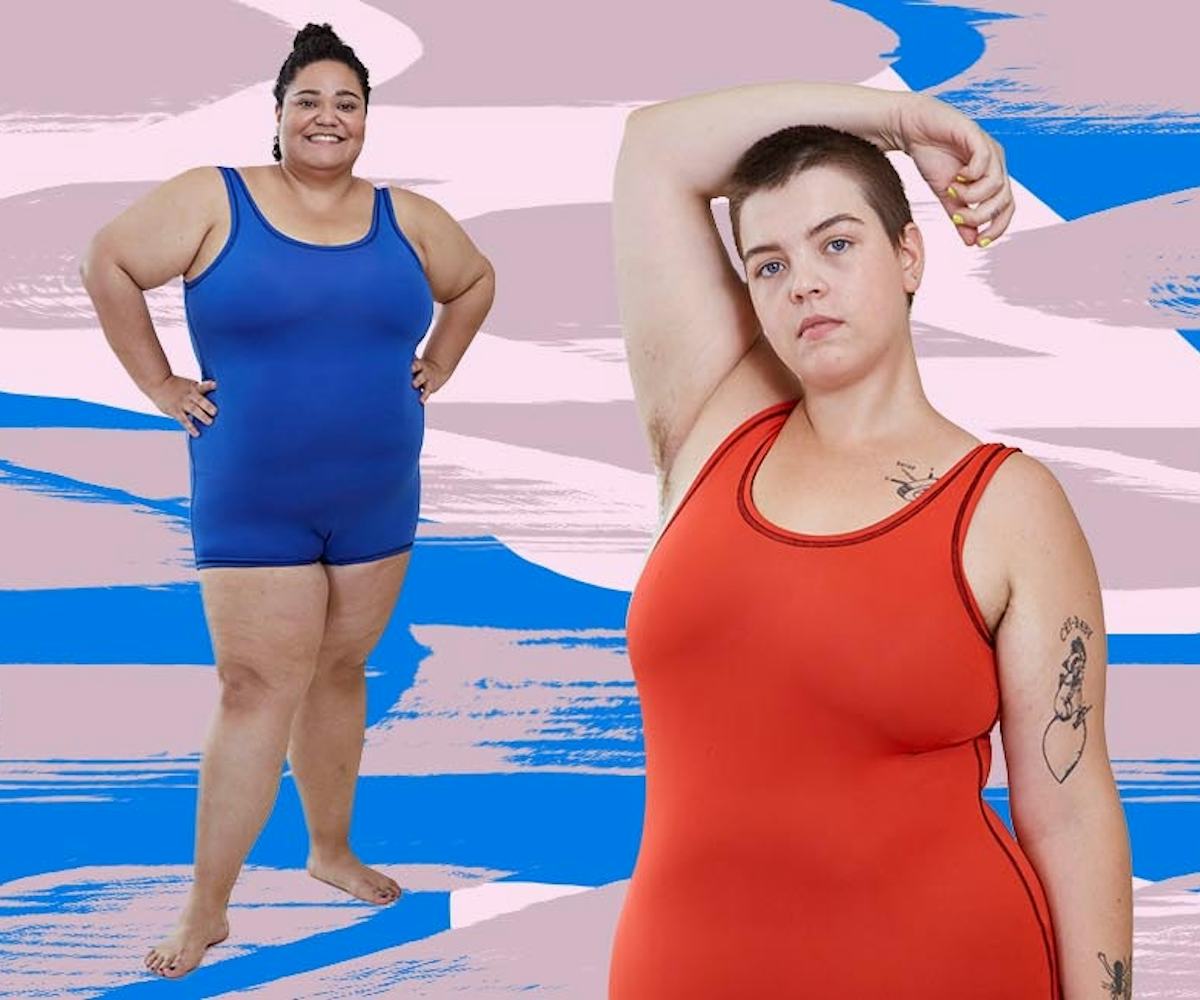 Hirsuit Makes Androgynous Swimsuits—With Pockets
The brand makes beach fashion more gender- and size-expansive
Early on in Rachel Berks' relationship with her partner, artist A.L. Steiner, they took a trip to Miami to visit family. During that vacation, Steiner wore a black swimsuit unitard to the beach. Berks told me, it "was a nice idea for someone who self-identifies as an androgyne." Yet, speaking from a fashion standpoint, Berks noticed some issues with the design of the swimsuit: "The neckline was really low, the shorts were too long, there was an unflattering seam up the front, and the suit had a shelf bra which offered no chest-support, [and] pushed her breasts into the middle of the suit," Berks explained. It was then that she and Steiner started discussing ideas for a suit that would better cater to someone looking for a more androgynous option, while still maintaining a sense of style.
From there, the partners began looking deep into photography and fashion archives, collecting samples and studying swim costumes from the 1920s and '30s. ("I actually now have a small stash of turn-of-the-century swimsuits which are all made of wool!" Berks told me.) In the process, they found that, back then, men and women wore similar designs to the beach. Then, also, they found inspiration in wrestling singlets and modern dance unitards; Berks had received her undergraduate degree in contemporary dance, so it was a reference point with which she was familiar.
Berks is no stranger to retail; her company, Otherwild, is a store and design studio in Los Angeles and New York that bolsters local artists and different social justice movements. During the 2016 presidential election, the brand became famous for its "The Future Is Female" shirts, sales of which supported Planned Parenthood. But the swimsuit project had to take a backseat, because of how busy she was with Otherwild. Beyond this, because she had no formal training in fashion design, Berks had little knowledge when it came to garment production, and thus, the process moved slowly.
Then, three years ago, Berks began working with a New York-based pattern-maker named Stacey Berry, who ultimately helped bring the project to life. Meeting periodically to review samples, Berks acted as the fit model, which she admits was challenging as she grew critical of her own body, though it also allowed her to be blunt about what wasn't working so they could tweak the design until she was fully happy with it. On top of this, Berks' friends also started trying on the samples, which inspired other design ideas such as reversibility and the addition of pockets.
Finding a factory that could produce these items sustainably was another headache, as it was difficult to find one that could work with the slippery, recyclable polyester fabric the suits were made from. As Berks wanted to ensure that the people making these items were paid a living wage and that the workers aren't exploited in the process, she chose to work with a factory in New York.
The final result launched in late 2018 under the name Hirsuit, marketing itself as "a line of androgynous swimsuits for a wide variety of bodies and gender expression." Currently offering two different colorways, one in navy and cobalt and the other in black and red, the swimsuit costs $150. With years of research and experimentation under her belt, Berks's first swimsuit employs beautiful but subtle design details including contrast stitching, hidden side-seam pockets, and a minimal yet flattering silhouette that is a mix between a singlet and a dance unitard—and, it's reversible.
In a time when there are very limited swimwear options available that do not feature certain body parts or appeal to a heteropatriarchal gaze, Hirsuit offers gender-nonconforming individuals a much-needed alternative. Berks, whose identity is mostly fluid but sometimes femme, says her community has found it difficult to find silhouettes that are accommodating of their gender and identity presentation. With this, she hopes her brand offers everyone a flattering and well-designed alternative that makes them feel good in their bodies, regardless of their size or gender identity.
Moving forward, Berks is excited to continue evolving and growing Hirsuit's offerings to suit the needs of her customers. Next up for the brand is a non-reversible, more affordable design, with a slightly different silhouette, as well as a two-piece bathing suit and a jumpsuit. The products are available through the Hirsuit or Otherwild website and stores, but in the future, Berks hopes to host pop-ups in various locations so people can try them on. And, can we just repeat: swimsuits with pockets. Finally.