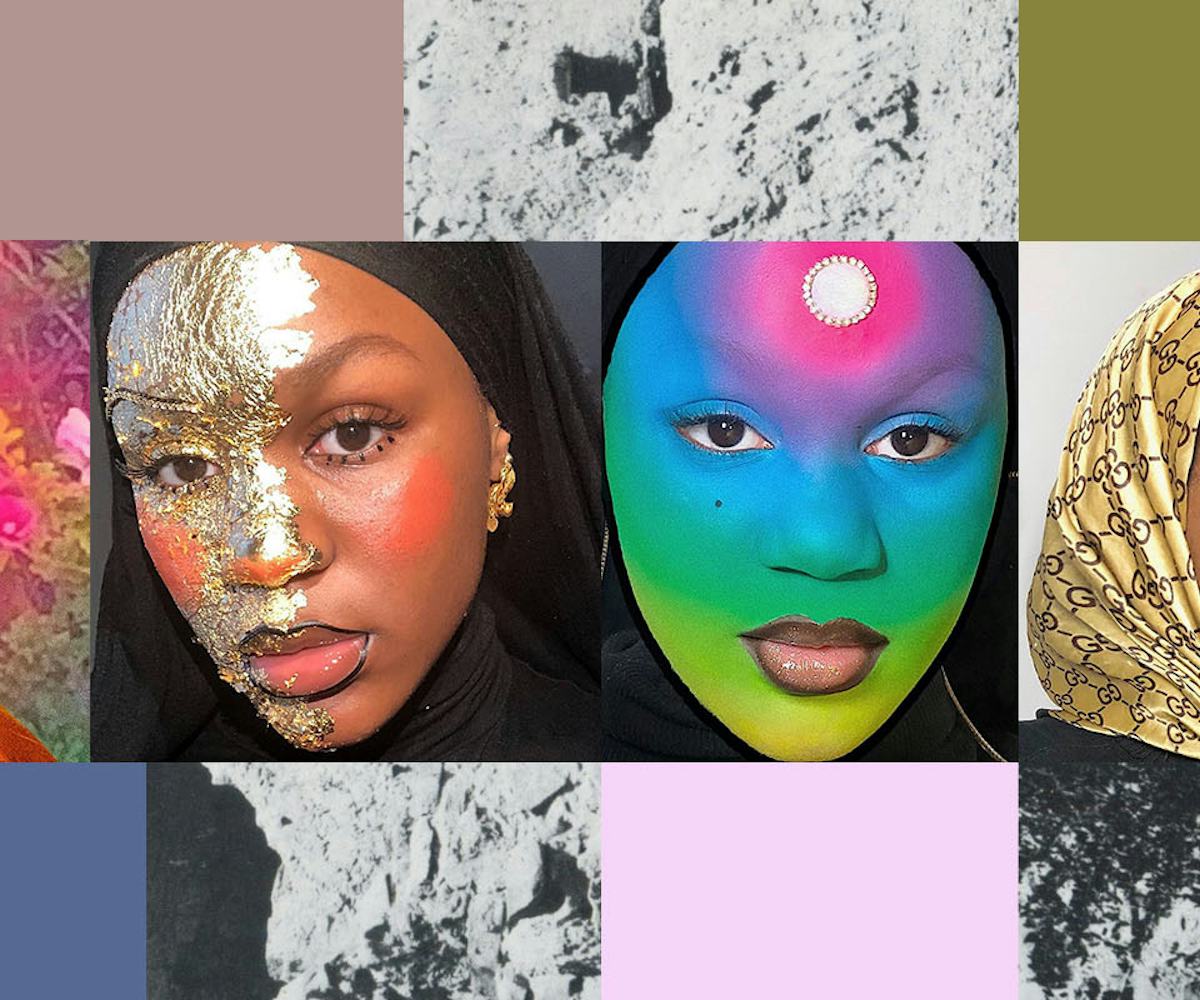 Photos via @honeydon.t Instagram
Enter The Wildly Colorful, Sparkly, And Strange World Of Honey
The 20-year-old Instagram beauty creative pushes the limits, and wants you to, too
There's no real way to sugarcoat it: Instagram and YouTube have made beauty boring. The influx of beauty influencers has resulted in cookie-cutter (and typically pretty caked-on) beauty looks flooding our Discover pages, and so we're constantly on the lookout for unique, unconventional, and inspirational accounts to follow, just to shake things up.
Which is why, when someone or something finally catches our eye, it's pretty hard to look away. Our current obsession? Helen Prescod, otherwise known as Honey, or @honeydon.t on the 'gram.
It's easy to be captivated not only by her masterful work but also by the materials she uses. Aside from vibrant pigments, sparkles, and rhinestones used throughout her looks, she's not afraid to err toward the unconventional. Tiny seed beads make up a lot of her work, while pearls, giant crystals, and even moss (which, she mentions, "definitely looks like crumbled-up weed") are other materials of choice.
The 20-year-old Columbus, Ohio native is self-taught, having never received any formal training for her skillful work. "My training was through trial and error," she says. "I always had a thing for makeup that wasn't average, and I enjoyed using color and textures not commonly used. But, also, this was pre-Instagram, so I didn't have much of a clue what makeup was supposed to look like—I just did what was fun!"
While Prescod's work is clearly that of a creative genius, she doesn't consider herself a makeup artist, nor can she truly put into words what it is that she's creating. "I realized words don't really do visual art justice, so I let it speak for itself," she says. "It's completely in the eye of the beholder. I don't even call myself a makeup artist because I don't think it's quite accurate." Drawing inspiration from the world around her and other artists (though, she explains, not really other makeup artists), she sets her imagination free when coming up with a new look.
Prescod aims to consistently push the limits of what's "expected" or considered "normal" through her work, and hopes that others will, too. "I want the message [of my work] to be that, even if you think you're 'outside the box,' there's always more boundaries to push," she says. "Push the limits of what you expect from makeup or design, or architecture, or whatever you do; go hard or go home."
If there's any message that Prescod wants to share, it's that she hopes everyone out there is able to use art—whether makeup or any other medium—and self-expression to better explore and understand themselves, to the best of their ability.
"Also, the government is watching you, and poisoning your water. Question everything," she adds... noted!