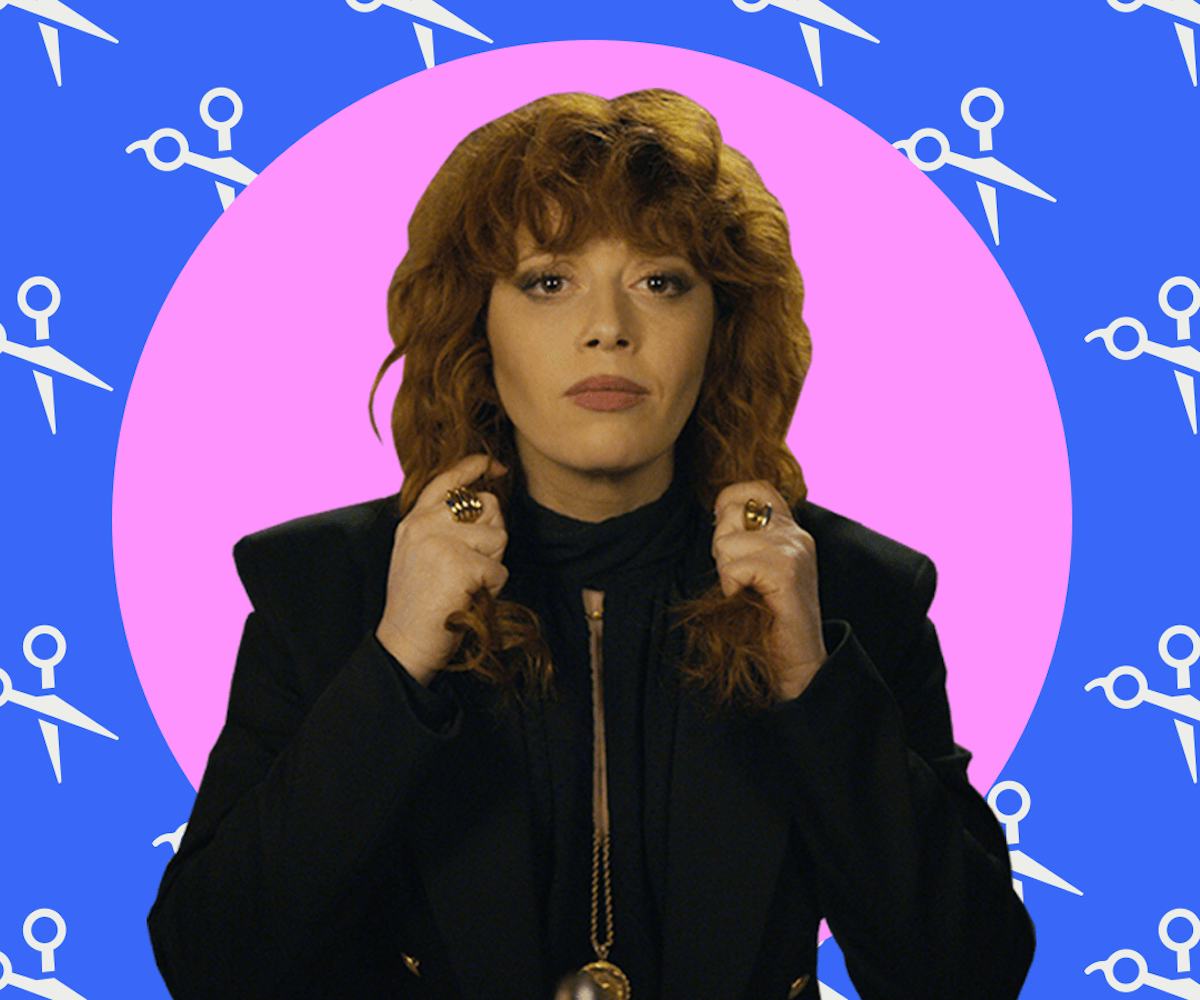 Photo courtesy of Netflix
Everything You Need To Know About Pulling Off Curly Bangs
For the Natasha Lyonne in all of us
Since its February 1 release, Netflix Original Russian Dollhas gotten nonstop buzz. It's been repeatedly praised for its portrayals of mental illness and personal recovery from trauma, sparking a number of conversations around these topics. But, it has also sparked something else: the curly bang revolution.
There's no doubt about it, Lyonne's character Nadia's curly bangs are the thing that hair dreams are made of. No matter what happens to Nadia (and a lot happens to Nadia), her perfectly curled fringe remains intact. And, well, we (along with the rest of the world) just can't stop thinking about how to get this look for ourselves.
Part of the appeal of these bangs is how counterintuitive they are. Pretty much everyone with curls—from subtle waves to the most coiled of textures—has been told to avoid cutting bangs for fear of ending up with an '80s-era perm/poodle-like catastrophe. Well, either that or they think that getting bangs would require them being straightened every single day à la the early aughts (throw in a few chunky highlights, while you're at it?). There's a stigma, is what we're saying.
However, if Lyonne—and Zendaya, and Solange—have taught us anything, it's that anyone can rock bangs. They just need to know how to do it.
To help, we chatted with the experts of all things curly to get the scoop on what it takes to successfully pull off this banging trend.
Know what kinds of bangs work best with your hair type
First things first, the natural texture of your curls should be considered when choosing a style of bangs.
Fine and thick waves: According to Tim Dueñas, hairstylist at Nine Zero One Salon, waves are pretty versatile and can support many different types of fringes. However, if on the finer side, just make sure that enough hair is brought into them so that they don't fall flat. And, according to Ricardo Dinis, Aveda's global artistic director of haircutting, you can get away with a bold statement like micro bangs.
Loose curls: If your curls are on the looser side, Dueñas suggests working with a longer, cheek-skimming fringe. "This gives a really romantic feel and helps create a beautiful face frame," he says.
Thicker, coarser curls: If your curls are on the denser side, Dueñas recommends going for a heavier fringe. "Ask your stylist to cut it dry and as you would wear it, this way you know they'll hang as they should. Also—avoid bangs that are inside the apples of the cheeks."
Kinky/tightly coiled/natural texture: If you have kinky and coiled hair, Dueñas suggests opting for a style that allows for movement. "I would recommend a textured fringe that leaves room for the hair to move and live, giving an effortless appeal." Dinis recommends longer styles to give a softer, more playful look. However, if you're looking to go shorter? According to him, you could do that "through the center part of your nose and then round off near the cheekbones."
Consider your face shape, too
Regardless of hair type, Dinis recommends focusing on a bang length or style that suits your face shape. "With waves and curls, the hair tends to be finer, and sometimes there is less of it. When deciding on how much of bang to cut, the idea is that the forehead, the nose, and the jawline up to the nose are all measuring points."
Leave it to an expert
Regardless of your hair type and face shape, the best way to figure out the best bangs for you is by getting a consultation with a stylist you trust, as Dinis suggests: "There is no one-size-fits-all when it comes to bangs, hair is like snowflakes—each person's hair and texture is different!"
You might need to "train" them
When your curly hair isn't used to growing or being styled in a specific direction, like when you cut bangs, Nikki Nelms, celebrity hairstylist and Maui Moisture brand ambassador, mentions that you might have to "train" your hair. "If you have curly hair and brands are new to you, you may have to start off with trying to train them a bit," she says. "It may take some trial and error to decide exactly what works for you. For my curly haired girls, I love a cool finger twist. You can do it while your hair is wet, or add a curl cream. It's a great way to train your hair and guide its growth without using heat."
Dueñas also suggests using pin curl clips: "To help eliminate stubborn growth patterns, air-dry a curly fringe using pin curl clips at the root to ensure your fringe goes in the right direction."
Don't forget to consider climate
While you may choose your bang style depending on your curl type, it's important to also take into consideration the climate you live in. "Humidity can play a huge role in the way a curl pattern can react," says Hayde Georgakis, a stylist at Cutler Salon. "For example, the curl can spring up or expand. Keeping that in mind, I find that a longer-length fringe for curly hair works best. This will give you more options in terms of styling, like wearing them to the side or changing up your part."
Have your stylist cut them dry
If you're choosing to cut curly bangs, you probably don't want to make a ton of work for yourself in terms of styling them. "The point is to be able to wear your fringe with your natural curl," says Georgakis. "Ask your stylist to cut your fringe dry and in its natural state, so there are no surprises when you let them dry naturally."
You don't have to trim them as often
One benefit of having curly bangs? You don't have to trim them as often as you would with straight hair—in fact, you get to have more fun with grow-out. "I think it's a benefit to being curly while experiencing a grow-out because you have more texture and you can play around with your hair without it being so obvious during the grow-out process," says Nelms. "So get creative. If the bangs get a little too long, then use some hairpins to create new hairstyles. Enjoy each length and consider each step of the way a new haircut!"
However, Dueñas does suggest scheduling regular trims, though more spaced out than a straight bang trim, as it will help keep the bangs looking fresh.
Know how to sleep with them
For anyone with bangs, half the battle is knowing how to sleep with them so that you can wake up without them sticking up in all directions.
Nelms suggests arming yourself with a couple of accessories, like a satin or silk bonnet (such as Before Bed Headz) or pillowcase, to not only keep curls in check but to help keep the moisture locked in.
Know what products and tools to use
When it comes to curly hair, there's an entire sector of the industry focused on products categorized by specific curl type and the result you're looking for. But when it comes to bangs, you want to opt for products that will tame and keep your bangs in check but also won't weigh them down or make them look greasy. So, what are your best options? "A solid leave-in conditioner is always a good start," suggests Dueñas. "Then, follow up with a volume spray to create hold while dry."
In terms of blow-drying, Nelms suggest trying a diffuser. "It can help give your bangs a shorter look when they start to grow out, if you're not ready for a trim," she says.
But, if you're trying to avoid heat styling, Georgakis suggests finding something to keep it in check while air-drying. "For curly hair, I always suggest an air-dry cream-based product that provides enough moisture and hold to keep your hair from getting frizz."
Lastly, don't be afraid of hair oil. "But only use natural ones," warns Dinis. "Stay away from products with silicones—this is death to curls."
Below, the experts share their product favorites for curly fringe styling and maintenance.
Maui Moisture, Curl Quench + Coconut Oil Curl Smoothie, $8.99, available at Ulta.
I love this product, especially for finger twists," says Nelms. "It's an awesome product that keeps your hair hydrated while cutting down on frizz."
Maui Moisture, Heal & Hydrate + Shea Butter Detangler Leave In, $8.99, available at Ulta.
"Because your hair is the most fragile when it's wet, I love this leave-in product," says Nelms. "It keeps your curls soft and manageable during the styling process."
Redken, No Blow Dry Bossy Cream, $24, available at Ulta.
"Redken's No Blow Dry hair creams are amazing," says Georgakis. "There are options for fine, medium and coarse hair. You can put the product into your hair and just let it air-dry. No heat styling required. The product provides enough moisture and hold for any type of curl to help keep your fringe in place."
In Common, Magic Myst Universal Elixir, $35, available at In Common.
This weightless hair elixir is suitable for all hair types, but Dueñas considers it a go-to for transforming and enhancing curly bangs.
Ouidad, Whipped Curls Daily Conditioner & Styling Primer, $26 available at Ouidad.
Dueñas also suggests trying Ouidad's styling primer, which can be used as a leave-in or rinse-out formula that softens, protects, and deeply moisturizes hair.
Aveda, Be Curly Set, $96, available at Aveda.
"Aveda's Be Curly products are a must for people with curls!" says Dinis. You can snag the full four-step system, above.
Aveda, Control Paste, $29, available at Aveda.
If you find that your hair bangs are more wavy than curly, Dinis suggests trying Aveda's Control Paste as a styling option.
NYLON uses affiliate links and may earn a commission if you purchase something through those links, but every product chosen is selected independently.