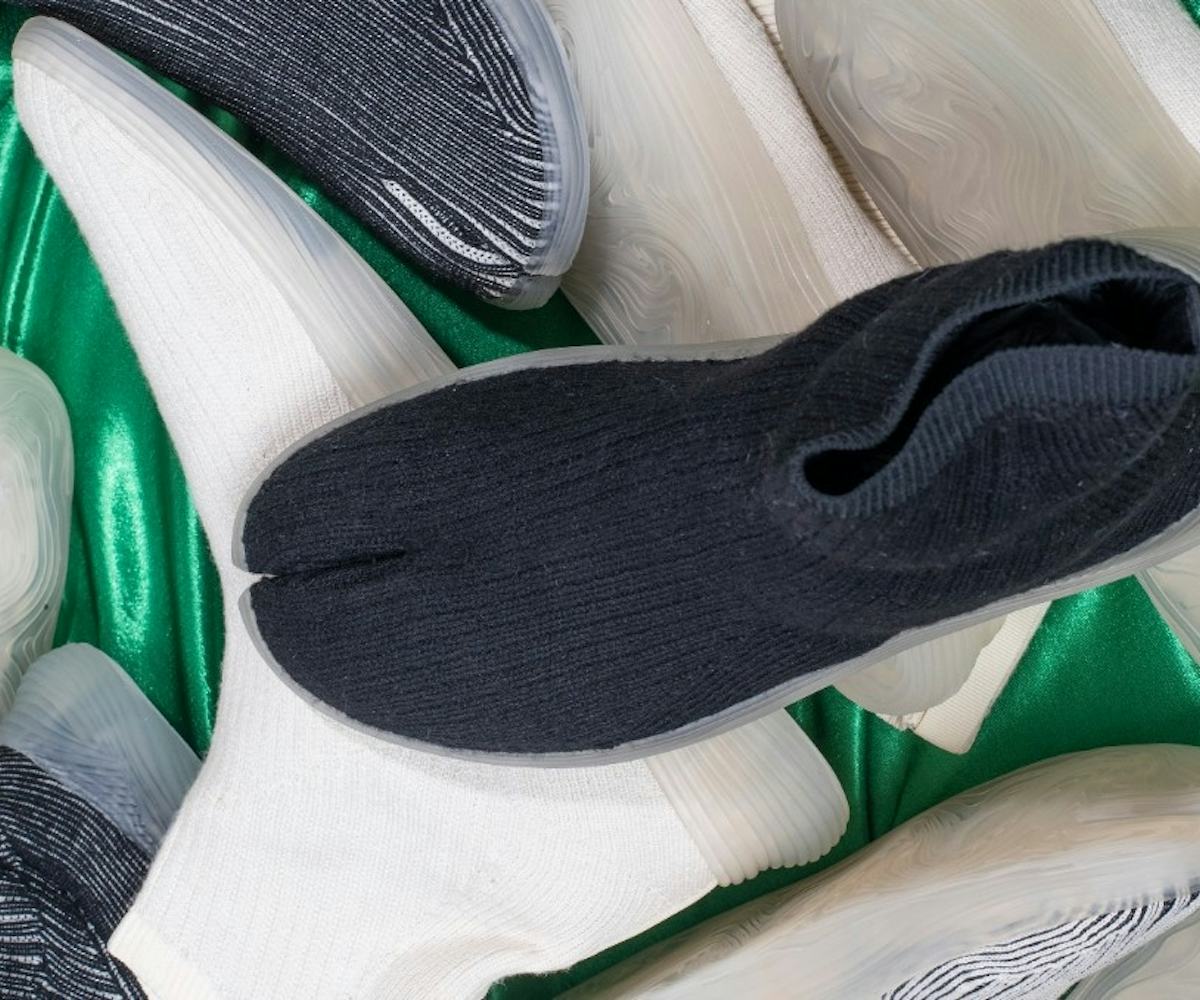 Photo Courtesy of ILYSM
New Creative Studio ILYSM Launches Its Own Split-Toe Tabi Sneaker
This knitted sock sneaker is unisex, sustainable, and costs $99
The sock-shoe trend has grown a lot over the past two years since Balenciaga's sock sneaker inspired Cardi B to wax poetic on the "ones that look like socks" in "I Like It." Now, almost every brand across the fashion spectrum has their own iteration, from high-end fashion houses to global sports brands and mainstream retailers. On Tuesday, new creative studio ILYSM added its take to the mix with the launch of the Tabi sneaker.
Founder Alice Wang tells NYLON that she wants to "invert the traditional brand operation model" with ILYSM. While most brands generally create product, before then spending time, money, energy, and talent on marketing that product, ILYSM is rooted in supporting emerging and up-and-coming artists. Together, they can create projects that "feel purposeful, meaningful, and exciting," says Wang. "Then we're creating shoes and merch to support that." The studio's first artist in residence is filmmaker Jenna Elizabeth, who is working alongside ILYSM to produce a short film.
For the Tabi sneaker, Wang teamed up with Colombia-based designer Sara Jaramillo. The two met through Jeff Henderson, a shoe design guru, advisor to Wang, and Jaramillo's former colleague when they both worked at Yeezy. "I don't have a footwear background. I never made a shoe before," admits Wang. "But I came in knowing that we wanted to make a 3-D knit shoe. I wanted to make a shoe that felt like it came from a different perspective than a lot of the sneakers that we were seeing. We wanted to take inspiration from ready-to-wear and knitwear. When I told Jeff about this, he said he had the perfect person and introduced me to Sara."
The ILYSM sneaker has roots in the traditional tabi, a Japanese sock that has a split toe and was meant to be worn with thong sandals, which dates as far back as the 15th century. During the 1900s, rubber soles were added to the tabi, turning it into work-appropriate footwear, and Wang claims that this style could be considered one of the first-ever sneakers made. Martin Margiela grew a cult following for its iconic Tabi boot, while other brands continue to apply their own aesthetics around the divisive silhouette, including Nike, menswear brand Abasi Rosborough, Vetements, and more.
"The Tabi represents this iconoclast spirit," says Wang. "If you love the Tabi shape, you love it despite or maybe even because of the extreme reaction that other people can have to it. When I get dressed, there's a desire to always be perceived as memorable and unique and stand out from the rest. I feel like the Tabi is the perfect little shorthand for that."
"We wanted something that people will react to. So even if they hate it or love it, they have to look at it," adds Jaramillo. "In the sneaker world, it's really hard to be surprised, so I think the Tabi does that."
ILYSM's Tabi sneaker is unisex, comes in four different colorways, and costs $99. Its 3-D knit design was a technical challenge at first, recalls Wang, but it eventually resulted in a shoe that felt almost sweater-like with a hint of shiny glimmer, thanks to its sustainable and traceable yarn made from recyclable polyester, viscose, and silk. The comfy footbed boasts mulesing-free merino-wool and recycled foam for cushion, while the sock liner is a deodorizing merino wool that's removable and washable. The sneaker's sole is imprinted with a trippy, spaghetti-like pattern, inspired by visual ASMR videos that Jaramillo would send to Wang. (Think: soft serve being swirled into a cone; extruding clay; and pasta makers.)
For next year, expect ILYSM to release future collaborations with artists and new shoe styles, though Wang reveals that they're not limiting themselves to only footwear: "We're going to adhere to making things that are ugly, comfy, and cool."